HBO Renews THE DEUCE for Third and Last Season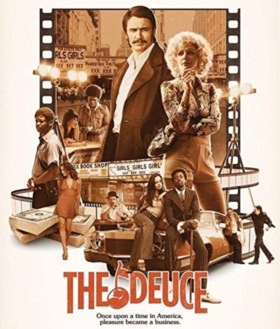 HBO renews "The Deuce" for a third and final season, according to Variety.
Chronicling the RISE of pornography and the multibillion-dollar industry's transformation of American culture, the critically acclaimed drama series THE DEUCE, created by George Pelecanos and David Simon, returned for its nine-episode second season SUNDAY, SEPT. 9 (9:00-10:00 p.m. ET/PT), exclusively on HBO. Resuming five years after the culmination of the first season, THE DEUCE returns to the world of 1977, capturing the Times Square area of midtown New York at its most garish and volatile.
The series is also available on HBO NOW, HBO GO, HBO On Demand and affiliate portals.
Amid a city that is as culturally dynamic as it is dystopic, the show finds its protagonists living at the apex of the Golden Age of Porn, when the dream of a mainstream X-rated film business is a suddenly a credible reality, and the culture of pornography and its blatant commodification of sex is finding increasing traction among more and more Americans.
Disco and punk are in full swing, and police corruption and political tolerance for New York's midtown demimonde is at its height. And the Mafia, the early backer of pornography at the moment when courts declared for its legality, is now seemingly poised to reap great profits. A comparable - and, in some ways, more professional - porn industry is rising on the West Coast as well. But for now, New York is holding its own in a city flush with movies, music and art, as the drug-fueled party rages around the clock.
Created by George Pelecanos and David Simon, both veterans of the HBO series "The Wire" and "Treme," THE DEUCE is executive produced by Pelecanos, Simon, Nina K. Noble and James Franco. The drama stars James Franco (Golden Globe winner for "The Disaster Artist") as both Vincent Martino, a successful manager of several mob-backed nightspots, and his twin brother, Frankie Martino, whose own business ventures are more fraught, and Maggie Gyllenhaal (Oscar® nominee for "Crazy Heart" and Golden Globe nominee for season one of "The Deuce") as Candy, now a rising director of ambitious porn films.
The returning cast also includes: Gary Carr ("Downton Abbey") as C.C. and Gbenga Akinnagbe (HBO's "The Wire") as Larry Brown, both Eighth Avenue pimps coping with the changing realities of the sex trade; Margarita Levieva ("Revenge") as Abigail "Abby" Parker, who brings her artistic and political sensibilities to the Hi-Hat bar while navigating life with Vincent; Dominique Fishback (HBO's "Show Me a Hero") as Darlene and Emily Meade (HBO's "The Leftovers") as Lori, prostitutes who gain some measure of independence as their film careers rise; Lawrence Gilliard, Jr. (HBO's "The Wire") as NYPD detective Chris Alston; Chris Bauer (HBO's "The Wire") as massage parlor manager and Martino brother-in-law Bobby Dwyer; Michael Rispoli (HBO's "The Sopranos") as Mafia capo Rudy Pipilo; and Chris Coy (CINEMAX's "Banshee") as nightclub proprietor Paul Hendrickson.
Read the original article on Variety.
Related Articles View More TV

Stories