Giant Pictures to Release Writer/Director Ann Lupo's Autobiographical Film Festival Darling IN REALITY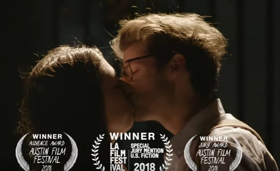 Fresh off an extraordinarily successful film festival run, Ann Lupo ("Documented") shares her exciting new voice as a filmmaker in her feature film directorial debut "In Reality." "In Reality" takes us beyond the established romantic comedy rules, held steadfast since the 1980's, into the confusing morass that is dating in 2019, where communication is often missing as we search for a real connection. A dynamic female-led production led by a gifted self-taught first time filmmaker. Lupo tackles the complex filmmaking disciplines of directing, writing and editing while emerging as the voice of a generation. "In Reality" speaks to our search for love in a world overcome with friend-zone frenzy and erratic hook-ups masquerading love. The filmmakers have chosen to partner with Giant Pictures to release the film theatrically in Los Angeles, CA on March 29th, 2019, before expanding into other markets as it will also make its VOD/Digital debut on April 2nd, 2019 alongside its theatrical run.
Starring Ann Lupo, Miles G. Jackson ("The Last O.G."), Kimiko Glenn ("Spider-Man: Into the Spider-Verse"), Jill Eikenberry("L.A. Law"), Olivia Washington ("Lee Daniels' The Butler"), and Esteban Pedraza ("Deafblind Couple"), the film has been honored around the globe. "In Reality" launched with a Jury Special Mention in U.S. Fiction at the Los Angeles International Film Festival, then went on to win both the Jury Award & Audience Award in the Comedy Vanguard section at Austin Film Festival, Best Feature Fiction Film at Port Townsend Film Festival; Spirit of EOFF & Curator's Pick Director to Watch Award at Eastern Oregon Film Festival, and Audience Award & Best Actress at Woods Hole Film Festival, among others, audiences have readily embraced and joined Lupo on this epic cinematic journey.
Written and Directed by Ann Lupo, Co-Directed and Co-Written by Esteban Pedraza and Aaron Pryka ("Time Paddle"); Cinematography by Nadine Martinez ("Full Frontal with Samantha Bee"), produced by Holly Meehl ("(Dis-Honesty: The Truth About Lies ") and Ann Lupo, and Executive Produced by Freida Orange ("The Departed") and Winnie Kemp ("This Close"). The film is a Lumanova Pictures, Lunamax Films and Movie Time Picture Company joint production in Association with Irving Harvey, and will make its Canadian premiere at Pendance Film Festival on February 3rd, 2019.
Despite boasting rich friendships and a creative job, young filmmaker Ann is consumed by the fantasy of finding true love. Just when she thinks she's found it, she is friend-zoned and the disappointment of rejection shoots her down a deep rabbit hole of unrequited love. Looking for a way to climb out, Ann picks up a camera and sets her sights inward. She confronts multiple characters within her conscious, from a maniacal game show host to a glamorous cabaret performer, that guide her through her investigation of the relationship and her own neuroses. Blending docu-style interview with comedy, drama and hyperbolic fantasies, Ann creates an elaborate, eccentric world that manages to be as intensely relatable as it is one of a kind.
"As a digital distribution company committed to empowering filmmakers with the tools and expertise needed for self-distribution, Giant Pictures is thrilled to join the team behind 'In Reality,'" states Sarah Dawson of Giant Pictures.
About Giant Pictures
Giant Pictures, is a boutique digital distributor based in NYC and Los Angeles, which is dedicated to elevating the digital experience. Working directly with filmmakers and rights owners, Giant distributes movies and TV shows to VOD & OTT platforms in North America and worldwide. Giant is a division of Giant Interactive, an award-winning digital media and technology services company, and is an iTunes Preferred aggregator and encoding house. Recent movie and documentary releases include: 'Newness' (Dir. Drake Doremus, starring Nicholas Hoult, Laia Costa, Sundance 2017), 'What We Started' (Dir. Bert Marcus, featuring Carl Cox, Martin Garrix, Paul Oakenfold, Tiesto, Moby - Miami Ultra 2018), White Boy' (Dir. Shawn Rech, Doc NYC 2017), 'Mr. Roosevelt' (Dir. Noel Wells, SXSW 2017). Visit us at: www.giant.pictures
Check out the trailer here: