Click Here for More Articles on TV/Movies - Blu-ray/DVD
Family Adventure Movie THRILL RIDE Released on DVD and Streaming Today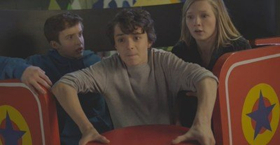 Mason Parrish once asked his father, writer/director Chris Parrish, if they could make movies together when he grows up. Chris said, "Of course." Making Thrill Ride, the award-winning family-adventure movie from Mason's Movies and distributed by Gravitas Ventures, is Chris' way of keeping that promise. The film will be released on DVD, streaming, and video-on-demand Tuesday, December 12 th via Amazon, iTunes, Target.com and pay-per-view.
Thrill Ride is a Mason's Movies Production, named after writer-director Chris Parrish and co-producer Ilisa Parrish's son, Mason Parrish, who passed away at age ten in 2011 from Diffuse Intrinsic Pontine Glioma (DIPG), a rare form of pediatric brain cancer. Mason thought of the idea for Thrill Ride and he and Chris began brainstorming. Neither were big athletes. Fathers and sons play catch, but for Chris and Mason their catch was pitching ideas to each other for stories. They kept doing that even after Mason was diagnosed with brain cancer. "DIPG took away so much from Mason," said Chris. "But it never took away his creativity."
Proceeds from the film go to The Mason Parrish Foundation, a 501c3 charitable corporation with the goal of supporting pediatric brain tumor research and providing handicapped-equipped vans for families facing this devastating diagnosis.
Film critic Dann Gire calls Thrill Ride "The Goonies for the 21 st century," while ReelChicago says, "Go see it!" The film has a 100% audience score on Rotten Tomatoes, five stars on Amazon and 8.6/10 stars on IMDB.
The story Ever since Al Capone built HAPPYLAND Amusement Park in the 1930s, treasure hunters believed Capone's lost fortune awaits somewhere at the end of a hidden ride no one has ever founduntil tonight. When Henry (Lucas Jade Zumann) finds a set of blueprints leading to the loot, he recruits his best friend and big sister on the quest. The kids quickly find themselves on an incredible adventure when they sneak into the abandoned park and witness its attractions magically come to life. To make it out alive, Henry and his pals team up with a friendly sea witch (Kristen Johnston) to do battle against an evil mermaid, deadly pirates, a fire-breathing dragon and an armada of blood-thirsty monsters.
Thrill Ride won Best Feature Film at Gen Con Film Festival 2017, Best Science Fiction/Fantasy Film at Burbank International Film Festival and Best Family Feature at Buffalo Dreams Fantastic Film Festival. The movie was nominated for Best American Independent Feature Film at Cleveland International Film Festival, Best Narrative Feature Film at Hollywood Film Festival and was an Official Selection at Laughlin International Film Festival and Beloit International Film Festival.
Diabolique magazine says, "Any kid or adult would want to hop on a tilt-a-whirl with Henry, Truman and Joy." Thrill Ride is rated PG. The movie is written, directed and produced by Chris Parrish; story by Mason Parrish. Vincent W. Foglia is executive producer and Angie Gaffney serves as producer. Gravitas Ventures is distributing the movie. Thrill Ride stars Kristen Johnston (Third Rock From the Sun), Lucas Jade Zumann (20th Century Women), Tim Kazurinsky (Police Academy movies), Tim DECKER (Empire, Chicago Fire), Helen Sadler (True Blood), Nicole Scimeca (Broadway's Anastasia), John Babbo (Chicago Fire) and Tori Waite.
Please support the film and honor Mason Parrish's legacy. For more information about Thrill Ride or to obtain stills and view the trailer, please visit www.thrillridethefilm.com. For more information about The Mason Parrish Foundation please visit www.themasonparrishfoundation.org.
SOURCE The Mason Parrish Foundation