DEADPOOL THE MUSICAL Returns With Ultimate Disney Musical Parody Sequel!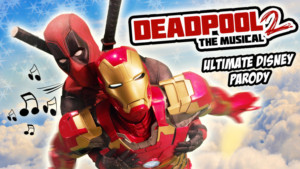 He's back! That "Merc with a Mouth" just can't. stop. singing! Zamurai Productions is excited to announce the official release of their new, entirely fan-created short, "Deadpool The Musical 2 - Ultimate Disney Parody"!
This hilariously R-rated, NSFW mashup of singing and slaying is the follow-up sequel to their 2017 viral fan film, "Deadpool The Musical", a hilarious parody of "Deadpool" singing and slaying to "Gaston" from "Beauty and the Beast". That first, Webby Award winning "Deadpool The Musical" reached over 21 million views across all Youtube and Facebook uploads & properties.
This time, the filmmakers have pulled out all the stops with an insane, action-filled medley of some of your all-time favorite Disney movie songs, including loving parodies of classics like "You're Welcome (Moana)," "Part of Your World (The Little Mermaid), "Belle (Beauty And The Beast)," "A Whole New World (Aladdin)," and "I'll Make A Man Out of You (Mulan)."
Executive produced by Michael Parker (Deadpool The Musical, lead actor), and produced, directed and edited by Julian Higgins (http://www.julianhiggins.com). Written/produced by Paul Bianchi and produced by Brian Danner, who also fight choreographed and stunt coordinated with his incredible stunt team, Sword Fights, Inc. (http://www.swordfightsinc.com). It even includes a few cameo appearances from actors like Casper Van Dien (Starship Troopers), Vic Mignogna (Full Metal Alchemist, Star Trek Continues) and Christophe Zajac-Denek (Twin Peaks)! If you like it, please share it with: #DeadpoolMusical2
**This is a 100% unauthorized, unofficial, non-profit fan film that is not intended for commercial use. It was made solely for fun, with love. All trademarks and characters are owned by 20th Century Fox, Marvel Entertainment, and Walt Disney Pictures, and this fan-film is not connected or affiliated in any way to said companies.
Website - http://www.deadpoolmusical.com. Facebook - https://www.facebook.com/DeadpoolMusical. Twitter - https://twitter.com/DeadpoolMusical (@DeadpoolMusical). Instagram - https://www.instagram.com/DeadpoolMusical (@DeadpoolMusical)
Hashtag - #DeadpoolMusical2.
Related Articles View More TV

Stories