Comedian Nicky Paris Tapped To Host Red Carpet at 5th Annual Burbank Comedy Festival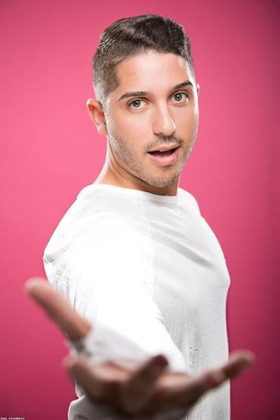 Comedian Nicky Paris has been tapped as the red carpet host for the 5th Annual Burbank Comedy Festival featuring Jeff Garlin, Mary Lynn Rajskub, Daniel Franzese, the Cast of Animaniacs and over 200 of the hottest comedic talents from around the globe. The gripping comedian best known for his performances on The Wendy Williams Show, MTV and his electrifying live performances, will be covering the festival's 5-stage expansion from Sunday, August 12th to Saturday, August 18th. Festival passes, individual show tickets, and special hotel rates are now available at http://www.burbankcomedyfestival.com/.
"I'm ecstatic to be hosting the red carpet as well as performing in Burbank's Comedy Festival this year. There is so much talent being showcased throughout these five days! I'll be interviewing everyone but I'm most excited to interview Daniel Franzese of Mean Girls - that movie is the American classic. Sorry, Mamma Mia."
Performers will include national headliners Jeff Garlin (THE GOLDBERGS), Daniel Franzese (MEAN GIRLS), Mary Lynn Rajskub (24), Carlos Alazraqui (ROCKO'S MODERN LIFE), Jimmy Pardo (NEVER NOT FUNNY), and George Gray (THE PRICE IS RIGHT). New this year, the Burbank Comedy Festival will showcase THE VOICE talent behind some of the most recognizable and beloved animated characters with the entire original cast of ANIMANIACS including Tom Kenny (SPONGEBOB SQUAREPANTS), Billy West (FUTURERAMA), Jim Cummings (VOICE OF WINNIE THE POOH), Bill Farmer (VOICE OF GOOFY), and more. A majority of shows will be live-streamed courtesy of Laugh Lounge, the first standup comedy app for Apple TV and mobile devices. In addition to presenting live performances, the festival offers an exceptional opportunity for the next generation of talent to perform and connect with top entertainment professionals through workshops, panels, and networking afterparties.
FESTIVAL HIGHLIGHTS
Among more than 100 standup, improv, and variety performances, the following shows promise to sell out fast!
• Festival kickoff with Jeff Garlin, Sunday, August 12 at 7pm.
• Wittiest Women headed by Mary Lynn Rajskub, Monday, August 13 at 9pm.
• Voiceover Buzz Weekly with Chuck and Stacey, a live podcast taping that gets up-close-and-personal with top voice actors from the hit cartoon Animaniacs, with special guests Bill Farmer (GOOFY) and Jim Cummings (WINNIE THE POOH), Wednesday, August 15, 5pm.
• One-on-One interview with Phil Rosenthal, co-creator of EVERYBODY LOVES RAYMOND and star of SOMEBODY FEED PHIL on Netflix, Thursday, August 16, 5pm.
• OMG Yasss You're Amazing with Daniel Franzese, Thursday, August 16, 7pm.
PERFORMANCE VENUES
• Flappers Comedy Club: Performances and workshops daily, Main Room, YooHoo, Statler, and Waldorf Rooms.
• LA Connection Comedy Club: Performances at 8pm and 10pm, Sunday, Wednesday, Thursday, and Friday.
• Hilton Garden Inn Burbank Downtown, Happy Hour Shows, Monday through Friday, 5pm to 6:30pm.
• Barney's Beanery, Lunch and Laugh Open Mikes, Sunday through Saturday, 12pm to 2pm.
• Gordon Biersch Brewery Restaurant, Patio Shows, Monday, Tuesday, Wednesday and Friday, 4pm to 5:30pm.
LIVE CELEBRITY PODCASTS
Unique among festivals, the Burbank Comedy Festival will present four podcasts tapings in front of live studio audiences. It's a chance to engage with top comedians as they record their top-rated weekly shows:
• Never Not Funny with Jimmy Pardo. Offering fans the opportunity to eavesdrop on freewheeling conversations between Pardo and his sometimes famous, always funny friends. Monday, August 13, 5:00pm.
• The Jackie and Laurie Show starring Jackie Kashian and Laurie Kilmartin talking about women and comedy. No guests, just two headliners who started in the 80s and never stopped, Tuesday, August 14, 5pm.
• VO Buzz Weekly, an award-winning web-show hosted by voiceover actor Stacey J. Aswad and voiceover producer Chuck Duran with top voice actors from the hit cartoon Animaniacs, and special guests Bill Farmer (GOOFY) and Jim Cummings (WINNIE THE POOH), Wednesday, August 15, 5pm.
• Black Series Rebels, a weekly Star Wars podcast featuring news, toy reviews, and interviews with fans from around the galaxy. Hosted by Alex Backes and Stephen Ellis, Friday, August 17, 5pm.
In addition, there will be more than 20 workshops featuring professional comedians, writers, and industry leaders offering in-depth instruction on honing the comedy craft, breaking into comedy-related entertainment, and more.
For further complete listings of shows, podcasts, special events, panels, and workshops, please visit http://www.burbankcomedyfestival.com/.