ARROW to End After Eighth Season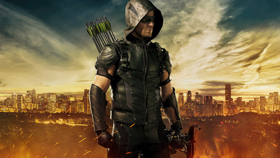 Arrow star Stephen Amell took to social media to announce that series will come to an end after the upcoming eighth season. In a tweet, Amell said "Playing Oliver Queen has been the greatest professional experience of my life... but you can't be a vigilante forever. ARROW will return for a final run of 10 episodes this Fall. There's so much to say... for now I just want to say thank you."
See his tweet below!
In a join statement, Arrow executive producers Greg Berlanti, Marc Guggenheim and Beth Schwartz said, "This was a difficult decision to come to, but like every hard decision we've made for the past seven years, it was with the best interests of ARROW in mind. We're heartened by the fact that Arrow has birthed an entire universe of shows that will continue on for many years to come. We're excited about crafting a conclusion that honors the show, its characters and its legacy and are grateful to all the writers, producers, actors, and - more importantly - the INCREDIBLE CREW that has sustained us and the show for over seven years."
Arrow was the first breakout hit launched by CW president Mark Pedowitz. The series also launched a DC franchise on The CW that now comprises five series, including Flash. All five series, as well as The CW pilot Batwoman hail from producer Greg Berlanti.
Arrow takes place after a violent shipwreck, the billionaire playboy Oliver Queen went missing and was presumed dead for five years. He is discovered alive on a remote island in the Pacific. When he returns home to Starling City, he secretly creates the persona of ARROW to right the wrongs of his family and fight the ills of society.
Based on the characters from DC, ARROW is from Bonanza Productions Inc. in association with Berlanti Productions and Warner Bros. Television, with executive producers Greg Berlanti ("The Flash," "Supergirl"), Beth Schwartz ("Arrow," "Legends") and Sarah Schechter ("Supergirl," "Blindspot"). Consulting Producer - Marc Guggenheim ("Eli Stone," "Percy Jackson: Sea of Monsters").
Playing Oliver Queen has been the greatest professional experience of my life... but you can't be a vigilante forever.

Arrow will return for a final run of 10 episodes this Fall.

There's so much to say... for now I just want to say thank you.

- Stephen Amell (@StephenAmell) March 6, 2019
Related Articles View More TV

Stories