ANCHOR AND HOPE Sails To Theaters This November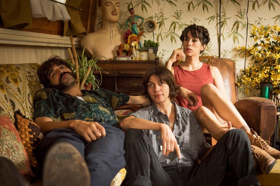 Wolfe Releasing will release ANCHOR AND HOPE in New York and Los Angeles on November 16th.
The film is directed by Carlos Marques-Marcet and written by Marques-Marcet and Jules Nurrish. The film stars Oona Chaplin, Natalia Tena, David Verdaguer and Geraldine Chaplin.
In their mid-30s, Eva (Oona Chaplin, "Black Mirror", Avatar 2) and Kat (Natalia Tena, 10,000 KM, "Game Of Thrones") live a humble, yet carefree lifestyle in their London canal boat until Eva, inspired by her loyal mother Germaine (played by her real mother Geraldine Chaplin, The Orphanage, Doctor Zhivago), presents Kat with an ultimatum: she wants a child. Kat resists, knowing that it will end the bohemian lifestyle that she's always envisioned with Eva. When Kat's best friend, Roger (David Verdaguer, Summer 1993, 10,000 KM), drops in from Barcelona, the three of them toy around with the idea of creating a baby together. Forced into a corner, Kat sees no other way out but to say yes.
As the three begin to look forward as one family, their differing expectations of intimacy and responsibility put a heavy strain on their relationship that threatens to rip the three apart.
Related Articles
View More TV

Stories