8th Annual NATD Honors Gala Recognizes Bill Anderson, Stan Barnett, and More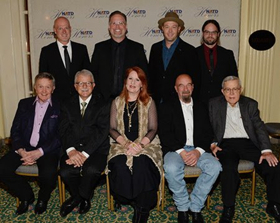 The NASHVILLE Association of Talent Directors' (NATD) 8th Annual Honors Gala honored some of the best in their respective fields for their accomplishments and services to the NASHVILLE entertainment industry: Country Music Hall of Fame member and Grand Ole Opry star Bill Anderson, legendary CAA agent Stan Barnett, award-winning Christian band MercyMe, Variety Attractions' George Moffett, President & CEO of TPAC Kathleen O'Brien, legendary APA agent Ray Shelide. Serving as emcees for this highly-anticipated annual event were WKRN's Stephanie Langston and The Tennessean's Brad Schmitt.
"We had an emotional and moving evening," said NATD President Steve Tolman. "We're always thrilled to honor our colleagues in a setting that is known to be one of the most intimate evenings of the year."
The event, presented by Creative Artists Agency (CAA) and the Grand Ole Opry, featured Nashville's best of the best in the entertainment industry to present and show respect to the honorees. Variety Attractions' George Moffett was presented the first award of the evening by Paul Moore.
Country music star Mark Wills surprised honoree and Country Music Hall of Fame member and Grand Ole Opry star Bill Anderson by performing the hit Anderson wrote for him, "Wish You Were Here." Country singer-songwriter Jamey Johnson also joined to make remarks on Bill's career before inviting the legend to the stage.
Tim O'Brien, husband of honoree Kathleen O'Brien, President and CEO of TPAC, was invited on stage to make remarks and present his wife the award.
After a round of congratulatory videos, including one from the entire APA staff, Mick Scully made his way to the stage to present longtime booking veteran Ray Shelide with his award.
Board member Rod Harris was surprised by the NATD with the President's Award for his lifetime of work in the entertainment industry, and his decades of dedication to the organization, having served in many capacities on the NATD Board over the years, including a stint as President.
WME Agent Mike Snider made remarks about hit-making Christian group MercyMe before presenting them with their award. Lead singer Bart Millard spoke on behalf of the band and expressed their thrill at being included with the magnitude of industry talent in the room, and of being genuinely moved by the honor.
Honoring legendary agent Stan Barnett was CAA's John Huie, who touched on Stan's commitment to quality and true country music. Barnett began his career with such legends as Buck Owens and Keith Whitley, and has been instrumental in the careers of Billy Ray Cyrus, Lady Antebellum, Brandy Clark and so many more.
NATD President Steve Tolman and Directors, Blake McDaniel and Zach Farnum bestowed a $2,500 donation to Scott Hamilton's "Scott Cares Foundation," a $1,000 donation to Renewal House in Brad Schmitt's name and a special presentation of a washer and dryer to a school through Communities in Schools (CIS). CIS Executive Director Hank Clay was on hand to discuss their organization and accept the donation.
Photo Credit: Rick Diamond/Getty Images for NATD
Related Articles View More TV

Stories