Review: Netrebko and the Notorious RBG, Many Others, Make a Truly Gala Tucker Foundation Tribute to Winner Van Horn
Sometimes, it's nice to remember a time when opera was all about wonderful singing, singing and more singing. Sunday's annual concert of the Richard Tucker Foundation--celebrating the current winner of its top prize, bass-baritone Christian Van Horn--was a great salute to this artist in particular but to the form in general.
And the presence of Justice Ruth Bader Ginsburg--still doing her best to keep the flame at 85--was the cherry on the sundae. (Too bad they didn't bring her on stage and have tenor Michael Fabiano sing "O soave fanciulla" to her!)
Most of the evening's highlights were thanks to "Joe Green" (okay, Giuseppe Verdi), with many performances from previous Tucker Award winners, with conductor Marco Armiliato and members of the Met Orchestra.
Van Horn--who I still recall from his turn as Donner in the Philharmonic's RHEINGOLD and as a standout as Raimondo in last month's LUCIA in Philadelphia--proved he's the real thing in "Oh chi piange?" from Verdi's NABUCCO. There was no worry about hearing him over the forces from the New York Choral Society: He burst with energy and passion, while being no stranger to a fine legato.
That was particularly evident in the famed monologue from DON CARLO, "Ella giammai m'amo!" His earthy sound was thrilling, particularly for an aria frequently sung by performers who have more life experience under their belts but less voice. I can't wait to hear his MEFISTOFELE next month at the Met.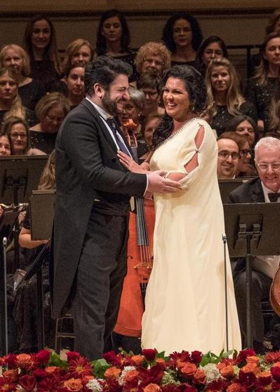 He even added something special to his cameo in "Vicino a te s'aqueta" from ANDREA CHENIER, where the main attraction was the potent duo of Anna Netrebko and hubby Yusif Eyvazov in a vivid performance. (I was concerned that she might not show, when her "Pace, pace" from FORZA disappeared from earlier in the program.) Speaking of Eyvazov, he turned in a stylish rendition of the show-stopping "Di quella pira" from TROVATORE--god knows, the Met could use another tenor of his fach who doesn't fake (or miss) the high notes. And if he brings along a few more performances by la Trebs as a bonus, well that wouldn't be so bad...
This was an evening filled with highlights--and not a single no-show--let me count the ways. The single entry from Richard Strauss was left in the fine hands (and voice) of soprano Christine Goerke, as she warms up for the spring's RING CYCLES. She whipped off the Primadonna's "Es gibt ein Reich" from ARIADNE AUF NAXOS as if it were mother's milk. (It's hard to believe it wasn't that long ago when she was 'rediscovered' at the Met in DIE FRAU OHNE SCHATTEN.) She followed that with a touching "Regina Coeli..." from CAVALLERIA RUSTICANA, with no fear of being oversung by the chorus.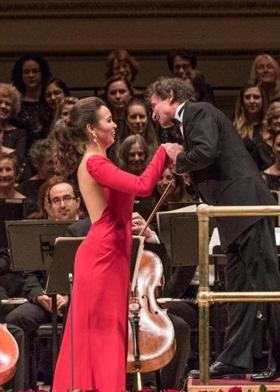 I find soprano Nadine Sierra an utterly charming presence on stage, as she proved again in "Me llaman la primarosa" from the Gimenez-Nieto alternate to Rossini's BARBIERE. She turned serious, but no less effective, in the St. Sulpice scene ("N'est-ce plus ma main?") from Massenet's MANON, opposite Fabiano, who was in fine voice. They had great chemistry--with much playfulness from her--though I found he turned up the volume more than needed, both here and, earlier, in LUISA MILLER's "Quando le sere al placido," seeming to underestimate the power needed in a house smaller than the Met.
Soprano Angela Meade, on the other hand, knew just how much she needed to blow the roof off with the cabaletta ("No, no! giusta causa") from I LOMBARDI, backed by the able Choral Society. She also proved a notable and willing partner to the suave tenor of Javier Camarena in "Amor! Possente nome!" from Rossini's ARMIDA. Earlier, Camarena turned in a gorgeous "Dieu! Pour venger un pere" from Garcia's FLORESTAN.
Quinn Kelsey--he of the lush, booming baritone--dialed it back a bit for a fine rendition of Ford's Monologue, "E sogno? O realta," from FALSTAFF. Near the end of the evening, he paired with Van Horn for a finely wrought, elegant performance of "Riccardo! Riccardo!... Suoni la troma" from I PURITANI.
Last, but certainly not least, there was stellar mezzo (or "girl singer," as she told me) Stephanie Blythe. She filled in the spot where "Pace, pace" would have gone in the program, with her inimitable rendition of the "Habanera" from CARMEN--a little less over-the-top than she did it the last time I heard her, but effective nonetheless (taking time to throw some roses to a few lucky audience members).
Blythe was also entrusted with the evening's nod to the Bernstein centenary. It is a fitting ode for our times from the maestro's Broadway entry, 1600 PENNSYLVANIA AVENUE, which she delivered in a sensitive, caring style: "Take Care of This House."
It was a grand, memorable night for singing.