New Recording Of Marc Blitzstein's The Cradle Will Rock From Opera Saratoga Now Available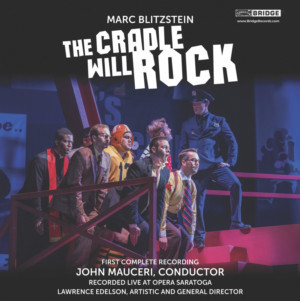 Bridge Records is pleased to be issuing the first complete recording of Marc Blitzstein's signature creation, the opera The Cradle Will Rock. The new recording features Blitzstein's original 1937 orchestrations and was recorded live at Opera Saratoga in July 2017. The performance features a stellar cast including Ginger Costa-Jackson as Moll; Keith Jameson as Harry Druggist; Christopher Burchett as Larry Foreman; Audrey Babcock as Mrs. Mister; and Matt Boehler as Mr. Mister. The production is conducted by John Mauceri with direction by Lawrence Edelson. The two-disc set also includes a rare recording of Marc Blitzstein discussing the opera's opening night in 1937.
The opening night of The Cradle Will Rock (July 16, 1937) was one of the most infamous in history. The attempt to shut down and censor the production resulted in an improvised performance with Blitzstein playing his score on the piano, which has influenced performances of this American masterpiece for decades. This new recording restores Blitzstein's brilliant original orchestrations to their full glory. Although commentators have variously called The Cradle Will Rock an operetta and a musical comedy, Blitzstein objected to both terms. In the published versions of the score and libretto, he designated the work a play in music, although in some manuscripts he called the piece an opera, by which he meant, as he stated in 1938, a form whose music and drama had "a continuous and serious mutual relation." Opera Saratoga's remarkable production of the fable of Steeltown USA, corrupted at every social level by the predations and capitalist cupidity of its boss-man, Mr. Mister, was hailed by the Philadelphia Inquirer as having "no polite veneer to soften Blitzstein's social outrage, with a cast that had the scrupulousness of opera but the theatricality of Broadway." Straddling the worlds of opera, musical theater and popular music, The Cradle Will Rock is as timely and entertaining today as when it first premiered in 1937. Leadership support for the recording of The Cradle Will Rock was generously provided by The Kurt Weill Foundation for Music, Inc., New York, NY, and Stephen E. Davis; with additional support from Marcia Miller in memory of Thomas Damien Reilly. The complete cast in order of vocal appearance: Moll: Ginger Costa-Jackson; Gent: Andy Papas; Dick: Efraín Solís; Cop: Dylan Elza; Dr. Specialist: Jorgeandrés Camargo; Reverend Salvation: Justin Hopkins; Dauber: Scott Purcell; Professor Trixie: Michael Anderson; President Prexy: Eric McConnell; Professor Mamie: Adam Bradley; Editor Daily: Brian Wallin; Yasha: John Tibbetts; Harry Druggist: Keith Jameson; Clerk: John Mauceri; Mrs. Mister: Audrey Babcock; Sister Mister: Heather Jones; Junior Mister: Spencer Viator; Mr. Mister: Matt Boehler; Steve: Miles Herr; Bugs: Andy Papas; Sadie Polock: Meghan Kasanders; Gus Polock: Michael Anderson; Larry Foreman: Christopher Burchett; Professor Scoot: Miles Herr; Ella Hammer: Nina Spinner; Reporters: Meghan Kasanders, Efraín Solís; Steel Workers: Courtney Elvira, Miles Herr, Heather Jones, Marisa Karchin, Meghan Kasanders, Luke MacMillan, Katherine Maysek, Shelley Mihm, Garrett Obrycki, Lisa Rogali, Efraín Solís, Emily Tweedy, Spencer Viator, Laura Zahn, and Max Zander. Bridge Records, Inc. was founded by guitarist David Starobin and violinist Becky Askew Starobin. The couple's son, Robert, joined them at Bridge shortly after completing his graduate studies. Now in its 37th year, the Bridge catalog numbers more than 500 highly honored titles, including 32 Grammy and Latin Grammy nominated recordings.
www.BridgeRecords.com
Opera Saratoga, formerly known as Lake George Opera, began with a production of Die Fledermaus at the Diamond Point Theatre on July 5, 1962, playing to an audience of 230. The Company now calls Saratoga Springs home and performs for more than 25,000 people annually. Opera Saratoga serves the communities of Saratoga Springs, the Lower Adirondack and New York State Capital areas by providing access to world-class opera through the production of an annual Summer Festival, as well as year-round activities including extensive educational programs, mentorship of emerging operatic artists, and unique opportunities for the public to experience opera in both our home theater and non-traditional venues that leverage and embrace the unique cultural, historic, and natural resources of the area. To date, the Company has performed over 90 different fully-staged works by over 50 different composers, including thirty-three works by American composers and six world-premiere productions. In 2014, the Board of Directors appointed Lawrence Edelson Opera Saratoga's Artistic and General Director. Edelson's leadership has marked a new chapter in the company's history, with increased emphasis on community partnerships throughout the year, diversification of the company's repertoire, and a reaffirmed commitment to both the presentation of American opera and the mentorship of emerging artists as core activities in the company's programs each season. For more information, visit
www.operasaratoga.org
.

Related Articles View More Opera

Stories
More Hot Stories For You