BWW Showstopper: Ride 'Em, Valkyries, in Part Two of the Met's RING CYCLE
There's lots to enjoy in the Met's revival of DIE WALKURE, the second part of Richard Wagner's great tetralogy, DER RING DES NIBELUNGEN, better known simply as Wagner's Ring Cycle, which had its first performance of the season on Monday night--all five hours of it!--under the pulsating control of Philippe Jordan and the Met orchestra in full throttle.
The thrills started with the entrance of soprano Christine Goerke as Brunnhilde with her "Ho-jo-to-ho," bursting onto the scene like a, well, Valkyrie, entrusted with bringing dead heros home from the battlefield to Valhalla.
There's also the pairing of tenor Stuart Skelton and soprano Eva Marie Westbroek as the incestuous twins, Siegmund and Sieglinde, in a sublime but doomed relationship. And I can't forget the clarion mezzo Jamie Barton as Fricka, goddess of marriage--though she can't keep her own husband, Wotan (the dramatic bass-baritone Greer Grimsley), at bay, but has a trick or two up her sleeve.
For sheer pleasure and delight, however, there's nothing that beats the best-known section of the opera, "The Ride of the Valkyries," which opens Act III. With all due respect to all the great orchestras that have performed the instrumental version of the piece, there's nothing like hearing it with eight big-voiced women having the time of their lives with it-and that's just what happened on Monday night. It's also the instance where the disappointing "machine" built as the scenery of this cycle by Robert Lepage gives its best performance.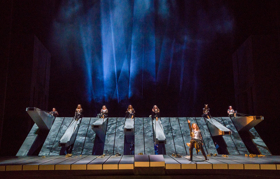 Here, it's not the backdrop for the video images of Boris Firquet or creaking into bridges and staircases (and possible deathtraps for the singers), but as teeter-totters representing the steeds on which the Valkyries arrive. And boy do they arrive, first tottering on their fulcrums holding the reins of their horses, then sliding down the length of the plank and landing on their feet as they give some "Ho-jo-to-ho" of their own. I find the scene amazing to behold for the sheer physicality demanded of the singers--the music itself is a big enough challenge, which they seem to relish--and the incredible fun it is for the audience.
So three cheers for Wendy Bryn Harmer as a stellar Ortlinde and her glorious sisters-Kelly Cae Horgan (Gerhilde), Jessica Faselt (Helmwige), Renee Tatum (Waltraute), Daryl Freedman (a debut as Schwertleite), Eve Gigliotti (Siegrune), Maya Lahyani (Grimgerde) and Mary Phillips (Rossweisse)! While I won't miss much about the 45-ton set when it's scrapped after this season to build some bridge in a Third World country, I'll always recall the Valkries' entrance. It's a helluva ride!
There are more performances of DIE WALKURE: the matinee on March 30 that will be transmitted to 73 countries, as part of the Met's "Live in HD" series, as well as on April 25, April 30 and May 7.
Curtain times vary: complete schedule here. Running time: 4 hours and 55 minutes, two intermissions.
Tickets begin at $25; for prices, more information, or to place an order, please call (212) 362-6000 or visit www.metopera.org. Special rates for groups of 10 or more are available by calling (212) 341-5410 or visiting www.metopera.org/groups.
Same-day $25 rush tickets for all performances of Die Walküre are available on a first-come, first-served basis on the Met's Web site. Tickets will go on sale for performances Monday-Friday at noon, matinees four hours before curtain, and Saturday evenings at 2pm. For more information on rush tickets, click here.