BWW Roundup: It's Almost 'In with the New' But Not Before Some Last 'Hurrahs!' for Opera's 2017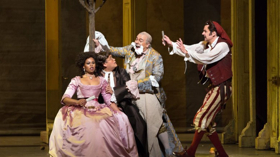 It's just about time to wish you all a happy 2018--but I'm not quite ready to put 2017 to rest. Though it won't go into the annals as one of the "best years ever," there were quite enough performances and performers that made this year a winner for me, operatically speaking at least, in my corner of the world.
Daring Duos
New York City's my home base, so the Met appears there it are more than its share in my list. Here are a few pairings (all at the Met) that I remember fondly.
Pretty-Javier. I'll start with soprano Pretty Yende and tenor Javier Camarena in Rossini's BARBIERE DI SIVIGLIA, which showed off their supple voices and great comic chops. They were terrific together, bringing out the best in a wonderful score. In fairness, this opera's more than a two-horse shay, but the Figaro, baritone Peter Mattei, the production's Figaro, was somewhat under the weather the night I heard him, though bass Mikhail Petrenko and bass-baritone Maurizio Mauro needed no excuses as the bad guys/fun guys in the show.
Javier-Diana/Diana-Vittorio. Camarena also did quite well as Arturo in Bellini's I PURITANI at the Met with Diana Damrau, who sounded pretty good considering her ill health. She, in turn, sounded much better in Bartlett Sher's dreary ROMEO ET JULIETTE opposite Vittorio Grigolo, who turned in a subtle, well-measured performance. Maybe French suits him better than Italian, because his CONTES D'HOFFMAN was quite good as well.)
Anna-Peter. No one would deny that Anna Netrebko is one of today's top draws in the world of opera and she gave a lesson in her appeal in last spring's EUGENE ONEGIN. Oh sure, she was better suited dramatically to playing the grand dame rather than as the teenager, but she sang gorgeously in the Letter Scene and elsewhere in the opera. And when baritone Peter Mattei rejected her advances, she was devastating. As for Mattei, as Onegin, whether being blasé or needy, he was a marvelous foil, turning in a vocally potent performance.
Sonya-Michael. Not many laughs in Verdi's LA TRAVIATA--but the poignant, dramatic score does very well without them. This year's Violetta and Alfredo included soprano Sonya Yoncheva and tenor Michael Fabiano and I was glad to be in their company, even when their characters were not such good company for each other. Yoncheva has become a favorite of mine--I'm looking forward to her role debut as Tosca next week at the Met--and her chemistry with Fabiano (a less boyish, more take-charge Alfredo than usually seen) was palpable.
Roberto-Jennifer. Okay, Jennifer Rowley's Roxane wasn't quite in the same class as Roberto Alagna's Cyrano, but I wanted the opportunity to give a shout-out to Alagna's muscular, vibrant performance. Maybe Alfano isn't in the equal of the other composers just mentioned, but not every composer has to be Verdi (or Puccini or Bellini or...) for an opera to work, and CYRANO has its share of memorable moments--at least with the right tenor. Alagna was 'right.'
More than Brotherly Love in Philadelphia
A short train-ride from New York, Opera Philadelphia debuted its new festival this year and certainly proved to be an operatic force, with several memorable events of the year.
It adopted a much-seen production of Mozart's DIE ZAUBERFLOTE by co-directors Suzanne Andrade, Paul Barritt and Barrie Kosky and it instantly became one of my favorites of this tricky-to-stage opera, but it was the new work that really rang the bell for me.
I had a grand time with the gorgeous score from Kevin Puts (to Mark Campbell's pithy, antic libretto) in the splendid ELIZABETH CREE--and cheers again for mezzo Daniela Mack in the title role and tenor Joseph Gaines' tour de force as music hall performer Dan Leno.
But I was most dramatically stunned by the entire production of WE SHALL NOT BE MOVED, which I caught when it transferred to New York's Apollo Theatre shortly thereafter. It was done under the sure hand of Bill T Jones, exploring history past and present with spoken word, contemporary movement, classical, R&B and jazz singing, and standout performances by countertenor John Holiday and mezzo Kirstin Chavez. (Although I wasn't quite as enthusiastic about David Hertzberg's WAKE WORLD, it was more the production at the Barnes Museum than his fascinating score, particularly the choral writing.)
Not that Opera Philadelphia's success with the festival came out of the blue--just that it was so plentiful. Earlier in the year, Opera Philadelphia sent its powerful commission, BREAKING THE WAVES, by Missy Mazzoli and Royce Vavrek, to New York, as the centerpiece of the PROTOTYPE Festival, with a stunning, go-for-broke performance by soprano Kiera Duffy. (The company also sent its CHARLIE PARKER'S YARDBIRD by Daniel Schnyder with tenor Lawrence Brownlee to London's Hackney Empire in June.)
In short, ignore the operatic goings-on in Philadelphia at your peril. (I won't.)
Stealing the Show
Nadine Sierra has proven herself to be one of the most admired young sopranos of her generation, with a major international career. She topped it off with the Richard Tucker Foundation's top award this year, celebrated at Carnegie Hall a few weeks back.
While I find myself among her admirers, I couldn't help but notice how other singers purloined the evening at two performances she shared with them. The first was in Mozart's IDOMENEO at the Met, where scene-stealer Elza van den Heever was busy at work as Elettra, bringing down the house four hours into the opera with "D'Oreste, d'Aiace." Then, at the Tucker Gala earlier this month, mezzo Stephanie Blythe triumphed in a sultry "Habanera" from CARMEN.
HOLLANDER vs. HOLLANDER
I hadn't seen Richard Wagner's DIE FLIENGENDE HOLLANDER (THE FLYING DUTCHMAN) for quite a while before April's performances at the Met. It not only featured baritone Michael Volle's stirring portrayal of the title role but a star performance from the Met's new Music Director, Yannick Nezet-Seguin leading the Met orchestra--without an intermission!--and the convincing singing of soprano Amber Wagner. Still, the production was gloomy and I would have been happy to put a repeat into storage for a while.
Then I suddenly found myself face to face with the opera again--not at the Met but in Atlanta, in a new production by the Atlanta Opera's general manager and artistic director Tomer Zvulun (a former assistant director at the Met) that emphasized different aspects of the work. This time, there were two intermissions, and a cast that registered less as archetypes and more like flesh and blood. While I wish there was a happy medium between no intermission and two, the performances proved that there's more than one way to skin a Wagner and come up with a winner.
(Speaking of how different performances and productions can make a difference in the perception of an opera, I give you last fall's production of LA FANCIULLA DEL WEST at City Opera. I've seen the Met's production of FANCIULLA several times and have never been taken with it, let alone be transported by it. Then came the performance at City, which reminded me that this is indeed a first-rate work, compellingly performed by a trio of singers: soprano Kristin Sampson as Minnie, the saloon keeper; tenor Jonathan Burton as the bandit-in-disguise, Dick Johnson; and baritone Kevin Short as Sheriff Rance.)
"Less is More" in Concert
Sometimes it's better to hear an opera in concert, with a chance to concentrate on the music and forget about the libretto or a director's quirky thoughts on bringing it to life. I found a quartet of these this year, two at Carnegie Hall, one at the Philharmonic and once at Caramoor.
Handel. ARIODANTE was one of Handel's last great operas, dating to 1735 and it was performed by the English Concert and Harry Bicket at Carnegie and featured a star turn by mezzo Joyce DiDonato. The title character doesn't make his appearance (this is a pants role) until the fifth scene and his first really gorgeous aria didn't appear until well into the second act, with DiDonato sensational in "Scherza infida". Even better was the later "Dopo notte," filled with roulades and leaps and interesting rhythms.
Monteverdi. It has been a while since I last heard Monteverdi's LA INCORONAZIONE DI POPPEA--one of the oldest extant operas--done live, but after hearing the version performed by Concerto Italiano at Carnegie, conducted by Rinaldo Alessandrini in February. I was immediately ready for another go-around. (I was unfortunately unavailable when it was done during Lincoln Center's White Light Festival in October.) At Carnegie, it was done with a minimum of props (including some delightfully silly wigs) but the soloists in concert attire and orchestra were able to conjure up a world of an egotistical emperor (how timely), spiteful goddesses and servants happy to serve the powerful (and get what they can out of it). Soprano Miah Persson was grand as the seductress Poppea (also the goddess Fortuna) and Leonardo Cortellazzi was a powerful Nerone (Nero).
Wagner. Alan Gilbert has put on some amazing operas in concert during his tenure at the head of the New York Philharmonic, but his final choice, a true rarity in these parts, Messaien's SAINT FRANCOIS D'ASSISE, was overruled. In its place was Wagner's DAS RHEINGOLD, the prologue to the Ring cycle, which is not exactly an unknown. Nevertheless, audiences were the winners in the duel between the maestro and management. The cast--particularly baritone Christopher Purves as Alberich, tenor Russell Thomas as Loge and mezzo Jamie Barton as Fricka, with bass-baritone Eric Owens as Wotan-- was superb.
Bellini. In his parting gesture at Caramoor before moving camp to SUNY Purchase, NY, Will Crutchfield chose Bellini's IL PIRATA, with a role debut for Angela Meade as Imogene. Sure, the opera is not unfamiliar to New York audiences--Callas and Caballe both did it at Carnegie Hall and the Met mounted a new production for Renee Fleming in 2002--but it was worth the trip to Westchester for this one. With minimum staging and maximum effect (and direction that amounted to "traffic control"), this Bellini found Meade in great voice and Argentine tenor Santiago Ballerini doing uncommonly good work as the title character, with soaring high notes and sensitive vocalism.
No Trojan Horse Here
My choice for recording of the year was the new LES TROYENS with DiDonato, Michael Spyres and Marie-Nicole Lemieux as Dido (Didon), Aeneas (Enee) and Cassanda (Cassandre), respectively. Under John Nelson's careful baton, and taken from a couple of live concert performances in Strasbourg, France, it was a marvel of style and vocal thrills, with the mounted forces of three choruses and two orchestras making the performance sound monumental.
The Shape of the Future
Where is the next generation of singers coming from? Look no further than Juilliard. The young singers of Juilliard Opera and the Juilliard415 period-instrument ensemble sang the heck out of Handel's often silly but still beautiful AGRIPPINA, in a full staging at the school's tiny Willson Theatre. The three singers at the top--along with many others in the company--were the outstanding soprano Samantha Hankey, the sultry mezzo Onadek Winan and the wonderful countertenor Jakub Jozef Orlinski. I've heard tell that the Met is going to mount the opera for DiDonato--who recorded its Act 2 aria, "Pensieri, voi mi tormentate," on her "In War & Peace: Harmony through Music" album--but I'll believe that when I see it.