Review: The Met's New TOSCA Tries for Beauty but Disappoints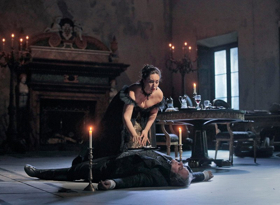 The trials and tribulations of the Met's new take on Puccini's TOSCA have been well documented--with all three principals replaced along with two conductors--and it would be nice to be able to say that everything came out happily-ever-after.
Alas. There's nothing wrong with the company's surprise-free new take on one of Italian opera's most famous works that a stronger director couldn't come in and cure because, with Sir David McVicar at the helm, the production didn't get the firm hand that it needed.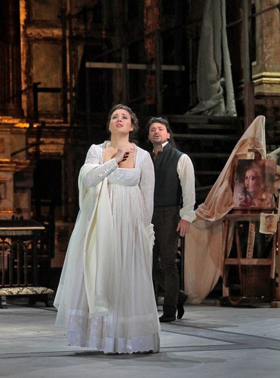 Am I being too harsh? I don't think so. While none of the originally announced artists made it to the premiere, the cast on opening night could hardly be called the "B team." Starring a pair of pretty high-powered singers--soprano Sonya Yoncheva as Floria Tosca and tenor Vittorio Grigolo as Mario Cavaradossi--making role debuts (baritone Zeljko Lucic has sung Baron Scarpia before), the opera often gave the appearance, to me, of three characters in search of stronger leadership. (A second cast comes in the spring, headed by Anna Netrebko and Marcelo Alvarez.)
Without the right guide, Grigolo fell back on his usual bag of tricks (throwing his arms in the air, standing on his toes, etc.), hamming it up unmercifully. We've seen them too many times from him at the Met not to do some eye-rolling of our own. He may be Italian, but to me at least, he's always seemed more convincing in French, perhaps because he has to pay more attention to the language than when he sings in his native language. The result here was that even when he sounded good--and he did--he distracted from his own performance with too many mannerisms. To be fair, he held them (mostly) in check during Act III's "E lucevan le stelle" and gave his most effective work of the evening, his voice alternatively potent and sweet.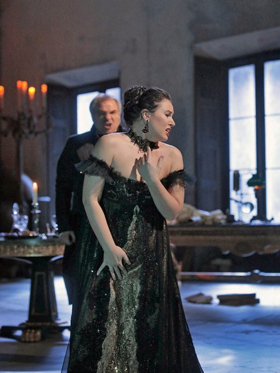 Yoncheva was better, much better, as Tosca, but a little low key for my taste--perhaps to make up for the excesses of her partner--and lacking spontaneity. It started with her Act I entrance: Who thought of having Tosca wear white? A virgin she ain't and it didn't fit the grand diva that the role demands. Her voluptuous soprano sounded good in "Vissi d'arte," but, dramatically, you couldn't tell whether you were hearing an interior monologue or a plea to Scarpia, the lecherous, sadistic police chief--though having him sit motionless, dimly lit in David Finn's lighting design, while she sang was a clue. (I think.)
But even her best scene in the opera--in which she murders Scarpia--could have used a little assistance from a director in better working it out. Tosca's ritual of lighting candles and saying a little prayer over Scarpia's dead body, can be quite moving, but I didn't find it particularly so--more a matter of pacing, I think, than anything else.
Last of the three principals was baritone Lucic. He was the last to come on board, when Bryn Terfel withdrew last month, and he gave a reasonable take on Scarpia, one part Harvey Weinstein, one part bully in chief. It may be the easiest of the opera's roles to pull off with its snarling, unapologetically repulsive outline, but another director could have helped him bring some nuances. Still, he did a pretty respectable job.
A lack of finesse was typical of McVicar's take on many of the smaller roles; there was some fine singing from bass Christian Zaremba as Angelotti and tenor Brenton Ryan as Spoletta but their characters could have used some deepening. I brightened when I saw that baritone Patrick Carfizzi was doing the Sacristan--a younger, richer voice than many of the character singers who usually get the job--but, again, he was not well directed and became cartoonish.
After the lack of enthusiasm for the plain (sometimes plain-ugly) and often repellent Luc Bondy version that was just retired, and widely reviled, the Met's General Manager Peter Gelb decided that the new take should be more like the classic Zeffirelli production that preceded it, which transported audiences to Rome. ("When it comes to a classic piece of repertoire, beauty counts--and that's what the audience wants," Gelb told the New York Times.)
This one, including the costumes, came from John Macfarlane, a cohort of McVicar. It was pretty, all right, but overflowing with odd touches. For example, why was it on a tilt? Why did Tosca make her entrance from an unprepossessing door (which was, by the way, left ajar accidentally, showing odd lights and shadows to the audience)? Who were some of the particularly odd characters traipsing through the church in Act I? No point of view can be just as bad as Bondy's unpleasant one and this cake seemed taken from the oven before it was done.
The Met Orchestra sounded good under conductor Emmanuel Villaume--this is an opera that the orchestra can probably play in its sleep--who was brought in to replace James Levine, under the gun for accused sexual misbehavior. The Met chorus was in good form as well, under Donald Palumbo. Villaume, who is music director of the Dallas Opera, didn't appear to take his nose out of the score for much of the opera (seen on January 3); this was a surprise after seeing him do such a thoughtful job with the Juilliard Opera and L'ENFANT ET LES SORTILEGES very recently. There, he showed that a strong hand on the podium can be more than a little help to singers lacking experience in their roles. All you have to do is use it.
###
Additional performances of TOSCA will take place on January 6, 9, 12, 15, 18, 23, 27mat; April 21, 26, 30; May 4, 8, 12. The Saturday January 27 matinee will be transmitted worldwide as part of the Met's 'Live in HD' series, now seen in more than 2,000 movie theaters in 73 countries.
Curtain times vary; complete schedule here. Running time: 2 hours and 53 minutes, with two intermissions.
Tickets begin at $25; for prices, more information, or to place an order, please call (212) 362-6000 or visit www.metopera.org. Special rates for groups of 10 or more are available by calling (212) 341-5410 or visiting www.metopera.org/groups.
Same-day $25 rush tickets are available on a first-come, first-served basis on the Met's Web site. Tickets will go on sale for performances Monday-Friday at noon, matinees four hours before curtain, and Saturday evenings at 2pm. For more information on rush tickets, click here.