Review: The San Diego Opera Presents STEPHANIE BLYTHE IN RECITAL at the Balboa Theatre
Stephanie Blythe Sings Johnny Mercer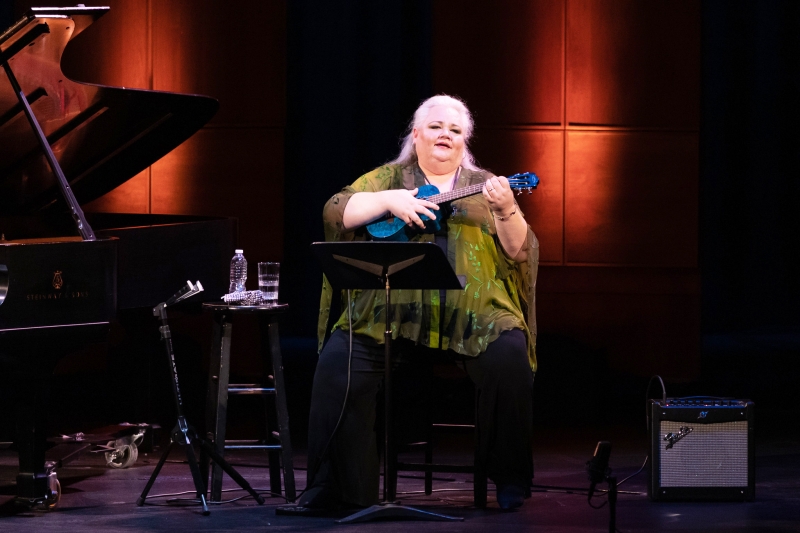 The imposing mezzo soprano Stephanie Blythe is known for her roles in Wagner, Verdi and Stravinsky. Why would she begin a Balboa Theatre recital for the San Diego Opera with Johnny Mercer's "Ac-Cent-Tchu-Ate the Positive?" Here's what she said in a recent interview, "I've been a great fan of Johnny Mercer's and I've been singing the music of his Great American Songbook for a very long time." Rather than a concert-hall recital, Blythe was doing cabaret, and doing it far better than most of the opera singers who try to crossover. Her main problem had to be choosing which songs to include in her tribute to Johnny Mercer. He wrote 1500 of them, most often sticking to lyrics in collaboration with the A-list melodic composers of his era. At one point in the 40s he had five of the top ten on the popular radio show "Your Hit Parade." (If you remember Snooky Lanson and Dorothy Collins, I wouldn't mention it in your dating app bio.) Mercer's honors include nineteen Oscar nominations with four wins. That got him a star on the Hollywood Walk of Fame.
So it was Mercer on this night, even though Blythe made her professional debut at the Metropolitan Opera in 1995, then caught a big break the following season when she received rave reviews while covering for Marilyn Horne. Since then she's appeared in many Met productions, singing everything from Cornelia in Handel's Giulio Cesare to Fricka in Walküre and Auntie in Britten's Peter Grimes. New York Times critic Anthony Tommasini once wrote, "Blythe ... sounds vocally at home no matter what she sings." She proved home included pop music in a 2014 San Diego Opera concert of songs made famous by contralto Kate Smith. Now she's proven it again with the decidedly non-operatic songs of Johnny Mercer. And the irrepressible uninhibited singer has her eye on rock music and male operatic roles for future gigs.
According to Blythe her music director and accompanist Ryan McCullough is equally passionate about Mercer, and his arrangements of Mercer's songs were colorful and
imaginative. Once past a spirited accentuating of the positive, the duo turned to the songwriter's tender side with "I thought About You." Pianist McCullough showed his classical chops with an intro reminiscent of Rachmaninoff, and when Blythe joined, he slipped smoothly into a supporting role until Blythe repeatedly passed the melodic line to the piano for poignant wordless statements of the phrase "and I thought about you."
Effective program pacing meant the ballad was followed by Mercer's clever "Jeepers Creepers," then a soft, wistful arrangement of "Laura." McCullough's inventive arrangement created a dreamy phantasy-like setting with sparkling piano accents outside the melody's usual harmonic structure. Blythe was at her best with this and the other romantic ballads, living the lyrics as the finest interpreters do.
The mezzo soprano and her accompanist won the audience over with relaxed friendly banter. Casual was the word for the evening. Neither performer wore shoes. Blythe said the habit carried over from the recent forced two years of no concerts, but that she did decide to wear a bra, noting that it was especially handy in opera staging as a convenient place for things like handkerchiefs and "small tenors."
The singer clearly enjoyed hamming it up and talking about Mercer and his songs before each of them. The audience loved the exaggerated facial expressions and good comedic timing, although, ironically, the joking repartee with McCullough may come to feel more spontaneous with repetition in future performances.
Three of the 14 tunes in the program featured Blythe accompanying herself on a ukulele. Her call for a hum-along as she sang and strummed on "Moon River" further endeared her to the audience. (But I hope she relies on her pianist instead the next time she does the gorgeous "Autumn Leaves." The uke is just out of place.)
The only unfamiliar tune (deservedly so) in the program was "The Waiter and the Porter and the Upstairs Maid," one of Mercer's playful pokes at pretentiousness. McCullough called his arrangement "boppish" before tearing into an introduction which was boogie-woogie in the left hand and sort of boppish in the right. The performers had fun with the corny novelty number and, dang it all, fun is infectious. Stefanie Blythe's good humored, anti-pretentious show had lots of it, along with fine arrangements and performances of some of the greatest pop tunes ever written.
How To Get Tickets
The San Diego Opera keeps the same format for its next two programs, recitals by soprano Michelle Bradley and then tenor Arturo Chacón-Cruz. For schedule and ticket information visit the San Diego Opera website.
Photo credits Karli Cadel