Click Here for More Articles on REVIEW ROUNDUP - OPERA
BWW Review: THE FLYING DUTCHMAN at Theater Erfurt - This DUTCHMAN finally takes flight on the wings of Kelly God's magnificently sung Senta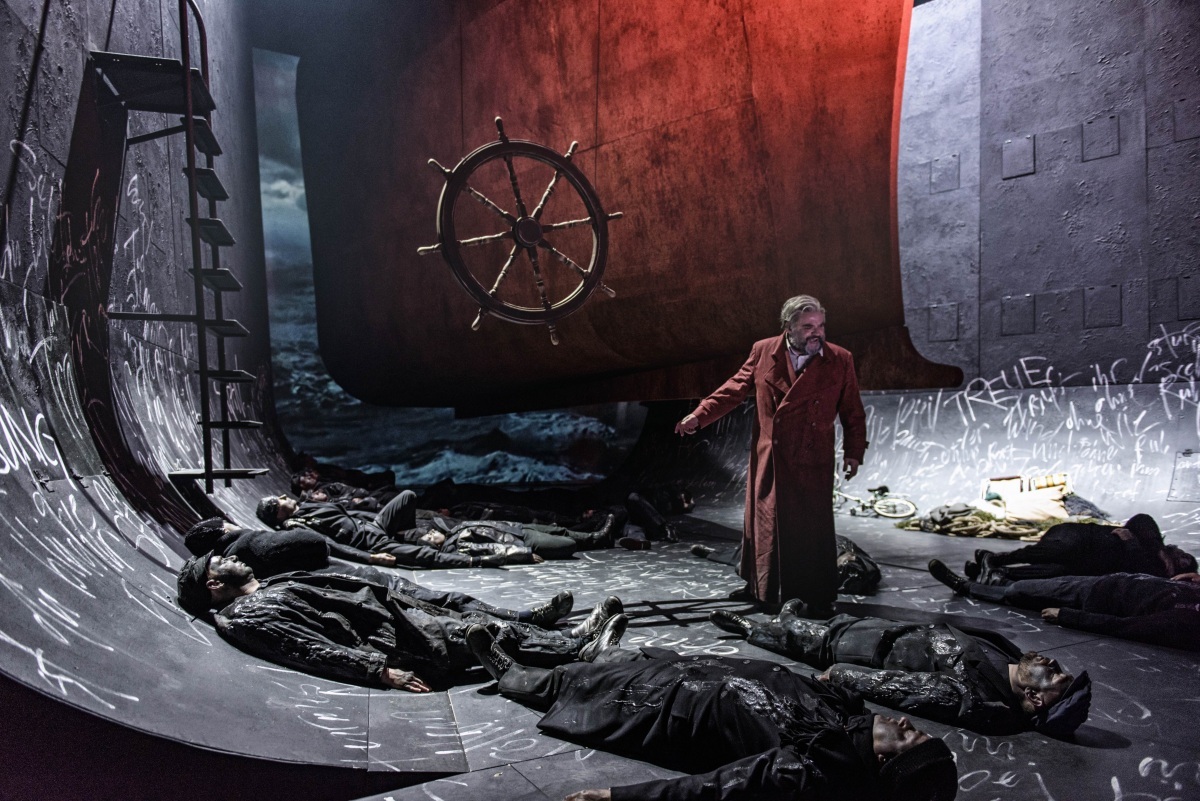 Richard Wagner's entitled his masterpiece, The Flying Dutchman, but Theater Erfurt's production of Wagner's romantic opera in three acts should have been called "Senta's Nightmare." In a technically impressive production, it was the voice and performance of Kelly God's magnificently sung Senta, that not only cut through the Wagnerian orchstrations, but proved to be the emotional, vocal and dramatic centerpiece of this entire evening at the opera. Keep your eye on Ms. God's career. I predict that she will be gracing the stages of the world's great opera houses in the very near future.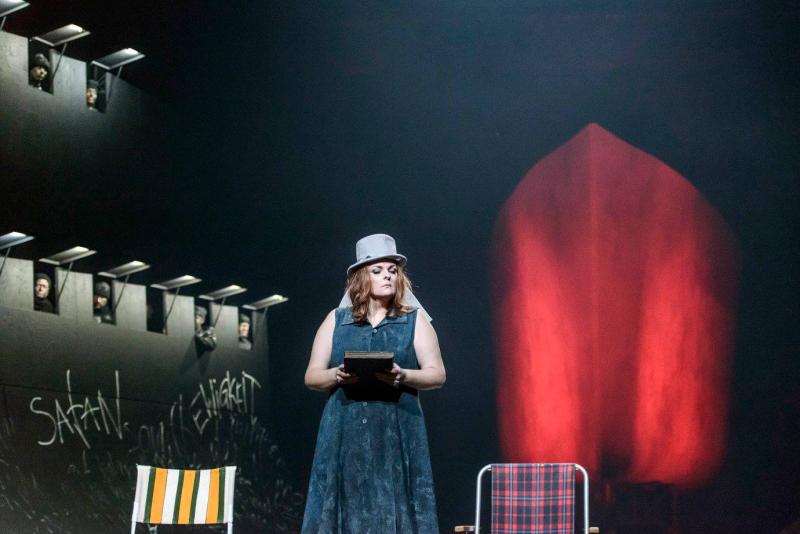 A true dramatic soprano, with a stentorian voice and clarion high notes that reminded this listener of Eva Marton at her very best, Ms. God's singing was so technically secure, that her opening aria, "Senta's Ballad" was performed with a limpid, seemingly effortless high piano vocal that would not have been out of place in a Donizetti "Bel Canto" production. It must be noted that Ms. God achieved this spectacular feat after riding a child's bicycle in a figure 8 pattern for nearly 5 minutes straight.
Unlike the Dutchman, Wagner's tragic "pale Sailor" cursed by Satan to wander the seas eternally on a ghostly ship, Ms. God's Senta was bedeviled rather by the stage direction of Theater Erfurt's General Director, Guy Montavon. I applaud Mr. Montavon for attempting a major Wagnerian production in a regional opera house like Erfurt. In numerous ways, he pulled it off. However, while some of his directorial work was interesting, a great many of his choices (like the aforementioned bicycle stunt), often reduced the story and especially this great soprano's performance to an unwillingly comic, pantomimic sideshow. In Mr. Montavon's concept, the entire opera takes place in Senta's imagination, rather than reality. For the entire 2 1/2 hour performance, Ms. God was required to wander endlessly and often aimlessly about, never leaving the stage for a moment. I don't know of another soprano of Ms. God's vocal ability who would have agreed to this concept. Despite the hardship placed on her by Mr. Montavon, Ms. God is to be lauded for her complete commitment to her director and this often laughable and unworkable conceit.
Another negative side effect of Mr. Montavon's approach was his decision to have all other performers, with the exception of the Dutchman and Erik, sing in blackface while wearing black costumes and perform with almost no lighting. Rather than representing Senta's fantasy world, it was a theatrical nightmare, both for the performers and the audience. Despite a very clever set design and spectacular video projections (both by Hank Irwin Kittel), the result was a monotonous stage picture, where for long stretches of time, the audience could see neither the performer's faces nor their expressions. This approach left the story (especially in the first act) resembling more a funereal black, white and grey, direct-to-video Zombie thriller, than Richard Wagner's technicolor, romantic dream of an opera.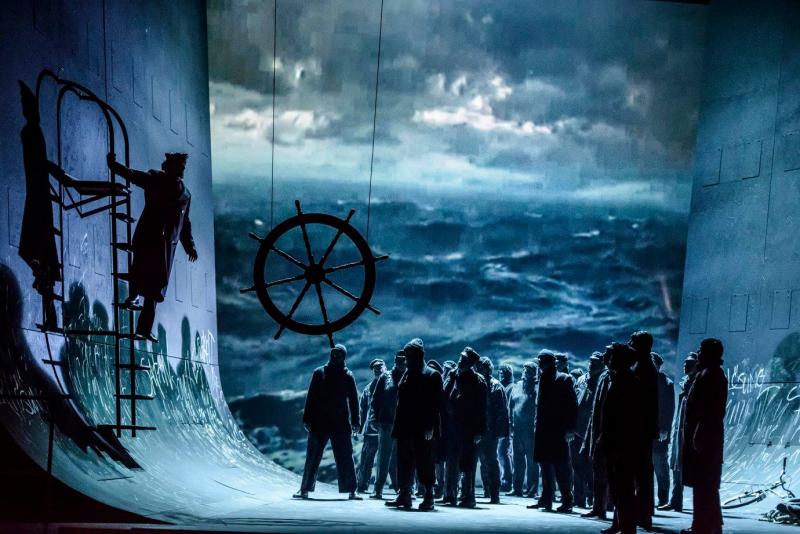 The Dutchman was embodied by the American Baritone, Todd Thomas. Mr. Thomas has a brilliant Italianate sound and excellent German diction. This role is generally sung by a Bass-Baritone, and as such, the tessitura occasionally seemed a bit low for Mr. Thomas. In the first act, despite singing and acting with dramatic intensity, he was somewhat underpowered against the massive Wagnerian orchestrations.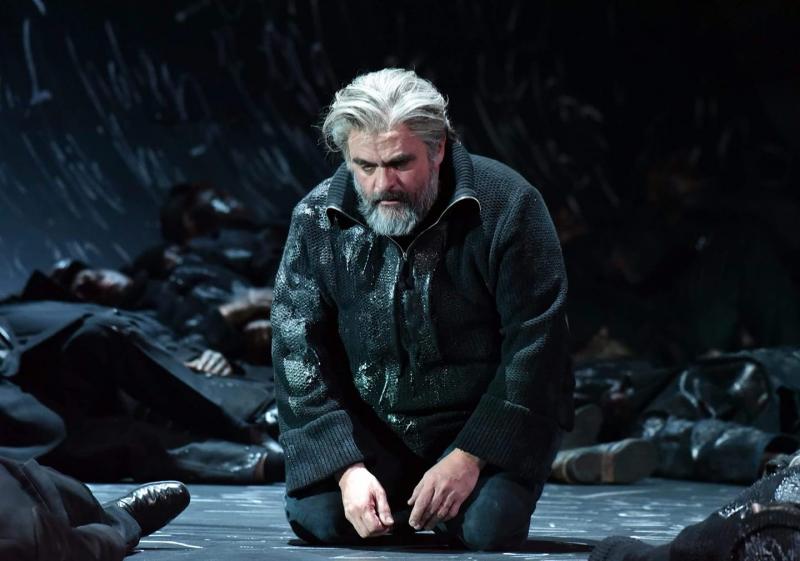 He truly came into his own in the second and third acts where the role sits somewhat higher and Mr. Thomas' voice was shown to better advantage. Mr. Thomas is fine performer whose successes have mostly been in the works of Puccini and Verdi. While he certainly has the musicality and intelligence to believably sing Wagner, the question remains whether this is truly where Mr. Thomas' voice belongs. While watching his performance, one often longed to hear his beautiful baritone singing the verismo melodies of a Scarpia or a Rigoletto rather than the more declamatory dramatics of Wagner.
Erik, Senta's former boyfriend, was sung by Eduard Martynyuk. While Mr. Martynyuk certainly looked the part, he worked very hard to little effect. His tenor was pushed far beyond its natural limits and he became audibly tired as the evening progressed. Mezzo-soprano Katja Bildt made quite an impression as Mary. She has a beautiful, resonant tone and one wanted to hear more from her. Senta's father, Daland, was sung by Kakhaber Shavidze. Though he possesses an impressive Wagnerian sound, Mr. Shavidze's command of the German language is not persuasive.
To fulfill the demands of Wagner's large orchestrations, Theater Erfurt manned its orchestra pit with members of both the Erfurt Philharmonic and the Thürigen Philharmonic Gotha-Eisenach, conducted by a very, very young Chanmin Chung. During the overture, there were noticeable intonation and ensemble problems, especially in the woodwind and brass sections. Mr. Chung kept the orchestra together, but not much more. The leitmotifs in Wagner's magnificent orchestrations never fully developed and one often had the feeling that the conductor was "treading water." Occasionally, the conductor wrested control back from his players and there were moments of great beauty coming from the pit. Other times, the tempos dragged to a point that the singers truly suffered under Mr. Chung's baton. As the evening progressed the communication between singers and orchestra improved somewhat. Wherever Mr. Chang's conducting talents may lie, at 26 years old, he was in over his head with The Flying Dutchman. That said, Theater Erfurt is to be commended for giving this extraordinary conducting opportunity to this young, and obviously talented artist.
All photos: ©Lutz Edelhoff