Review: SAN DIEGO OPERA'S FLORENCIA EN LA AMAZONAS at San Diego Civic Center
The San Diego Opera's production of Daniel Catán's Florencia en el Amazonas was premiered Saturday at San Diego's Civic Center. Much has been made of the influence the magical realism of Nobel-Prize winning author Gabriel García Márquez had on Marcela Fuentes-Berain's libretto, but most of the magic is in Catán's music. In this production, the voices and staging added another helping of enchantment. What little magical realism there is in the libretto, compared to Márquez's inventive, often disorienting novels, was largely lost in the mix.
The story is set aboard a boat on a mysterious and dangerous Amazon River. Almost all plot elements played out on the boat, which was 42 feet long and mounted on a rotating platform. Its passengers are sailing to hear Florencia Grimaldi (soprano Elaine Alvarez), a world-famous soprano, who is returning to perform in her native country after a long absence. She dreams of finding her lost lover who hasn't been seen since he disappeared into the jungle years ago to hunt the world's rarest butterfly.
Though famous, the singer has managed to board without anyone recognizing her.
Fellow passengers include Paula and Alvaro (mezzo-soprano Adriana Zabala and baritone Levi Hernandez), a bickering married couple. Also aboard is Rosalba (soprano María Fernanda Castillo), a journalist who has been working on a biography of Florencia, though they've never actually met. The ship's captain (baritone Hector Vásquez) and his nephew Arcadio (tenor Daniel Montenegro) guide the vessel as it sails to Grimaldi's concert in Manaus. By the end of the trip the couple has reconciled and Rosalba and Arcadio have fallen in love, but the libretto does little to develop their characters or to explain why the relationships change. The beauty and emotion in Catán's score does a better job of both. The libretto's use of "magical realism" includes the role of Riolobo (baritone Luis Alejandro Orozco), a chameleon-like character who appears in multiple roles. Such touches add to the opera's exotic appeal, but often distract from, rather than enrich basic plot lines.
When Florencia en el Amazonas was first performed in 1996, it met with mixed reviews. The venerable New York Times, though complimentary of the orchestration and elements of the score said, "Disappointing ... As musical drama, the opera is derivative." Many academics and critics were still in the thrall of atonality and serialism. They had adopted the odd idea that music should be based on strict intellectual theories, often mathematical in nature. The intent of Schoenberg's thinking had been distorted into critical disdain for anything that simply sounded good to most people (which this opera does). Therein lies the blame for much of the decline of market share for opera, and classical music.
But I digress.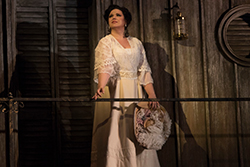 The orchestration, especially as performed by members of the San Diego Symphony Orchestra under conductor Joseph Mechavich, enchanted from the start with harp glissandos, glittering percussion and shimmering strings. Voices were anywhere from excellent to superb. Soprano Elaine Alvarez threw herself into the role of Florencia with striking passion. In three unusually long arias her rich supple voice cut through Catán's Puccini-like score with ease. At the opera's very beginning, at least on the night of the premiere, baritone Luis Alejandro Orozco and tenor Daniel Montenegro, both with strong attractive voices, needed a phrase or two to adjust to the aggressive orchestration, or perhaps a temporarily overly exuberant orchestra.
The chorus, directed by Bruce Stasyna, always seems in fine singing voice and willing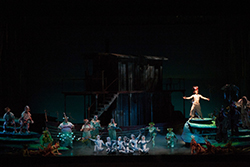 to take on extra duty. The latter was more than the usual challenge on this night. Clad in full-body leotards, which for some meant greater emphasis on dieting for a while, the thirty chorus members variously slithered, pranced, ran and jumped about as iguanas, snakes, crocodiles, birds, water spirits, and eventually, en masse in black, as a deadly cholera epidemic that prevents the ship from docking. Designer Linda Pisano's colorful costumes and props were perfect fits for stage director Candace Evans' vision for the production, as was the imaginative lighting of designer Todd Hensley.
The opera works its way to clear, though painfully predictable resolutions of the conflicts and difficulties faced by each character--until the fantastical last scene with Florencia alone. Alvarez's voice was filled with beauty and emotion in the long final aria. Then, in a last stunning moment, as the orchestra played the majestic final bars she slowly and silently raised her arms to transform beautifully colored dress fabric into the wings of her lover's elusive rare butterfly. Alvarez discusses the role and how she came to play it in my interview of her for Broadway World.
Florencia en el Amazonas is just the latest in the San Diego Opera's history of bringing Spanish-language works to San Diego. Mexico is only 20 minutes from downtown and the city's Latino population was 28% according to the 2010 census. When Catán's earlier Rappaccini's Daughter was performed here in 1994, it was the first time a professional company in the United States had staged an opera by a Mexican composer. This season's Maria de Buenos Aires by Piazzolla saw four performances, and a number of other Spanish-language offerings are planned for future seasons.
Florencia en el Amazonas will also be staged a total of four times, closing on Sunday, March 25th. For information on that, next season, and the recital remaining in this season's schedule visit the San Diego Opera website.
Photos by J. Katarzyna Woronowicz Johnson courtesy of San Diego Opera.