BWW Review: La Divina ANTONACCI Takes New York (Again) for City Opera Recital at Zankel Hall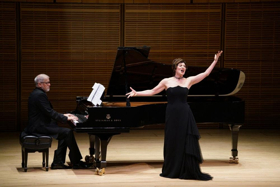 When soprano Anna Caterina Antonacci walked on stage at Zankel Hall for her recital the other night, I thought I had wandered into an Antonioni movie, with a ravishing diva (usually played by Monica Vitti) about to perform for a rapt audience. Then she opened her mouth and sang the first of a series of songs by Debussy (texts by Verlaine) and I knew I was in the right place: heaven.
The concert was under the auspices of the reborn New York City Opera, which has been billing itself (as did its predecessor) as "The people's opera," devoting parts of its season various initiatives. These include Spanish language operas (CRUZAR LA CARA DE LA LUNA), LGBTQ-themed operas (cutting a wide swath there) with Wuorinen's BROKEBACK MOUNTAIN and lovers of the obscure (like its upcoming pairing of Donizetti and Rameau operas on the Pygmalion theme, coinciding with Lincoln Center's MY FAIR LADY, which is based, of course, on Shaw's PYGMALION.
With the gorgeous concert by Antonacci on Tuesday (repeated Wednesday), including the superb collaboration of Donald Sulzen on piano, I supposed City Opera was appealing to another underserved (and certainly largest) subset of operagoers: those who loves gorgeous singing, thoughtful interpretations and magnetic stage presence-and, oh yes, magnificent singers who have been neglected by the Met.
What happened there? As the story goes, Antonacci's Met debut was set for 2006, as Donna Elvira in DON GIOVANNI, but was cancelled to make room for Angela Gheorghiu, with Antonacci offered the carrot of a future role. She declined. These days, with so few singers selling tickets (and some of them serial cancellers), they could use a presence like her. Tant-pis.
She gave us a taste of what we've been missing: Her final encore at the recital was the "Habanera" from Bizet's CARMEN and her understated, thoughtful performance, caressing the music as she built to a crescendo, made me hunger for more. (This followed the lilting, charmingly archaic Renaissance song "Se l'aura spira" by Girolamo Frescabaldi.)
As a whole, Antonacci's program was filled with songs we don't hear every day, many songs of regret that she somehow presented as more earthy than others might.
There were Debussy's "Mandoline" (with its definite Mediterranean beat) and "C'est l'extase lagoureuse" (questioning the subdued lamentations of her soul) and, particularly enchanting, "Green" (from the composers "Ariettes oubliees"), which she caressed with a lover's abandon.
Next, the singer did five brightly hued, modest songs by Respighi, a cycle called "Deita Silvane," in which she brought used her voice so skillfully and energetically to enliven the sounds and colors of nature.
Nadia Boulanger is better known as the teacher of composers from Aaron Copland, Philip Glass and Elliott Carter to Quincy Jones and Astor Piazzola, and as the first female conductor of major orchestras, including the New York Philharmonic. But she was also a skilled composer, though more conservative than many of her students turned out to be, judging by the handful of pieces chosen by Antonacci. These included "Versailles" (text by Albert Semain), a pensive tribute to the palace of Louis XIV and Marie Antoinette, plus the sweet and touching "Vous m'avez dit" and soaring "C'etait en juin" (both texts by Emile Verhaeren)
I was surprised to see Benjamin Britten (text by WH Auden) on the program--French and Italian being so intrinsic to the singer's presentation. But his cycle, "On this island," gave Antonacci wonderful things to do with her voice, though even with native English singers, I've found the text often difficult to put across. There was no such problem at all in "As it is, plenty," the final section of the cycle, which is a kind of upbeat Weill-Bernstein-Sondheim piece that was an utter delight.
When I first heard the singer at Lincoln Center's White Light Festival a couple of years ago, in ERA LA NOTTE (using Monteverdi's IL COMBATTIMENTO DI CLORINDA E TANCREDI as a jumping off point), I was taken with her artistry, as well as her voice. There was no navel-gazing going on or simply spinning out notes to further hear her own voice. She was in the service of the music (and the words, of course). This concert proved that--at least, when it comes to a singer of Antonacci's mettle--first impressions are worth remembering.
Related Articles
View More Opera

Stories