BWW Review: What's Old is Nuovo for Crutchfield with Bel Canto TANCREDI at Purchase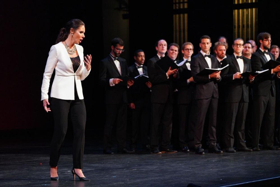 It was "out with the old (i.e., Caramoor) and in with the new (i.e., Purchase College)" for Will Crutchfield's love affair with all things bel canto this weekend, and what better way to get things rolling at his new company, Teatro Nuovo, than Rossini's TANCREDI. After all, it was the master's first big hit--with the usual incomprehensible (see "ungepatchket") story of most operas of the period, this one by Gaetano Rossi, who later wrote SEMIRAMIDE--written in just a month when Rossini was not yet 21.
There was plenty of good music on hand for the principals--including the famed "Di tanti palpiti" for mezzo Tamara Mumford (Tancredi), plus substantial music for soprano Amanda Woodbury (Amendaide) and tenor Santiago Ballerini (Argirio), as well as their underlings, two more mezzos, Hannah Ludwig (Isaura) and Stephanie Sanchez (Roggiero). There were also plenty of opportunities to show off his new orchestra with a combination of modern, period and faux-period instruments in some gorgeous music, including the overture that Rossini borrowed from his 1812 opera, LA PIETRA DEL PARAGONE.
It also gave Crutchfield the opportunity to give into his purist tendencies and stage things the way they were done when Rossini was a lad at the Teatro San Carlo in Naples. This meant that he sat at the cembalo (aka, harpsichord), while concertmaster Jakob Lehmann stood to his left leading the band (as he played), which was on the orchestra level, rather than on stage. (There was also a violoncello di cembalo, Hilary Metzger, to his right.) Musicians faced each other rather than the conductor and there were enough unusual things going on that Crutchfield was obliged to send out a note the next day, to explain why things were the way they were.
One singer I interviewed referred to the stage direction at Caramoor as "conducting traffic" (e.g., "you stand there, you move there," etc.), as the action went on in front of the Orchestra of St. Luke's and the background of the Venetian Theatre. At least, there was a sense of cohesiveness in the concert performances there.
Here, there was none of that. The (well-rehearsed) all-male chorus--members of the Teatro Nuovo Apprentice Artists, under Chorus Master Derrick Goff--shifted positions in unison on the huge, bare stage and the principals had a long hike to get on and off after their scenes. There was also the scroll of the bass fiddle (and the bass player's head) blocking the view of the stage, with the prompter standing next to him. Now, this may have made sense to Crutchfield--and, as I mentioned, he said it was true to the opera's period--but to say the musician placement seemed odd would be an understatement.
All that aside, Crutchfield drew some good performances from his cast. Tenor Ballerini topped my list, as the heartless father of Amenaide, a role that a more experienced composer might have given to a baritone or bass. His ringing voice--he's a holdover from Crutchfield's reign at Caramoor--gave us a bravura look, in arias like "Pensa che sei mia figlia," into the future of the composer, when tenor fireworks would become the center of attention.
Mezzo Mumford--memorable as the messenger in the Met's premiere of L'AMOUR DE LOIN--sang with assurance and conviction in the title (pants) role, even when she thought her beloved had done her wrong (though the woman was just a spoil of war for bass-baritone Leo Radosavljevic). As the bereft Amenaide, Woodbury showed off a secure, broad range from the start, with "Come dolce all'alma mia," and obviously has a future ahead of her, starting with Leila in LES PECHEURS DE PERLES at the Met this year. Another singer who made an impression--with just one aria, no less--was mezzo Sanchez, in Act II's "Torni alfin ridente, e bella."
Teatro Nuovo's first season continues this week, with another performance of TANCREDI on August 3 at 7pm, Giovanni Simone Mayr's MEDEA IN CORINTO on August 4 at 7pm, TANCREDI RIFATTO-the Rossini work with all the arias added for performances after its premiere at La Fenice in Venice-on August 5, and a pair of recitals with Apprentice Artists on August 1 and 2 at 7:30pm. For more information see the Teatro Nuovo website.
Related Articles View More Opera

Stories