BWW Review: Halloween Comes Early with Kallor's FRANKENSTEIN and Poe in Green-Wood Cemetery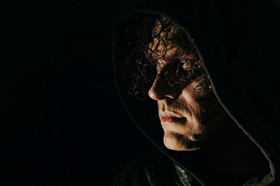 I grew up with many screen versions of the Frankenstein story--some with greater nods to Mary Shelley's novel than others--spending Saturday afternoons being scared witless and loving every minute of it. But I was changed forever by Mel Brooks' YOUNG FRANKENSTEIN, with the monster (the great Peter Boyle) singing "Puttin' on the Ritz" in high hat and tails, making it hard to come to the story of monster and master today with fresh eyes and ears, no matter how serious the intentions.
But a first look at Gregg Kallor's SKETCHES FROM FRANKENSTEIN, which played for three nights last week in the catacombs of Green-Wood Cemetery in Brooklyn's Sunset Park as the final installment of Andrew Ousley's "The Angel's Share" series for the year, managed to do it.
While the composer considers this a work in progress--and sketches at that--he certainly gets to the heart of things, with his portrait of the monster [though the program doesn't refer to him as such] as a young outcast. In Kallor's own libretto, the humanity of the monster is clearly evident from the moment of his appearance, with the sometimes anxiety-ridden score (for piano and cello, here) adding to the anger and frustration of the deformed and crazed character.
He is crushing when he sings about discovering the names of things--bread, milk, father, son--and how he treasures things other people threw away. He speaks of Shakespeare and Milton's Paradise Lost. But this inevitably amounts to looking for love in the wrong places and eventually he demands of his maker, Victor Frankenstein, "You must create a companion for me," for he has a right to happiness. (He's obviously never heard of Sartre's "Hell is other people.")
Shelley's story veers between the Gothic and Romantic and, very often, Kallor covers the same territory in his music, performing the eerily disturbing score on piano, with the great assistance of Joshua Roman on cello. Director Sarah Meyers did a good job in keeping the evening, and character, moving, in the claustrophobic space of the catacombs, though I thought she didn't give enough credit to their natural acoustics. I found the volume from the singers sometimes excessive, but seemed to be in the minority.
Baritone Joshua Jeremiah did a powerful turn as Frankenstein's creation, both dramatically and vocally. (I'd like to hear him in a different kind of setting to better hear the timbre of his voice.) He managed to be frightening without turning to caricature, while being poignant in his yearning for the semblance of a normal existence; the composer couldn't have wished for a more potent performer in this key role.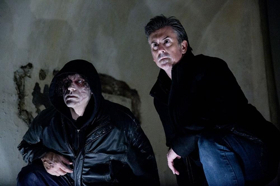 Although he is the title character, tenor Brian Cheney's Frankenstein had less of an opportunity to show off his chops, though he was an excellent foil in his scenes with the monster. Jennifer Johnson Cano made a brief appearance, as the doctor's cousin/fiancee/cousin/fiancee, etc., which is not much fleshed out at this point. (The monster's bride makes no appearance here: I wonder what his bride will look like in Kallor's version, a marcelled version a la Elsa Lanchester or a hotsy totsy Madeline Kahn? Whichever it turns out to be, I'm sure Kallor will give her something interesting to sing.)
Before something completely different--the composer's take on Poe's creepy tale--Kallor premiered a new piece for solo piano in tribute to Leonard Bernstein, who happens to be buried at Green-Wood. It was an appropriate tribute to the maestro, blending classical, jazz and dizzying agility.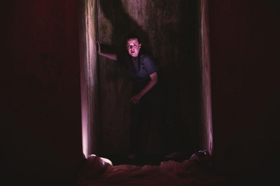 Poe's stories appear to be mother's milk to opera composers and this isn't the first go-around for THE TELL-TALL HEART--though Kallor's is (I believe) the only one to change the protagonist's sex. If I had mezzo Cano at my disposal, I would too. (NB: She isn't the originator of the role.) While this may not have been exactly what Poe had in mind, one hopes he would have been delighted with the maniacal take that the composer has created.
Dressed in what looked like hospital scrubs (costumes by Faye Eva), Cano's coolly homicidal story--climaxing with the beating heart of a dismembered man (hidden beneath the floorboards) driving her over the edge--had the audience in the palm of her hand. With her fierce emotions echoing the scintillating, urgent score, she took every opportunity to bring the role to life (and death).
The performance at Green-Wood--particularly after dark, with a minimum of lighting on the way to the catacombs--was the perfect match of venue and music theatre.