BWW Review: Glimmerglass VIXEN is a Cunning Take on a Moral Tale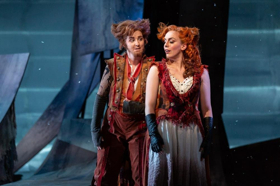 Anyone who loves Leos Janacek's gorgeous but grim operas--JENUFA, KATYA KABANOVA, MAKROPOLOUS--might be surprised by THE CUNNING LITTLE VIXEN (also called THE ADVENTURES OF VIXEN SHARP-EARS or, in Czech, PRIHODY LISKY BYSTROUSKY). It's being presented, now through August, in a handsome production designed by Ryan McGettigan with lighting by Mark McCullough and directed by E. Loren Meeker at the Glimmerglass Festival in Cooperstown, NY.
VIXEN is often produced as a kind of high-brow Disney film, like BAMBI or DUMBO, with their traumatic deaths of the title-characters' mothers. As such, it presented as a sort of 'gateway drug' for children into the world of opera: There's not too much vocal music to stop the action, funny anthropomorphic creatures and adults acting badly.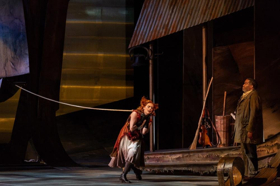 The Glimmerglass Festival's production, in an English translation by Kelley Rourke, falls into that category, and, as such it was hard not to have a good time with it. Filled with deft animal portrayals by the Glimmerglass Young Artists, costumed by Erik Teague and choreographed by Eric Sean Fogel--the hens, in particular (headed by Gretchen Krupp), were hilarious--with a dark message presented with a fairly light hand. (Well, as light as the title character [spoiler alert!] falling prey to a poacher [baritone Wm. Clay Thompson] can be.)
Of course, that's not exactly quite what the composer had in mind, with his sophisticated libretto about the thwarting of the impish forest creature at the hands of troubled, miserable humans. And one mustn't forget that infinitely inventive score, encompassing Moravian folk music and the composer's own, rich modernist style--brought off splendidly by the orchestra conducted by the Festival's music director, Joseph Colaneri in an urgent and wonderful performance. (There's no Disney here--"bibbidy-bobbidy-boo.") Though there aren't really traditional arias, the singsprechen worked well in the hands of the master.
If being performed in the Rourke translation throws off some rhythms Janacek composed--and sometimes was a bit too joke-y--that was a choice made by those in charge and saved the young artists from working in Czech during a limited rehearsal period, while giving their acting chops a good workout. (Rourke also reconfigured the opera from three acts to two, which did a good job of moving things along.)
The old pro in the cast was bass-baritone Eric Owens, the Glimmerglass Artist-in-Residence, who brought gravitas to the role of the Forester who first finds the Vixen and tries to domesticate her unsuccessfully. Soprano Joanna Latini, part of the Young Artists Program, did marvelous work as the Vixen, lively on her own, but particularly good in her scenes with the excellent mezzo Alyssa Martin in a trouser role as her mate, the Fox. Other standouts in the cast were Zachary Owen (the Badger/Parson), Kayla Simbieda (the Wife/Screech Owl) and the amusing Dylan Morrongiello (Schoolmaster/Mosquito).
While the Glimmerglass Festival's production doesn't offer everything we could wish for from VIXEN, it gives an opportunity to hear a score that is not done exceedingly often and we should be grateful for hearing.
Remaining performances of THE CUNNING LITTLE VIXEN will be at matinees on July 30, August 5, 7 and 18, with evening performances on August 10, 16 and 25.