BWW Review: GLASS or HANDEL, Costanzo Can Handle Whatever's Thrown at Him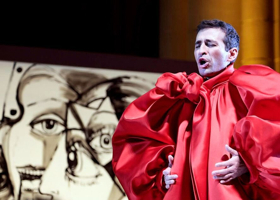 No one can accuse countertenor Anthony Roth Costanzo of sitting around and waiting for projects to fall into his lap.
GLASS HANDEL was first produced by the singer with Visionaire and Cath Brittan at Opera Philadelphia's (OP) O18 Operafest in September and presented in NY by OP and National Sawdust for four performances this week at the Cathedral of St. John the Divine (a co-producer), GLASS HANDEL was a trip--in many senses of the word.
In some ways, the one-hour-plus performance reminded me of trip to the Ringling Brothers circus when I was a kid: So much was going on that you didn't know where to look first. And it was far from an all-opera event--Costanzo made that intention clear in a video he made for the Philadelphia performances--incorporating dance, film, painting and a chamber orchestra that didn't, ahem, play second fiddle.
The event was designed to show how the minimalist approaches of Handel and Glass, Costanzo said in a video from Philadelphia, have definite parallels, to probe the depths of human psychology, with repetition fundamental to their work. This was particularly clear when coming from the voice of this singer, backed up by the innovative, flexible musical ensemble, the Knights, conducted by Eric Jacobsen.
The church's acoustics were quite congenial to the upper part of his voice. At the start of the evening, in Handel's "Inumano fratel...stille amare" from TOLOMEO, it reminded me of the glass harmonica Donizetti used in the mad scene from LUCIA, with bell-like clarity. Of the Handel, Costanzo's account of "Lascia ch'io pianga" from RINALDO, with its elegant, stately line, was the most gorgeous to me, though "Vivi tiranno"--a calling card of his--from RODELINDA was a Baroque gem, with ornamentation galore.
In general, his treatment of the Glass works, particularly "The Encounter" from 1000 AIRPLANES ON THE ROOF, was no less involving, with its repetitive motifs, though I'm not sure Costanzo's approach, using a narrow range of colors, did full justice to the aria. The more varied "Liquid Days" showed off the singer's strengths much more clearly.
Costanzo's modified striptease--he shed the layers of costumes designed by Calvin Klein CEO Raf Simons, one by one, from elaborate and Baroque to simple and modern--was one way to handle costume changes without disturbing the continuity of the short piece.
This was a performance where you had to fasten your seatbelt because another part of the evening's "trip" was literal: A cast of audience-movers--using a kind of hand-truck--shifted many attendees, still in their chairs, from one part of the performance space (the central area of the church) to another. This was supposed to ensure that everyone got a good view of each of the many aspects of this multi-armed creation. It didn't quite work for me.
For example, I was never situated in a way that made it easy to see much of the opera music videos from Visionaire that involved such luminaries as James Ivory, Tilda Swinton and Maurizio Cattelan, among others. And when I was sitting by the dancers--the outstanding quartet of Daniel Applebaum, Patricia Delgado, Ricky Ubeda and Zoe Zien--their performance in Justin Peck's estimable choreography was mesmerizing enough that Costanzo, further down the space, seemed a much less focused part of the performance.
(It should be noted that the original production in Philadelphia was in a very different kind of space: the much-smaller, elongated lobby atrium of the Barnes Foundation.) The addition of painting by George Condo was not seem particularly impactful in the mix.
The piece was done in conjunction with the release of Costanzo's new recording of works by Glass and Handel, ARC, on Decca Gold.