BWW Opera Preview, Part I: Hot Time, Summer in the City and North
Classic and contemporary, opera and orchestral, the music doesn't stop when the temperatures climb in the canyons of Manhattan, whether you're in the city itself, or ready to drive to one of the venues that dot the landscape of the Northeast. From Lincoln Center's Mostly Mozart and Lincoln Center Festival to Tanglewood in the Berkshires, from Westchester's Caramoor and the Hudson Valley's Bard Summerscape to the Glimmerglass Festival in Cooperstown, musical life doesn't stop when the Met closes its doors. And that's not counting all the small companies that dot the landscape. Here's a look "from here to eternity"...in the first part of our series, covering summer events in New York City and Westchester.
New York City
New York OperaFest 2017, through July 2
Throughout New York City
This year's edition of New York OperaFest--showcasing the diversity of opera in NYC and produced by members of The New York Opera Alliance (NYOA) in partnership with OPERA America--began with the Bronx Opera's FALSTAFF on April 29 and it's still ticking. The last events are scheduled for June 30 and July 2, when Vertical Player Repertory presents three fully staged monodramas under the umbrella, I STAND ALONE. Perhaps the most familiar in these climes is the Samuel Barber-James Agee KNOXVILLE, SUMMER OF 1915, which was a favorite of Leontyne Price; the other two are Benjamin Britten's PHAEDRA (with Robert Lowell) and Melissa Dunphy's TESLA'S PIGEON.
Among nearly three dozen companies that participated in the OperaFest was On Site Opera (OSO), which mounted two major productions, just concluded its season this weekend: A delightful version of Mozart's LA FINTA GIARDINIERA, which they called THE SECRET GARDENER and performed in a community garden on Manhattan's Upper West Side (before heading to the Atlanta Opera) and, last week, the American premiere of Darius Milhaud's difficult GUILTY MOTHER. It picked up stories of the Almavivas and the Figaros, from the Beaumarchais Figaro Trilogy, long after IL BARBIERE DI SIVIGLIA and LE NOZZE DI FIGARO ended.
Loft Opera, through July 8
Brooklyn, New York
LoftOpera has given us some fine looks at operas, mainstream and not, from Verdi's MACBETH and Puccini's TOSCA to Rossini's COMTE ORY and OTELLO, all performed in loft spaces in Brooklyn's Bushwick section (or thereabouts). This time around, they've taken on two oddities, neither of them operas. Under the heading PERGOLESI AND VIVALDI, the hour-ish program begins with a set of numbers by Vivaldi on the subject of grief, followed by Pergolesi's "Stabat Mater," a hymn to Mary's suffering during the Crucifixion. The run began on June 16, and still has four more performances on June 30 July 1, 7 and 8, at the Muse, 350 Moffat Street in Brooklyn (Wilson Avenue on the L), dooring opening at 7:30, with the music starting an hour later.
Metropolitan Opera, June-Labor Day
New York, NY
The Met's Summer Recital series was a little early this year, starting off on June 12 at SummerStage in Central Park with soprano Susanna Philips (a hit this year in L'AMOUR DE LOIN), mezzo Elizabeth DeShong and rising tenor Petr Nekoranec (the latter stepping in for an indisposed colleague) and finishing this past Saturday, in Socrates Sculpture Park, Queens with Nekoranec joined by soprano So Young Park and baritone Hyung Yun, all with Dan Saunders on the piano.
For those who can't live without opera on the grand scale, it means a plane trip. In the US, the closest thing is the last days of the San Francisco Opera summer season (RIGOLETTO with Quinn Kelsey and Nino Machaidze, DON GIOVANNI with Ildebrando D'Arcangelo and Ana Maria Martinez) or traipsing to Europe for the Salzburg Festival, July 21 -August 30 (Netrebko in AIDA from August 6), Glyndebourne (Brett Dean's new HAMLET) or Aix-en-Provence, July 3-22 (Cavalli's ERASMINA).
If that doesn't fit in your budget, the Met is offering some alternatives. True, they're not live performances, but their splendid HD versions. And, as NBC once said of its summer rerun season, "If you haven't seen it before, it's new to you..." The Met is doing its The Met: Live in HD Summer Encore Series in cinemas around the country, with highlights from its Live in HD series. It starts off with Anna Netrebko's great Lady Macbeth in Verdi's MACBETH on June 28, followed by Placido Domingo's acclaimed NABUCCO by Verdi on July 12 and, finally, Bizet's CARMEN in July 19, with the stellar duo of Elina Garanca and Roberto Alagna.
Finally, for all you city-mice, from August 25 through Labor Day, the Met will be showing some of its Live in HD performances in Lincoln Center Plaza. Check the Met's website for details, which haven't been announced at this point.
ACI, GALATEA E POLIFEMO at National Sawdust,
July 12-13, 19-20
Brooklyn, NY
A year after the critical success of "The Orphic Moments," countertenor Anthony Roth Costanzo returns to National Sawdust with Handel's ACI, GALATEA E POLIFEMO, a co-production with Philharmonia Baroque Orchestra, Cath Brittan, and National Sawdust.
Directed by Christopher Alden, Handel's rarely staged cantata, is a 90-minute, streamlined version of a Handel opera, using innovative video technology to create multi-dimensional visual landscapes and reimagined recitatives by composer and sound designer Mark Grey. The production finds parallels between Handel's 18th century telling of Ovid's mythological tale and our current Trumpian era defined by by power, class, and the brutality of thwarted desire.
Mostly Mozart Festival, July 25-August 20
New York, NY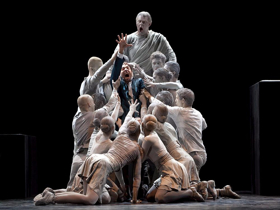 Last year's opening of Lincoln Center's Mostly Mozart Festival (MMF) set a new standard of imaginative staging, with a cleverly designed setting and production by Netia Jones. This time, the Mostly Mozart Festival Orchestra under music Director Louis Langrée, in Geffen Hall, July 25-26, is presenting an evening of symphony and song that offers a portrait of humanity in the time of Mozart. It pairs the compose's "Haffner" symphony and "Kyrie" with a colorful collection of folk songs and spirituals from the same era; the program concludes with Beethoven's deeply hopeful Choral Fantasy. The company includes several singers in their MMF debuts, including sopranos Janai Brugger and Brandie Sutton, tenors Jack Swanson and Miles Mykkanen, mezzo Jennifer Johnson Cano and bass Adam Lau, with Kit Armstrong on piano and the Young People's Chorus of NY under Francisco Nunez, with MMF choral director James Bagwell.
Jones is returning for the staging of one of the other vocal performances to watch for, August 12-13. It's a monochrome vision of Schubert's poignant "Winterreise" song cycle about love and loss, here called THE DARK MIRROR: ZENDER'S WINTERREISE, as heard through German composer Hans Zender's contemporary orchestrations. It features one of the world's great interpreters of this music, tenor Ian Bostridge, against a background of film, projections and stage design. With the International Contemporary Ensemble conducted by Baldur Brönnimann, WINTERREISE is a co-production of Barbican Centre, Cal Performances, National Taichung Theater, and the Britten Sinfonia. (Jazz from Lincoln Center's Rose Hall.)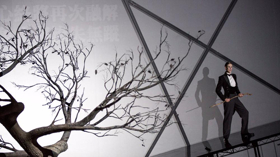 On July 27, the noted French period-music ensemble, Les Arts Florissants, under Paul Agnew, is explores the riches of Marc-Antoine Charpentier, in a program that all sacred choral music. Some are familiar, others not, but they have one thing in common: they show the Baroque composer at his best.
Finally, MMF is looking back at one of its great recent successes, DON GIOVANNI--it sold out last time around--in the Budapest Festival Orchestra's production under Ivan Fischer. With baritone Christopher Maltman as the Don, soprano Laura Aikin as the suffering Donna Anna in arguable Mozart's greatest opera, the production was co-produced by the Budapest Festival Orchestra and Müpa Budapest. (August 17, 19-20, Rose Theater, Jazz at Lincoln Center's Frederick P. Rose Hall.)
Lincoln Center Festival, July 10-30
New York, NY
And now for something completely different...
As part of Lincoln Center Festival, on July 14-15, Cloud River Mountain invites audiences to enter the world of the gods, spirits, and shamans of ancient Chinese myths and poetry. It's an evening-length work, presented at Gerald W. Lynch Theater at John Jay College, co-composed by Lao Luo and Bang on a Can Co-Artistic Directors Michael Gordon, David Lang, and Julia Wolfe. It features one of China's biggest music stars, vocalist Gong Linna, whose adventurous artistic range crosses Chinese folk, pop and avant-garde art music, singing in both Mandarin and English. (Think a Chinese Björk.)
It's a cross-cultural voyage through dramatic musical landscapes, from groove-driven melodies and lyrical meditations to punk back beats and stratospheric vocalizations, with Gong joined by the ever-intrepid Bang on a Can All-Stars.
And now for something else completely different...
Morton Subotnik, a pioneer of electronic music, performs works that bookend 50 continuous years of avant-garde vision, July 20-22 in the Stanley Kaplan Penthouse. First, he revisits his 1967 technological and artistic masterpiece--a crucial milestone in electronic music--SILVER APPLES OF THE MOON, performed live. Instantly iconic when it was released by Nonesuch Records 50 years ago, it influenced generations of artists, including Paul McCartney, Kraftwerk, and Daft Punk.
Then he turns to CROWDS AND POWER, a media tone poem for voice, electronic sound, and live imagery inspired by Elias Canetti's book. Vocalist Joan La Barbara--a champion of the avant-garde --performs the central character and Berlin-based artist Lillevan provides a live visual environment in this world premiere performance, also featuring the Bang on a Can All-Stars.
Westchester County, NY
Caramoor Festival, June 17 to July 30
Katonah, NY
Marking the 20th anniversary--and final--season of the "Bel Canto at Caramoor" series (Will Crutchfield is going off to start Teatro Nuovo, a new Bel Canto opera program at SUNY Purchase next year, and Caramoor's taking another direction), are five offerings. The opening night gala concert on June 17 was "A Night of Italian Opera," which highlighted 2017 Artist in-Residence Angela Meade, who's a Caramoor favorite and debuted several roles here, including NORMA and LES VEPRES SICILIENNES. She'll be back on July 8 in a semi-staged production of Bellini's IL PIRATA, another role debut. The splendid Orchestra of St. Luke's, in its summer residency at Caramoor, played at both these performances under the departing Crutchfield, while its Principal Conductor Designate Bernard Labadie made his debut on June 1.
The other bel canto performances are from members of Caramoor's Bel Canto Young Artists' program: a duo of al fresco events on July 13 in the Spanish Courtyard that includes a program of miniatures for soloists and ensemble that shed light on "The Intimate Bellini" and the American premiere on June 29 of Manuel García's 1830-31 chamber opera UN AVVERTIMENTO AI GELOSI (A WARNING TO THE JEALOUS). On July 23, there will be a performance of Rossini's "last sin of my old age," LA PETITE MESSE SOLENNELLE, with the original orchestration.
###
Not enough for you to choose from? See more opera and vocal doings later this week in the second part of our Summer Preview.