BWW Interview: Walking the Tightrope with Angela Meade in Bellini's IL PIRATA at Caramoor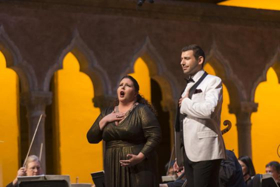 Being an opera singer is a little like walking a tightrope without a net--no matter who you're singing with, you're out there on stage, alone, for the crowd to cheer but, also for everyone to hear each glitch or misstep in your singing. Soprano Angela Meade--who's starring as Imogene in Caramoor's concert performance of Bellini's IL PIRATA, a role debut, on July 8--not only did her first wire-walking with a major role but at a big house: the Metropolitan Opera.
That role was Elvira in Verdi's ERNANI, which she was covering [opera-speak for understudying] for Sondra Radvanovsky in 2008, who had sung the first performance of the season with a viral infection but couldn't go on for the next. Enter Meade, who was still in school at the Academy of Vocal Arts (AVA) in Philadelphia. Sure, she wasn't on stage by herself--there were a couple of "minor" singers, tenor Marcello Giordani and baritone Thomas Hampson--but she was the one with the opera's most famous aria, "Ernani, Ernani involami," which she has to "simply" walk on stage and sing. (She nailed it, by the way.)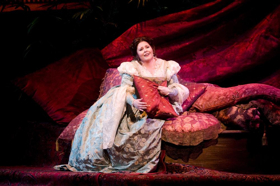 Of course, it wasn't as if she'd stepped out of total obscurity into the limelight on that evening. Indeed, operaphiles were already aware of her. After her standout performance at the Met's National Council Auditions the year before--an annual event that's a big deal in the opera world for singling out up-and-comers--she'd been offered the opportunity to stand-by for Radvanovsky.
The 2007 audition's Grand Finals Concert was a particularly high profile event, not only because of the caliber of the performers (others included mezzo Jamie Barton, tenor Michael Fabiano and soprano Amber Wagner), but also because it was caught on film and later became a documentary, "The Audition." Meade knocked people's socks off with "Casta diva" from Bellini's NORMA (a role she'll sing in the Met's new production this season) as well as "Ach ich liebete" from Mozart's ABDUCTION FROM THE SERAGLIO, which was chosen for her by the Met.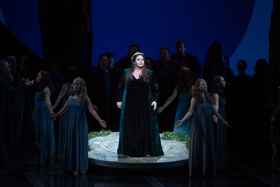 The latter, perhaps not as well known as the Bellini, is a killer of an aria, calling for great breath control, superb legato, an unbelievable range and more than a modicum of style. At that point, she'd only just learned it a few weeks before and never had sung in public. "So I went to rehearsal and it was fine," Meade recalls, rather nonchalantly, "but that's kind of been the way throughout my career: 'Let's do it for the first time in front of lots of people.'"
Caramoor, in Katonah, NY, has been one of those places "in front of lots of people," where she has debuted a number of roles, including this week's PIRATA. Since she made her Caramoor debut in 2009 in Rossini's SEMIRAMIDE--a 4-1/2 hour epic that she will also be doing at the Met this season--Meade has done the starring roles in Bellini's NORMA, Verdi's LES VÊPRES SICILIENNES (the French version of I VESPRI SICILIANI), Donizetti's LUCREZIA BORGIA and now PIRATA. Not one of them is a day at the beach.
What made her say yes to PIRATA? Several reasons: One was working with Will Crutchfield, who's led the "Bel Canto at Caramoor" program since 1997 and is finishing up his tenure this season. "I like working with Will"--who is also conducting the performance--"and being at Caramoor," she explains. "When you work here, it's all about the music." [At Caramoor, the opera is officially listed as "semi-staged"--but, basically, it's traffic patterns, Meade says, e.g., you go on here, stand here, and bring your own clothes.] "Many times when you work at an opera house--because we live in 'the age of the director'--there's more emphasis on the staging than on the music," she says.
"Sometimes after you introduce yourself to the conductor, you sing through a role one time and next time you see him is at the orchestra rehearsal, a day or two before the performance. That's difficult, because, well, how can you get the nuances and agree as a unit with your other colleagues and conductor to put a cohesive piece together when there's not a lot of input. It's not the conductor's fault, but it's the way that rehearsals are scheduled today. Here at Caramoor, it's a different experience."
Just as important a consideration in accepting the role, however, was the chance to sing one more opera by Bellini, a king of the bel canto opera tradition in which she excels; it was something she couldn't pass up. (For those who don't know, bel canto translates literally from Italian as "beautiful singing," but it's much more than that. According to the Harvard Dictionary of Music, it is "the Italian vocal technique of the 18th century, with its emphasis on beauty of sound and brilliancy of performance rather than dramatic expression or romantic emotion," though the latter aspect was changed forever when Maria Callas picked up the gauntlet in the late '50's.)
"I have always been a fan of resurrecting pieces that aren't done all the time," she explains. "As much as everyone wants to do new works"--and she's in favor of adding new works to the traditional repertoire, though she doesn't do much herself--"there are a lot of old works that are never done and I think they need to be brought back. I'm doing a variety of pieces that haven't been heard for a while"--PIRATA was done at the Met for Renee Fleming in 2003 but not done often before or after--"some of these piece get done once and slip back into obscurity."
Bellini, who had a very short life (he died at 34), wrote PIRATA as the first of four great operas he produced between 1827 and 1831 that also included I CAPULETI E I MONTECCHI (the Romeo and Juliet story), LA SONNAMBULA (about a sleepwalker), and NORMA (the trials of a Druid princess and her unfaithful lover). It was written for two of the great singers of the day, tenor Giovanni Rubini and soprano Henriette Meric-Lalande, but fell out of favor as tastes changed. Fast forward to the mid-20th century, when Callas and her great costar Franco Corelli got their vocal cords around it at La Scala in 1958. It was the start of the new age of bel canto and PIRATA--though not Bellini's most famous work, that going to NORMA--was part of the trend, most notably as a vehicle for Callas, Spanish soprano Montserrat Caballe and, more recently at the Met, Renee Fleming.
"Obviously, I'm a great proponent of NORMA, which I love, and [another Bellini] BEATRICE DI TENDA, but PIRATA is a little different, not as fluid as either of those others. Yes, there are lots of great melodic moments in it, lots of pathos and emotion, but because it was written early in his career, it is more disjunct than something like NORMA, with lots of key changes, and it doesn't go where you expect it to go," says Meade.
For Caramoor, she had to learn the role pretty much from scratch. "I was obviously very familiar with the final scene--because that's what gets excerpted all the time--but I did not know the vast majority of the score, though I'd listened to it. When Will [Crutchfield] suggested it, I immediately said yes but told him I wanted to listen to it first. I knew it wasn't in the same vein as SONNAMBULA"-- a role that usually goes to lighter voice sopranos these days, though that, too, was a favorite of Callas who brought an intensity to it--"so I knew it was probably within my technical capabilities and tessitura (range) and, most likely, would be singable for me.
"I'm not one of those singers who goes in and has a piece taught to her. When I'm learning a score, I first go through it on my own and make sure I have everything translated into English so I know what's going on," she continues. "Then, I'll listen to a recording with the score in hand and start taking it apart, analyzing how the music is structured. I always try to have it mostly learned and 'in my ear' before going to a coach who can help me work through certain aspects of the piece. For example, with PIRATA, there are definitely some strange moments where I didn't understand 'where is this going?' and I took it to my coach."
A month or so before the scheduled opening at Caramoor, she did a couple of extended sessions with Crutchfield in New York to get the drama of the role under her belt, before doing musical rehearsals with piano, a few orchestral rehearsals in New York City and then up to Caramoor for the dress rehearsal, a day off and then the opening. It's a whirlwind process that's par for the course in the opera world today, where costs are high and finances are always a challenge.
For Meade, an important aspect of learning a role and, of course, staying vocally healthy in general, is being in touch with her voice. "I think I am--I hope so--though I never listen to tapes of my performances because I never like how I sound. I'm my own worst critic," she laughs. "My husband [tenor John Myers] does a lot of that field work for me, though I think I'm a pretty good judge of whether I sang well and what I want to do differently next time."
She met Myers, who's a few years younger and is currently at her alma mater, AVA in Philadelphia, when they were both at the Wexford Festival in Ireland in 2010, making their European debuts. (Her roommate was soprano Kiera Duffy, another winner from the 2007 Met auditions, who's best known these days for her shattering role in the Mazzoli-Vavrek BREAKING THE WAVES. When I mention that Duffy did "the full-full Monty" in it, Meade says, "Good for her--not my thing, nope, nope nope.")
Meade says her husband's career "is just starting to blossom" and we talk about the tribulations of being married to another singer. (NB: They were married by Supreme Court Justice Ruth Bader Ginsburg about two years ago.) "On one level, it's totally blissful, but it's hard being apart. And I don't think I've seen the full brunt of it yet, because we're not yet on the same level, with both being gone for long periods of time. In the next five years, we'll find out if that's super difficult--we'll probably never see each other."
She says frankly, "Even now, it's hard to be apart for so long--for instance, I was in Spain this past fall till the end of January and by myself for the vast majority of it. John came to visit a couple of times but, because he was in school, he couldn't get away as much as we'd have liked. At the same time, it renews the honeymoon stage every time we see each other, though I imagine it would be harder if we add kids or pets or aging parents into the mix. Luckily, we're both pretty down to earth, not high-maintenance, neurotic-y singers."
While I don't know about her husband, I can see that Meade doesn't seem "neurotic-y" at all. In fact, one of my favorite of her roles--and a great success for her--has been Alice Ford in FALSTAFF, which I saw at the Met. It showed off a side of her you don't often see in her world of mostly tragic opera heroines: her comic chops. "I'm a quirky, fun, down to earth person, so doing Alice on stage was being 'me' and it was a lot of fun. It was probably the most fun I've ever had on stage," she admits. "Yes, I would love to do more things like that--unfortunately, in my particular fach (the range, weight and color of her voice) and in opera in general, there are not many comedic things that get done. I would think it would be funny for me to do a BARBER OF SEVILLE sometime...but I don't know that it will ever happen."
Instead, she's more likely to turn up in some obscure bel canto or Verdi opera. (Besides doing PIRATA this year, her other new work was Verdi's STIFELLIO.) In the coming season, she's doing Rossini's SEMIRAMIDE at the Met, which she hasn't done since did her role debut with it at Caramoor in 2009. "It'll be fun going back to it--I love the score and it's an opera that hardly gets done anywhere," she says.
That wasn't quite how she felt about it when Crutchfield first suggested it. She recalls, "When Will first asked me to do it, I thought to myself, 'this man is crazy, I can't sing that, there are too many notes, my voice doesn't move that fast.' But I had never experimented with that kind of music--learning a Rossini role is not like learning anything else because it's sort of a different beast, so I didn't really know. But Will was very confident that I had it within my ability--and it was, though it was hard. It is a mammoth score to learn, not only very long but there are so many notes in it. It was a gigantic undertaking."
Now, she's looking forward to bringing it to the Met. "When I was doing it for the first time at Caramoor, I watched the DVD of the Met's production with June Anderson and remember thinking, 'What an amazing production; look at those costumes! I would love to sing in it someday' and here I am, doing that same production. I've learned a lot about singing Rossini-style ornaments since I first did it and feel way more comfortable coming back to it now. I'm also happy to be working with conductor Maurizio Benini, who I just worked with for the first time in Seville with ANNA BOLENA."
I had one last question for her: What is "the big one"--the opera she's just salivating to do? When pressed, she admits hoping that she gets to do PIRATA at the Met--the production done for Fleming is not that old--but, as far as long-range planning goes, Meade claims to be "really happy with the repertoire that I sing."
"People keep asking me, 'Are you going to move into Strauss or Wagner?' It's conceivable. I like to err on the side of smart judgment, not saying that, five years out, I'm going to sing Brunnhilde [in Wagner's Ring]"--she laughs--"when I'm not sure that in five years I'll be able to sing Brunnhilde. We're never sure how the voice is going to mature, whether it will retain its elasticity and youth. For me, it's preferable to stay with the things that I'm doing as long as possible (I probably have 15, 18 years left to sing, if I decide I want to stay that long), which is not necessarily the philosophy of other people, who have these dream roles in mind, e.g., I want to sing XYZ before I retire.
"For me, I would like to stay singing healthily for as long as possible--that's my philosophy."
###
IL PIRATA is Caramoor's operatic centerpiece this season, July 8 at 7:30pm. For further information and tickets, see the Caramoor website.
Related Articles View More Opera

Stories