Interview: Thea Musgrave at 90, Queen of SCOTS and Composer for all Seasons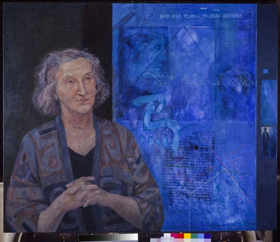 Don't call Thea Musgrave a Scottish composer or an American composer--and, for Pete's sake, don't call her a woman composer.
Just plain "composer" will do, thank you.
Thea Musgrave is celebrating these days. It's not just that she's marking her 90th birthday on May 27 with a concert in New York, but that the concert is showcasing a gaggle of world premieres, US premieres and NY premieres (along with more familiar works), which highlight her rich musical vocabulary and keen sense of drama.
Included in the program is the US debut of "The Voices of Our Ancestors," in which she works with texts on "love, loss and drinking" that are thousands of years old, in Egyptian, Greek, Sanskrit, Latin, Chinese, Arabic and Hebrew. (It starts with the Rig Veda, first written down in 500 BC but actually much older.) Then there's a minute-and-a-half long, world-premiere for the noted oboist Nicholas Daniel that "goes very fast," for which he's flying in to perform. And, there are excerpts from three of her operas about historical figures: Harriet Tubman, Simon Bolivar (accent on the middle syllable, please, reminds Musgrave) and--from perhaps her best-known work in these parts--Mary, Queen of Scots.
"You're always where you're from"
Yes, Musgrave was born in Scotland, but, since 1973, she has spent most of her time in the US. Much of it was in Virginia, where her husband, boy-soprano-violist-conductor-teacher Peter Mark, founded and then ran the Virginia Opera for more than 25 years. ("I learned a great deal about writing for singers from living in an opera company.") She's also lived in Santa Barbara, CA and, these days, in New York.
"You always are where you've come from--Scotland is still there for me, at my vast age--and it becomes parts of your personality, but you react to new things wherever you live. I never would have written 'Harriet Tubman' (HARRIET, THE WOMAN CALLED MOSES) if I didn't live in America," she affirms. "I think the important thing is to find your own individual voice that, hopefully, can speak to others."
Strolling through the history of modern music
Sitting down to talk to her is like taking a stroll through the history of 20th (and now 21st) century music. It runs from the famed teacher-composer-pianist Nadia Boulanger to names like Aaron Copland, Elliott Carter, Milton Babbitt and her students at the University of California in Santa Barbara and at Queens College in New York City.
Peculiarly enough, she didn't start out studying music at all: She went to medical school in Edinburgh. "With the arrogance of youth, I was going to discover the cures for every disease, just like that. TB, cancer, you know. If there had been AIDS then, I would have wanted to go after that too.
"Cutting up frogs--very boring"
"Of course, I had very little science background so they put me in pre-med, which meant cutting up frogs and learning about chemical changes. Very boring," she recalls as if it were yesterday. "But right next to the medical school was the music school--and I found myself gravitating there because it was much more interesting.
"I decided: You live once, so you might as well take the journey you want in life and go where your passion is. It was my luck to realize where mine was," says Musgrave. (She nearly didn't get her degree, she recalls, because she submitted work that was considered "too adventurous" and the masters only relented when she submitted something less complex.)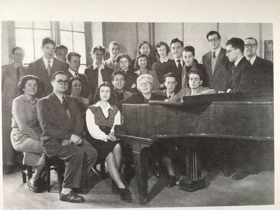 After getting her bachelor of music (mus.bac) in Edinburgh, she won a scholarship to study in Paris with Boulanger in the early '50s. (Though there doesn't appear to be a record of what-Boulanger-taught-to-whom, almost everyone important in one or another sort of music went to her: from Ned Rorem and Philip Glass to tango's Astor Piazzola and jazz's Quincy Jones to Broadway's Charles Strouse and Sesame Street's Joe
Raposo.)
"It's about the overall journey"
It was during this period that she became influenced by the work of Sir Donald Francis Tovey, the British musicologist, long dead but whose theories lived on.
"What I learned from him is what he liked to call 'long-term harmonic planning.' It's not just that one event in a work leads to the next and to the next, but about the overall journey that the piece is going to take. This contrasted to my studies with Boulanger, where the focus was on detail-to-detail-to-detail, and to make sure they all worked," she explains. "So for me there were these two major influences: long-term planning and moment-to-moment."
These ideas can be heard synthesized in some of her most highly acclaimed instrumental works, perhaps most visibly in what she called her "dramatic-abstract" pieces--dramatic but without a story--which show off her belief that no music can be entirely abstract but 'there must always be a dramatic element.' In her Clarinet Concerto, for example, there is the struggle of the individual versus the crowd. "The clarinet player gets up and interrupts the flow of things--and asks other groups of colleagues to 'join the revolution.' The conductor gets quite upset and, in the end, gets the whole brass section to 'shut them up.'"
(Funny enough, the idea for the piece started out as a dream when Musgrave first started to conduct in the mid-'60s, only conducting her own music. A whole series of works followed, where she decided to let one or more members of the orchestra disrupt the proceedings.)
Getting involved in British musical life
Still in Paris, she was encouraged by a university friend from home to get involved in British musical life. To this end, Musgrave contacted Sir William Glock, an important figure in British music, who ran a summer school at Dartington Hall--"a meeting ground for those hungry to explore a new musical landscape"--where she'd "meet people."
"At that time, England had nothing to do with [Arnold] Schoenberg, nothing much to do with European musical influences at all. Glock was responsible for introducing the Continental avant-garde, notably Pierre Boulez." She told him about her work with Boulanger--and was offered a job at Dartington teaching the art of being an accompanist. PS: She did "meet people"--and from there, she lived in London for the first time.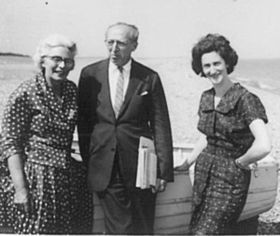 What was it like making her way in the musical world as a woman in the '50s and onward, I ask? "In London, it didn't really matter. I knew lots of other girls: '12-tone Lizzie' Lutyens, Betty Maconchy and her daughter Nicola LeFanu." (Of course, she had already known Boulanger and her sister, Lili.)
"We didn't think about it. I spent evenings out with Peter Maxwell Davies and Richard Bennett--we were all composers together. That I was a woman composer...it never came up. It was only when I came to the US that they said, 'You're a woman composer.' And I said, 'No, I'm a composer. Period.'
Three months in Santa Barbara
After 15 years living at the heart of London's music scene, she relates, "a colleague, Peter Racine Fricker, who was teaching in Santa Barbara asked if I'd like to take his place for three months during his sabbatical and it sounded like a good thing. I'd only been to America once before, in the late '50s when I went to Tanglewood and studied with Aaron Copland, whom I got to know quite well." (She also met Elliott Carter, Lukas Foss and many others during that time.)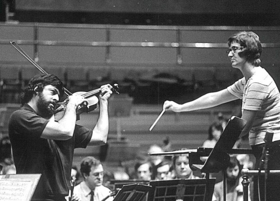 In Santa Barbara, she met Peter Mark. "I was living with someone in London and wasn't husband-hunting"--Boulanger had told her not to marry--"but a year later, we were married in London. He premiered my concerto for Viola and Orchestra (a BBC commsion) at the Proms in 1973." When he was offered the opportunity to start the Virginia Opera. I told him he couldn't say no, and we packed
up and moved there."
Virginia opened up a new world for her, not only providing the US debut for her opera MARY, QUEEN OF SCOTS but also an introduction to the US racial politics of the time, leading to her opera about Harriet Tubman and the Underground Railroad.
Entering a life in opera
While she had been exposed to all kinds of music since she was very young, opera had been outside her realm. There wasn't much of it in Edinburgh until the Edinburgh Festival started in 1947 and Glyndebourne Touring Opera began coming up to perform--and "opera wasn't my thing." But with her ever increasing interest in the lyric and dramatic potential of music, she found a place for it in her musical vocabulary.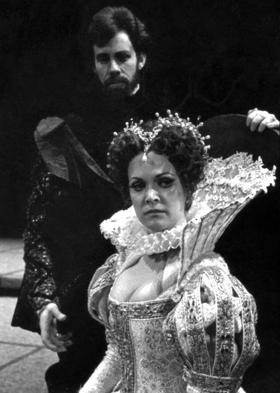 In 1977, the Edinburgh Festival presented the world premiere of MARY, which covers the period from Mary's return to Scotland from France in 1561, where she was married to the Dauphin (the heir apparent) then King Francois II, until she leaves for England. (It ends where Donizetti's MARIA STUARDA begins). The opera had its US premiere the following year in Virginia, under her husband, and, again with Mark conducting, at New York City Opera in 1981.
MARY also marked the start of Musgrave's life as a librettist, after a disagreement with her collaborator at the time, "a very interesting writer, who demurred when I told her we needed to cut because the aria was holding up the drama. She shrieked and said, 'Ooh those are my best words,' and I thought, 'I'm going to do this on my own--so I can cut when I need to.'
"The demands of the music and drama are more important to me than writing beautiful words. The music is what has to happen. And I love making sure the words really sit well on the musical line."
"I love them all"
So began her line of historical operas: "I did MARY, then the Harriet [Tubman] opera"--prompted by her life in Norfolk, racial relations included, along with her desire to write for African-American voices after first hearing PORGY AND BESS--"SIMON BOLIVAR (who tried to unite Latin America, which was suggested to me by Placido Domingo), and PONTALBA (commissioned for the bicentennial of the Louisiana Purchase). Sometimes I wrote in English and, with the BOLIVAR, for example, I worked with a translator to make sure a Spanish libretto fit the music as well as the English."
Does she have a favorite? "I love them all," she says, laughing.
And what, I ask is she planning for her 100th birthday, only 10 years away? "I'm thinking about it," she says. "Elliott [Carter] was still writing when he was 100--so I'm going to follow his good example. I love what I do. It's one of life's privileges to be allowed to do it."
###
May 27, 2018 at 8 PM
Thea Musgrave's 90th Birthday Celebration
Church of St. Mary the Virgin - 145 W 46th St, New York, NY
The New York Virtuoso Singers, conductor Harold Rosenbaum
Guest artists: American Brass Quintet, Tadeusz von Moltke, James Adams, Nicholas Daniel, José Adán Pérez, Paul Sekhri, Jenny Sandelin, Christine Lyons, Geraldine McMillian, Michael Fennelly.
Works include: The Voices of Our Ancestors (2014 - US premiere); Dawn (2012 - US premiere); Whirlwind (2018 - World premiere); La Vida es Sueno, a dramatic monologue (2016 - World premiere); Rorate Coeli (1977)
Opera excerpts: Three heroines from three continents
Manuela's aria, from SIMON BOLIVAR (1994 - NY premiere);
Duet & lament, from HARRIET, THE WOMAN CALLED MOSES (1984 - NY premiere);
Mary's aria and Act II ensemble finale, from MARY, QUEEN OF SCOTS (1977)
Tickets are available at the door or in advance from Yapsody.