BWW Feature: When Marketing Works - NYGASP's HMS PINAFORE at Kaye Playhouse

These days, targeted ads are flying at us at every turn. I find myself in constant inner struggle, because I keep getting pulled in-though I never truly enjoy myself, because I know what they're doing to me! So, imagine my surprise when I found myself delightfully lost in the New York Gilbert and Sullivan Players' most recent marketing campaign - ayeharmony.com. The site claims to be the '#1 online dating site for the Queen's navy, sisters, cousins, aunts and more,' with dating profiles featuring a variety of characters from the show. The usernames and profiles are filled with Gilbert and Sullivan inside jokes, but are so deftly handled that the layman won't be left out in the cold. Simply put...this is a genius campaign--no matter how you slice it. Even if I wasn't a G&S fan, I would check this production out.
Gilbert and Sullivan were a composer/lyricist duo from Victorian-era England who wrote a whole host of operettas that, since showing up on the scene, have had wide-reaching cultural impact--including Pink Floyd's "Dark side of the Moon," Grace and Frankie, Thoroughly Modern Millie, Family Guy, How I Met Your Mother--frankly, this would quickly turn into a tome if I listed them all. Trust me when I say that there is G&S at every turn--even if you're not always aware of it. Their impact is made even more malleable by the strong performance practice of modernizing lyrics, ensuring that the nuance of timely, relevant themes are capitalized on.
Here, NYGASP (New York Gilbert and Sullivan Players) is riffing on this traditional performance practice in their creative ayeharmony.com marketing campaign. By using the common, ever prevalent, vehicle of the online dating platform and urging their audiences to 'make a date' (i.e.: buy a ticket), they're playing on the inevitable familiarity and reality of 21st century life. This is similar to the broad stroke political themes woven throughout the works of Gilbert and Sullivan that their original audiences would have been intimately familiar with. Add to this the timing of their performance dates--mid-cuffing season--and you have yourself a recipe for a campaign worth cuddling up to.
If that wasn't enough, the deeper you dig, the wittier and smarter the campaign becomes. Each dating profile plays on lyrics and traits of the characters in the show-but with a twist. Here they are incorporating the performance practice of modernizing and adjusting lyrics to reach the audiences of the time. This can be seen in the usernames Boatswoon (a play on the character name Boatswain) and iOnlyHaveDeadEyes4U (a play on the character name Dick Deadeye), etc. (I would be remiss not to point out Boatswoon's BariHunks post that I stumbled on while researching this article... I mean, I am partial to HHHHHHebe, but, I...I'm swiping right on Boatswoon is all I'm saying--and I think you will too.)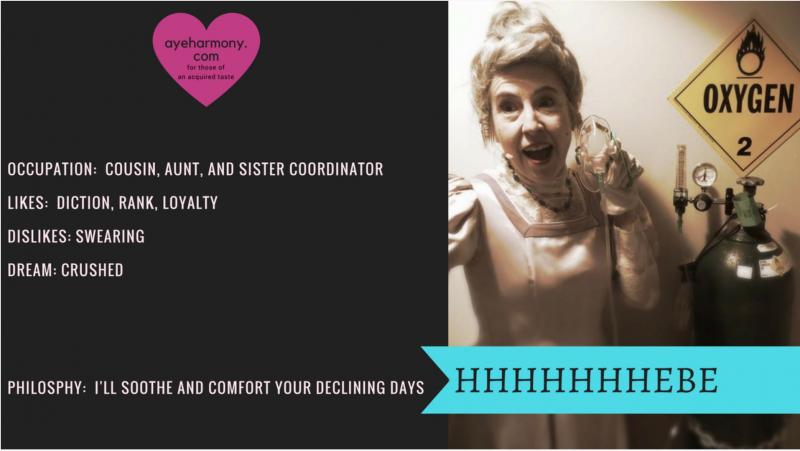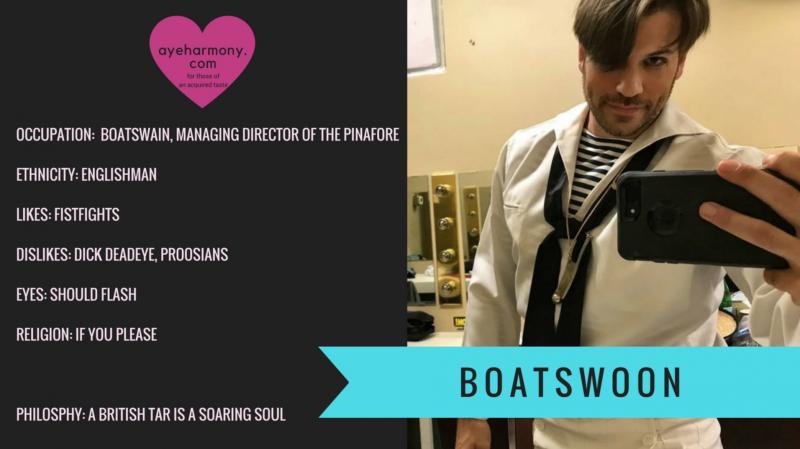 It really is a genius hat-tip to both the broader audience who may not be familiar with the content (the unifying incorporation of the online dating platform) and those audience members who, no doubt, have the score memorized (the references to retired baby farmers, etc.). With classical music campaigns often taking a mundane or reverent tone, it is refreshing to see a company, intelligently, give its potential new audience members and existing veterans a little wink and a smile--at the same time. And thank God for that--with classical audiences hemorrhaging right and left, smart, innovative marketing campaigns like this one are refreshing and necessary. Here's hoping that this new, intelligent surge of energy continues to breathe new life into this gem of a repertoire company here in New York City.
If you're in town, check out their upcoming performances of H.M.S. Pinafore December 28-31 at the Kaye Playhouse at Hunter college. More information here.
Related Articles View More Opera

Stories
Cole Grissom is a writer, singer, and unapologetically bold managing editor for BWWorld's Classical Music vertical. (read more...)