Andre Previn - of Opera and Classical Music, as well as Hollywood, Broadway and Television - Dies at 89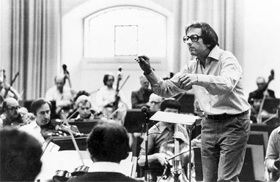 Composer, conductor and pianist Andre Previn has died at the age of 89 on February 28.
Previn was composer of the opera versions of Tennessee Williams's A STREETCAR NAMED DESIRE and Noel Coward's BRIEF ENCOUNTER, dozens of orchestral works, film scores (the music for IT'S ALWAYS FAIR WEATHER, new songs for PAINT YOUR WAGON, adaptations of GIGI, MY FAIR LADY and PORGY & BESS, among others) and jazz works. He also wrote the score for Tom Stoppard's 1977 play, EVERY GOOD BOY DESERVES FAVOUR, which was performed for eight performances with full orchestra at the Metropolitan Opera House in July and August 1979.
He was also music director of a number of major US orchestras, including the Houston Symphony, LA Philharmonic and the Pittsburgh Symphony, as well as the London Symphony Orchestra.
Previn won four Oscars and 10 Grammy Awards for his recordings (plus a Lifetime Achievement Grammy).
The frequently wed musician--including to Mia Farrow from 1970-1979--was married to famed violinist Anne-Sophie Mutter from 2002-2006, with whom he had a close working relationship even after their divorce. She premiered eight of his works between 2001 and 2015, including a violin concerto.
Previn was born Andreas Ludwig Priwin in Berlin, Germany, in 1929 or -30 and came to the US around 1940, where he became a naturalized citizen in 1943.
Violinist Anne-Sophie Mutter issued the following statement this afternoon:
André Previn has for more than 70 years illuminated this often dark world with his extraordinary gifts, his superb intelligence and wit.
We were companions in music for 4 decades and closest and dearest soulmates in the last 19 years. These years have brought me an abundance of deeply moving and challenging violin works. One of the first of them, the violin concerto, was an engagement present. I am forever grateful for all of his musical treasures.
André will live on in the hearts of the millions of music lovers that his life and music has touched. His many scores will continue to enrich the life of musicians around the globe.
Right now André is probably in the middle of a jam session with Oscar and Wolfgang...and he will outplay them.