Zia Benjamin is Playing By Her Own Rules On New Single RUDIE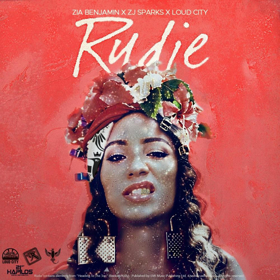 Zia Benjamin, the Jamaican songstress who has penned and been featured on hits from the likes of Sean Paul to Major Lazer, brings her soulful sound to the forefront in 2019.
This Friday (April 12th), Zia releases her new solo track "Rudie." On this audacious ultimatum to her man, Zia confronts his other lover to take a back seat. "Baby forget him, he's mine all mine. You gonna regret it, wasting your time," she boldly warns on the chorus. "He say he's leaving the past behind. You'd better put those dreams to sleep, I'll sing your lullaby," adds Zia. Her cheeky lyrics ride effortlessly over an upbeat modern-day ska groove, produced by 3x GRAMMY-nominated production duo Loudcity Music and ZJ Sparks.
Listen / Download "Rudie" on all platforms now!
On "Rudie," Zia's vivid songwriting enters the third act in her series of releases. Her debut song "No Fame" and "Mr.Neverman" (both produced by RoryStoneLove) preceded "Rudie," building an arc of a woman courted by men personally and professionally only to be exploited in the end. Her video for "No Fame" addressed misogyny in the music industry, and her most recent single "Mr.Neverman" (released in December 2018) is another tale of Zia's character taken for granted. On "Rudie," she shows the push-and-pull between power and vulnerability. Zia loosely interweaves the storyline between each song through her powerful self-directed visuals. Fans can see the trilogy unfold later this month when she drops videos for both "Mr.NeverMan" and "Rudie."
Throughout spring and summer, Zia will continue to release new music, including material with XXXtentacion's producers, Andre 'Vibez' Chevolleau (SZA, Lil Pump, Maluma, Damian Marley, Rio Santana) and JonFX. She is also prepping for her debut EP Love In A Plastic Cup to be released later in the year.
Christina "Zia" Benjamin is a rare type of DIY artist. Singing and songwriting are natural gifts, which have earned her credits on Major Lazer's "Jet Blue Jet" (100 million+ YouTube views) and Sean Paul's "Standing There." Diplo of Major Lazer was particularly drawn to her "Billie Holiday swag." Yet as a bonafide star with vocal range and charisma to match, Zia is also a major presence behind the scenes directing and producing her own music videos. In 2017, the Caribbean siren released her noir-style video for her break-out debut single "No Fame," a gripping#MeToo story about the music industry's toxic masculinity. The song caught the attention of David Rodigan (BBC Radio), saying he was "truly blown away by [Zia's] song-spoken word gem." Jamaican legend RoryStoneLove (featured on Beyonce & Jay-Z "Summer") produced "No Fame" as well as her 2018 single "Mr.Neverman," which recently earned international support from DJ Khaled on his Instagram, David Rodigan, SeaniB (BBC1trxa) and Becca Dudley (Beats1/MTV UK). Zia's musical influences are a cross-cultural patchwork of jazz, neo-soul, pop, and retro-dancehall converging into a sound she calls "Rum Shop Blues." The layers in her sound are a reflection of her own identity as a mixed woman born in Jamaica to her father from Dominica and mother from Germany. 2019 is a major turning point not only for Zia, but for women as a whole in Jamaica. Her presence shines during the island's current renaissance of dynamic female talent.