Tony Lucca Hits the Road in Support of New Album 'Ain't No Storm'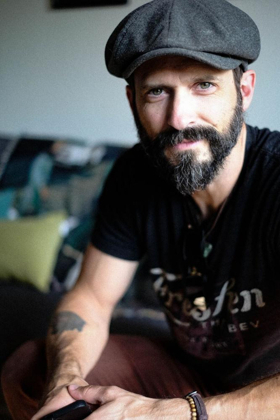 Nashville-based singer-songwriter Tony Lucca continues touring in support of his brand new album, Ain't No Storm (out March 29, 2019), with a number of tour dates that include stops at Bonnaroo, the Opelika Songwriters Festival, Pat McGee's Down the Hatch, and others (see tour schedule below for all confirmed dates).
"I'd say my favorite part of the whole album cycle process is getting back out on the road, playing the new songs for folks, and being able to put the record in their hands, more so as a token of gratitude than anything," says Lucca. "At this point, my fans are beyond invested in what I do, so to be able to go represent that investment, to show them the kind of pride I'm taking in my music, brings me great joy. They've earned a great record. They deserve a great show. This is when I get to deliver both at the same time." Over Memorial Day weekend (May 24th to May 26th), Lucca will perform all three days of the inaugural Opelika Songwriters Festival event (
www.opelikasongwritersfestival.com
) in
Alabama
alongside more than 30 fellow singer-songwriters, such as Dan Navarro, Harpeth Rising, Kim Richey, and others. Following that several days later, he heads to the Outer Banks of North Carolina to join the likes of Shawn Mullins, Stephen Kellogg, Chris Trapper, and others on the stage at the 11th Annual Pat McGee's Down the Hatch, which takes place from May 29th to June 1st (
http://patmcgee.net/2019/02/08/down-the-hatch-2019/
). On the evening of June 13th, he'll be performing on the
Whiskey Jam
stage at The Ville at Plaza 7 at Bonnaroo (
www.bonnaroo.com
). Lucca also has a handful of Northeast dates with
Dan Rodriguez
on the calendar in April, along with other shows. On his brand new album,
Ain't No Storm
, Lucca is flexing his Americana muscles, and the credits for the album read like a who's who of East Nashville notables: Ken Coomer produced the record at his studio, Cartoon Moon, great Nashville players like Michael Webb, Ted Pecchio, and Joe Garcia lent their talents - and even
Patrick Sweany
stopped in for a cameo on "Room With A View." Replete with songs borne of his admiration for Nashville's rich history,
Ain't No Storm
finds Lucca embracing with reverence the process and craft of songwriting and taking his time (more than two years) to get it right, writing or co-writing "daily and diligently."
PopMatters.com
called
Ain't No Storm
"...a refreshing look outward as [Lucca] expands his musical boundaries... Lucca flirts with textured pop-rock and Americana, recalling in spouts the likes of Amos Lee, Jason Isbell, and Ben Schneider... It's all at once an inviting, familiar embrace and a refreshing step in a brand new direction for Lucca, whose easygoing soul fits well within the roots realm."
Glide Magazine
trumpeted Lucca's "soulful blast of Americana," also writing, "Lucca succeeds in tapping into a sort of universal feeling we all have, or at least want to have, as he proves himself to be more than capable of writing lyrics that speak to the everyman."
The Deli Nashville
said the album helps Lucca "further claim his stake among the top in the Nashville Americana scene."
Nashville Lifestyles
praised the album, saying, "Journeyman singer-songwriter
Tony Lucca
embraces life's hard-earned lessons on
Ain't No Storm
, fusing Nashville's write-what-you-know ethos with Los Angeles' cool-and-collected flair." Lucca's career is a long and noteworthy one that spans some of the country's greatest music scenes - from his hometown Motown mecca of Detroit, to the hills of Hollywood, to the borough of Brooklyn. It includes stints in some of the shiniest environments, from his early years on the "Mickey Mouse Club" alongside future pop stars like
Justin Timberlake
and Christina Aguilera, to his top-three finish on the second season of NBC's "The Voice."
Tony Lucca Tour Schedule:
4/11/2019 - Charleston, SC /
The Royal
American
4/23/2019 - New York, NY /
Rockwood Music Hall
(w/Dan Rodriguez)
4/24/2019 - Philadelphia, PA /
World Cafe Live
(w/Dan Rodriguez)
4/25/2019 - Vienna, VA / Jammin' Java (w/Dan Rodriguez)
4/26/2019 - Boston, MA / City Winery Haymarket (w/Dan Rodriguez)
4/27/2019 - Schenectady, NY / The Van Dyck
4/28/2019 - Basking Ridge, NJ / Ross Farm
5/6/2019 - Nashville, TN / True Music Room @ Cambria Hotel
5/9/2019 - Columbus, OH / Rumba Café
5/24 - 5/26/19 - Opelika, AL / Opelika Songwriters Festival
5/29 - 6/2/2019 - Kill Devil Hills, NC / Pat McGee's Down The Hatch
6/13/19 - Manchester, TN / Bonnaroo,
Whiskey Jam
Stage
9/6/2019 - Evanston, IL / SPACE
Photo credit: Ernie Halter
Related Articles
View More Music

Stories