Terra Naomi Releases Peaceful Plea 'Machine Age' via Bandcamp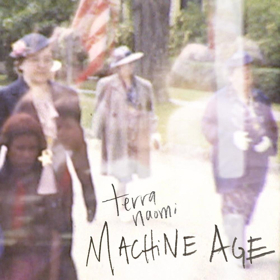 Los Angeles-based artist/activist Terra Naomi is releasing the powerful "Machine Age" today, a reflective and resilient single marking the one year anniversary of 45's inauguration. All proceeds from Bandcamp sales of the track will go directly to the ACLU, Planned Parenthood, GLAAD, Black Lives Matter, Girls Write Now and 350.org.
With "Machine Age,"
Terra Naomi
reclaims her place in the cultural zeitgeist, first established ten years ago with her viral hit "Say It's Possible." A meditation on the culture shock of post-election America, "Machine Age" was written in under an hour, drawing on her year of anger, outrage, fear, depression, and anxiety resulting not just from the election but also something closer to home. Upon the announcement of the wedding, members of Terra's husband's family decided to announce they could not partake because her husband, a trans man, is "really a girl" and their religion does not support "two girls getting married". The track came as a sudden burst, explains Terra: "This song was written from beginning to end in under an hour. I didn't intend to write it - was in the shower, getting ready to go out, and this line came into my head, with the melody...and I jumped out of the shower, got my guitar, and it basically wrote itself. I didn't know what I'd written until I went back and read the words I'd typed out...it was the result of over a year of sadness, fear, emotional exhaustion, and anger, often turned inward, resulting from the election of our president and the societal changes I experience every day. The news, the human rights violations that have become so common that we are now desensitized to them."
MORE ON TERRA NAOMI: With her new single "Machine Age,"
Terra Naomi
makes her first major move since her viral hit "Say It's Possible" over ten years ago. A meditation on the culture shock of post-election America, "Machine Age," Naomi's self-described "lyric download," is at once a dystopic anthem and a plea for peace. Written in response to Al Gore's film, "An Inconvenient Truth," 2007's "Say It's Possible" won a global fan base, along with the inaugural YouTube Award for Best Music Video. Naomi was quickly tapped as the only new artist invited to play Live Earth at Wembley Stadium, alongside Madonna, The Red Hot Chili Peppers, John Legend, David Gray, Foo Fighters, and The Black Eyed Peas. Her new album (due this summer) was recorded with Grammy Award-winning producer Tom Schick (Wilco, Iron & Wine, Rufus Wainwright, Mavis Staples) and multi-instrumentalist Joe Adamik (Iron & Wine, Califone), at Wilco's studio in Chicago. Terra crowdfunded one of the top music campaigns in IndieGoGo's history (and catalyzed $500K in matching funds for 5 charities). Recently, she's played with artists such as Phoebe Bridgers, Jack Johnson, Sam Outlaw,
Jon Sandler
(Great Good Fine OK), Austin Bis (Magic Giant) and Robert Delong. The songwriting on the new album comes from a place of emotional maturity, revelation, and unapologetic authenticity. Naomi's songs are both intimate and universal; words and melodies move seamlessly between emotions, reminiscent of Joni Mitchell's vulnerable lyricism. The mournfully political "Machine Age," is emblematic of the album: a dramatic ride through a wide range of experience. From classical operatic training, through independent singer songwriter earnestness, then major label pop production, and finally beyond all those influences. The single, and the album it heralds, leave an undeniable imprint when the music ends.
Purchase "Machine Age" via Bandcamp
Related Articles View More Music

Stories
More Hot Stories For You