Silverstein Announce Second Leg of 'When Broken Is Easily Fixed' Anniversary Tour Dates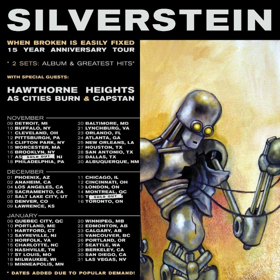 Silverstein have confirmed the second leg of the 15th anniversary tour celebrating their landmark debut album When Broken Is Easily Fixed. The additional leg takes place in early 2019.
The first leg kicks off November 9 in Detroit and runs through December 16 in Toronto in the band's native Canada. The second leg is slated to begin on January 9 in Quebec and runs through January 31 in Las Vegas.
Silverstein will also perform two sets on this run. One set will feature the band performing When Broken Is Easily Fixed in full, followed by a second set of "greatest hits."
Special guests on both legs are Hawthorne Heights, As Cities Burn, and Capstan.
"As hard as we work on pushing forward with our new music, it's fun to reminisce and I think important to give some love and respect to the music that started it all for us and the fans who have supported us since the beginning," said singer Shane Told previously said about the anniversary tour. "We've never been a band to tear down or insult our older material, and I've always said we will always show it the respect it deserves. This tour is doing exactly that."
Told continued, "It's going to be an emotional ride for sure. But I know we'll all have smiles on our faces the whole time. It brings us back to an era of innocence and excitement, getting into our beat up van with the heat permanently stuck on, and driving all over America for the first time."
He finished, "We're going to be able to do things, production-wise, we simply couldn't have done 15 years ago because we didn't have the budget - and in some cases the technology wasn't there yet. This is going to be the best you've seen our band - we're pulling out all the stops."
SILVERSTEIN ON TOUR:
WITH HAWTHORNE HEIGHTS, AS CITIES BAND, CAPSTAN
LEG 1: FALL 2018:
11/9 -Detroit, MI - Majestic
11/10 - Buffalo, NY - Town Ballroom
11/11 - Cleveland, OH - House of Blues
11/12 - Pittsburgh, PA - Rex Theatre
11/14 - Clifton Park, NY - Upstate
11/15 - Worcester, MA - Palladium
11/16 - Brooklyn, NY - Warsaw
11/17 - Asbury Park, NJ - Asbury Lanes
11/18 - Philadelphia, PA - The Fillmore
11/20 - Baltimore, MD - Soundstage
11/21 - Lynchburg, VA - Phase 2
11/23 - Orlando, FL - The Beacham
11/24 - Atlanta, GA - Masquerade
11/25 - New Orleans, LA - House of Blues
11/27 - Houston, TX - White Oak Music Hall
11/28 - San Antonio, TX - Alamo City Music Hall
11/29 - Dallas, TX - Gas Monkey Bar N Grill
11/30 - Albuquerque, NM - Sunshine Theatre
12/1 - Phoenix, AZ - The Marquee
12/2 - Anaheim, CA - House of Blues
12/4 - Los Angeles, CA - Regent
12/5 - Sacramento, CA - Ace of Spades
12/7 - Salt Lake City, UT - The Depot
12/8 - Denver, CO - The Oriental Theater
12/9 - Lawrence, KS - Granada Theatre
12/11 - Chicago, IL - House of Blues
12/12 - Cincinnati, OH - Bogart's
12/13 - London, ON - London Music Hall
12/14 - Montreal, QC - Le National
12/15 - Toronto, ON - Opera House
12/16 - Toronto, ON - Opera House
LEG 2: WINTER 2019:
1/9 - Quebec City, QC - l'Imperial
1/10 - Portland, ME - Aura
1/11 - Hartford, CT - Webster Theatre
1/12 - Sayreville, NJ - Starland Ballroom
1/13 - Norfolk, VA - Norva
1/15 - Charlotte, NC - The Underground
1/16 - Nashville, TN - The Cowan
1/17 - St Louis, MO - Ready Room
1/18 - Milwaukee, WI - The Rave
1/19 - Minneapolis, MN - Varsity Theatre
1/20 - Winnipeg, MB - Garrick Centre
1/22 - Edmonton, AB - The Starlite
1/23 - Calgary, AB - Marquee
1/25 - Vancouver, BC - Rickshaw
1/26 - Portland, OR - Peter's Room
1/27 - Seattle, WA - Showbox
1/29 - Berkeley, CA - Cornerstone Bakery
1/30 - San Diego, CA - House of Blues
1/31 - Las Vegas, NV - Brooklyn Bowl
Related Articles View More Music

Stories