ONCE Composer Glen Hansard Debuts New Breakup Song 'Setting Forth' Off New Album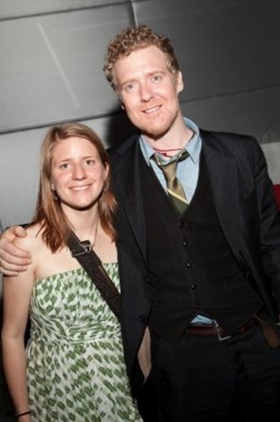 Grammy and Academy Award Winner Glen Hansard (composer of the film and Broadway productions of ONCE) has shared a new breakup song "Setting Forth" off his new album "Between Two Shores," which will be released January 19th. Listen to the song here!
Hansard sat down with Billboard to discuss his new music and reflect on his success.
Hansard revealed that, though "Setting Forth" is about love, it is one of only a few songs about his relationships. He also discussed how much this song took out of him.
"It really took a lot out of me, that song ("Setting Forth"). It's a straight-up, genuine breakup song, but not about the passionate breakup, the 'I can't do this anymore! I'm leaving you!' It's like the divorce proceedings, if you like -- Where are you going to live? Where am I going to live? You've had the big, passionate breakup, so now it's about dividing things up, the balancing act. I'm glad for that song, really. It actually helped me to move on. It's about that great recognition -- 'I've got to get out and you've got to get out and we've got to find our joy again, and whatever way we do that, I hope we can be mates.'"
Hansard goes on to talk about the process of making his third studio album "Between Two Shores" after the success of his previous Grammy-nominated album "Didn't He Ramble."
"We just went in and put down a bunch of ideas and didn't think too much about it. I thought, 's, man, that sounded really good. This is an album in its own right. The band was cooking, (the songs) sound like finished arrangements. Some of them were more vague ideas but a couple more or less fell out of the sky and landed as complete pieces, which is always a wonderful thing. I just said, 'OK, give me a week to finish off these lyrics and see where I'm at with them,' and I did and here we are and it's like, great, let's put it out so I can do another record."
When "Between Two Shores" is released on January 19th, Hansard will celebrate by performing an intimate concert for at Town Hall in New York City. He will hit the road for a North America and Europe tour on March 10, starting in Disney. He is still on tour, through December 18.
Hansard's 2017 work comes at a perfect time: It is the 10th Anniversary of the film ONCE. He starred and wrote the music, which earned him an Academy Award for the popular song "Falling Slowly." When the show hit Broadway, Hansard earned a Grammy Award for Best Musical Theater Album. Even ten years later, he is still incredibly happy for ONCE.
"It's still something I'm so grateful for. When I think back on that time, I think about the sudden wonder of it all. What happened was...just good news, you know? Sometimes in our lives all we need is a bit of bloody good news, and that was it, for us and for the people who came and saw it."
About ONCE: Broadway's ONCE features the Academy Award-winning music and lyrics of Glen Hansard and Markéta Irglová, a book by award-winning Irish playwright & screenwriter, Enda Walsh(Penelope, Hunger, The New Electric Ballroom), direction by the acclaimEd Scottish director of Black Watch, John Tiffany, movement by Steven Hoggett (Black Watch, American Idiot) and musical direction by Martin Lowe (Mamma Mia!). The set and costume design are by five time Tony Award winner Bob Crowley (The Coast of Utopia, Mary Poppins), lighting design is by Tony winner Natasha Katz (Aida, The Coast of Utopia), and sound design is by Clive Goodwin.
The cast of ONCE features Steve Kazee as 'Guy' and Cristin Milioti as 'Girl.' Also in the company are David Abeles, Claire Candela, Will Connolly, ElizaBeth Davis, David PatRick Kelly, Anne L. Nathan, Lucas Papaelias, Andy Taylor, Erikka Walsh , Paul Whitty, and J. Michael Zygo.
On the streets of Dublin, an Irish musician (Guy) and a Czech immigrant (Girl) are drawn together by their shared love of music. Over the course of one fateful week, an unexpected friendship and collaboration quickly evolves into a powerful but complicated love story, underscored by the emotionally charged music that has made ONCE an international sensation.
The 2007 Academy Award-winning film, ONCE, was written and directed by John Carney, and starred Glen Hansard and Markéta Irglová, with original music and lyrics by Mr. Hansard and Ms. Irglová.
The Oscar winning independent Irish film, Once (written and directed by John Carney) was made for $150,000. Shot in 17 days, it went on to gross $20M worldwide becoming a critically acclaimed international smash. It stars Glen Hansard, from the popular Irish Rock band The Frames, and Markéta Irglová. Glen and Markéta won the 2007 Academy Award for Best Original song for "Falling Slowly," the Los Angeles Film Critics Award for Best Music, and the soundtrack was nominated for two Grammy Awards.
Photo Credit: Glen Hansard Facebook Page
Photo Credit: Kevin Thomas Garcia