Michael Braunfeld Premieres First Video, Title Track From 'Driver'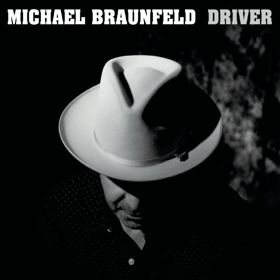 Singer, guitarist, bandleader and storyteller, Michael Braunfeld premieres the first video and title track from his latest release, Driver, via Mother Church Pew, who cheer, "the video's unfussy production and singular focus allow the art to radiate through the screen." Additionally, Braunfeld was named a 2019 Grassy Hill Kerville New Folk Finalist and has added new dates to his touring schedule in support of Driver's March 22ndrelease. Driver has reached the Top 100 on the Americana radio charts.
Braunfeld and his backing band, The Boneyard Hounds, will celebrate the release of
Driver
on April 27th at Burlap & Bean in
Newtown
Square, PA.
This spring, Driver's release has included two features on WXPN as Helen Leicht's Philly Local Pick of the Day and was voted fourth on Americana Highways Reader's Top Ten Favorite Albums for March 2019. Americana Highways also premiered the song "40 Below" and raved, "the song is outlaw country tension full of darkness and desolation. Driver is one badass record you don't want to miss."
"I'm proud of
Driver
," Braunfeld says. "It's really the first album that captures everything that I'm trying to do with my music. We spent a lot of time whittling down a list of songs to include a little bit of everything that I do while still forming a cohesive collection, which is important to me as a fan of albums. I don't like to be pigeonholed as a writer or an artist and I feel like
Driver
represents exactly where I am now, both sonically and thematically." Braunfeld has been garnering critical acclaim and industry recognition for his songwriting and intense performances. In 2014, Michael was welcomed into the Writers' Night family at The
Bluebird
Cafe. He was named as a finalist in the Grassy Hill Kerrville New Folk Competition in both 2016, 2018 and now 2019 and has been a featured performer at
The Falcon
Ridge Folk Festival, Spring Gulch Folk Festival, and the Philadelphia Folk Festival - where he has performed several times over the past decade. From sold out listening rooms to festivals, Michael has been delighting old fans and winning over new audiences at every stop.