Flightless & ATO Records Form Exclusive Label and Distribution Partnership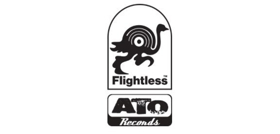 Flightless and ATO Records are thrilled to announce an exclusive label and distribution partnership for North America which includes catalogue releases from King Gizzard and the Lizard Wizard and new releases from Australian bands Amyl and the Sniffers and ORB.
Jon Salter, head of ATO Records, says of the new relationship, "Flightless is such an exciting and switched on label that is always keeping us on our toes We love learning from them, and admire their attitude, commitment to artist development, and of course their incredible vinyl packaging. Partnering with Flightless opens up an extraordinary A&R resource for ATO which is already proven with King Gizzard and Amyl and The Sniffers."
The initial releases under the new partnership are reissues of the first five titles from King Gizzard's incredible back catalogue which include reimagined artwork, packaging, liner notes and fresh vinyl colors. Pre-order for those is available now, and more information on the specific titles can be found below. Additionally, a limited edition 7" single from newcomer Melbourne punks Amy and the Sniffers will be available next week.
Flightless Records was started by Eric Moore (drummer and manager of King Gizzard) in Melbourne in 2012 with humble beginnings, originally shipping the early King Gizzard LP in pizza boxes. Flightless Records has released & signed artists such as The Murlocs, ORB, The Babe Rainbow, Stonefield, Amyl & The Sniffers, Leah Senior & Pipe-Eye. Several weeks ago, Flightless released limited edition copies of the highly sought King Gizzard reissues through their webstore to such overwhelming demand that fans crashed the pre-order site within minutes of it going live. After getting the site back online, the label sold over 20,000 LPs across the five titles in 24 hours.
King Gizzard will head to Mexico for their first ever tour there in October, followed by a highly anticipated Saturday night headlining appearance at Desert Daze. The band is currently preparing for Gizzfest as well, their very own yearly festival in Australia. Gizzfest 2018 will take place in Melbourne on December 1, and in Sydney, Brisbane and Adelaide later in the month. The lineup for the popular event was announced today and details can be found here.
Flightless Records is eager to spread their roster to a new continent. Last week ATO/Flightless announced the signing of Melbourne punks Amyl and the Sniffers and released the new track "Some Mutts (Can't Be Muzzled)" as well as a limited edition 7" vinyl. The young band was brought to ATO's attention when they opened for King Gizzard on their 2018 summer tour. Singer Amy Taylor's stage presence and charisma are undeniable and the band has received early praise from NME, The Guardian, iD and more. The band will release their debut album in early 2019 on ATO/Flightless Records (North America) / Flightless Records (Australia & New Zealand) / Rough Trade (ROW). The band is currently in the midst of a worldwide tour and will hit North America in October for a series of dates in major cities including NYC, LA, Chicago and more (all tour dates below). Tickets are selling fast!
Additionally, the Flightless/ATO partnership will launch with the release of a new album from Geelong, Australia dark guitar rock band ORB. The Space Between is out digitally now and will receive a physical release on October 26, 2018. It's a progressive heavy metal album dripping in paranoia and escapism... and it couldn't be better. The Space Between was produced by Stu Mackenzie (King Gizzard) and ORB. Inspired by their youthful enthusiam for hard rock and early metal bands such as Black Sabbath and Blue Öyster Club, ORB crafts heavy jams that draw inspiration from doom rock, psychedelia and hard rock. Watch the video for single "I Want What I Want" here.
KG&TLW Reissue Pressing Info:
Willoughby's Beach is King Gizzard and the Lizard Wizard's second EP, originally self-released in 2011 and limited to 350 hand numbered copies. The reissue features new artwork re-imagined by Ican Harem and comes on red(ish) colored vinyl.
12 Bar Bruise is the debut full-length album by KG&TLW originally released in 2012 and limited to 500 hand numbered copies. The reissue includes new artwork reimagined by Jason Galea and comes on doublemint green colored vinyl.
Eyes Like The Sky is the band's second full-length album released in 2013 and originally limited to 500 copies. A cult western audio book, the album tells a story of the American Frontier. The reissue features new artwork re-imagined by Jason Galea and comes on Halloween orange colored vinyl.
Float Along - Fill Your Lungs is the band's third full-length LP released in 2013 and includes the psychedelic fan favorite "Head/On-Pill". The reissue features a double-sided fold out poster and comes on Easter-yellow colored vinyl.
Oddments is KG&TLW's fourth studio album released in 2014. It features a collection of "odd" songs recorded between 2007-2014 and was originally limited to 500 copies. The 2018 reissue features a re-designed gatefold of original artwork by Jason Galea, and comes on grimace purple colored vinyl.
---
King Gizzard and the Lizard Wizard will be playing as follows:
10/04 - Monterrey, MX @ Escena
10/06 - Mexico City, MX @ Hipnosis 2018
10/09 - Guadalajara, MX @ C3 Stage
10/11 - Tijuana, MX @ Marko Disco
10/13 - Perris, CA @ Desert Daze
---
Amyl and the Sniffers will be playing as follows:
9/27 - London, UK @ International Festival Forum
9/29 - Memphis, TN @ Gonerfest
9/30 - Nashville, TN @ Springwater
10/02 - Chicago, IL @ Empty Bottle
10/03 - Ferndale, MI @ The Loving Touch
10/04 - Cleveland, OH @ Happy Dog
10/05 - Toronto, Canada @ Hard Luck Bar
10/06 - Montreal, Canada @ La Sala Rosa
10/08 - Cambridge, MA @ Middle East
10/11 - Brooklyn, NY @ Baby's All Right
10/12 - Philadelphia, PA @ Beautiful World Syndicate
10/13 - Washington, DC @ Songbyrd Music House
10/15 - Los Angeles, CA @ The Echo
11/07 - Newcastle, UK @ O2 Academy
11/08 - Glasgow, UK @ Barrlowland
11/10 - Nottingham, UK @ Rock City
11/12 - Belfast, IE @ The Limelight
11/15 - Norwich, UK @ UEA
11/16 - Liverpool, UK @ O2 Academy
11/17 - Manchester, UK @ Manchester Academy
11/19 - Leeds, UK @ O2 Academy
11/20 - Briston, UK @ O2 Academy
11/22 - Cardiff, UK @ Tramshed
11/23 - Birmingham, UK @ O2 Academy
11/24 - London, UK @ Alexandra Palace