Carl Anderson Announces Tour Dates with Paul Cauthen, Devon Gilfillian & Nikki Lane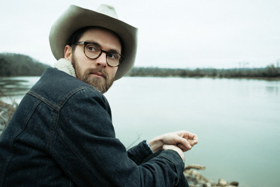 Today, the Nashville-based singer/songwriter Carl Andersonannounced tour dates supporting Paul Cauthen, Devon Gilfillian and Nikki Lanethis spring and summer. On May 31, Anderson wil release his new EP You Can Call Me Carl. Find a full list of tour dates below and on Anderson's website.
The EP was produced by acclaimed songwriter/producer Chris Keup and Stewart Myers for roughly ten days of raw, loose magic at White Star, a renovated barn-turned-studio located on farmland outside Charlottesville, VA. On the record is an all star backing band of Charlie Hall (The War On Drugs), Phil Cook (Hiss Golden Messenger), Daniel Clarke (Natalie Prass), and Rick Holstrom (Mavis Staples).
Recently, American Songwriter shared his latest single "10 Different Reasons," following the release of the album's first single "Roses."
The EP is lush but understated, with rich, rootsy arrangements underpinning Anderson's reedy voice as he grapples with the fallout from infidelity, heartbreak, and betrayal.
"I realized through this process that we're capable of handling a lot more pain than we think we can," says Anderson. "If that message can come through to even just one person who needs to hear it, then that's what it's all about."
Recently, Carl Anderson has written songs for artists like Andrew Combs, Devon Gilfillian and Becca Mancari.
Tour Dates:
4/18: Chicago, IL - Carol's Pub ^
4/19: Milwaukee, WI - The Rave ^
4/20: West Peoria, IL - Crusens ^
4/23: Davenport, IA - The Raccoon Motel ^
5/1: Nashville, TN - 3rd & Lindsley @
5/4: Bowling Green, KY - Tidball's
5/12: Dacatur, GA - Eddie's Attic
5/31: Lexington, KY - The Burl %
6/1: Monticello, IL - Allerton Park Concert Series *
6/6: Abingdon, VA - Abingdon Music Experience *
7/7: St. Louis, MO - Off Broadway #
7/9: Denver, CO - Globe Hall #
7/12: Bozeman, MT - Rialto Theatre #
^ - with Paul Cauthen
@ - with The War and Treaty
% - with Darrell Scott
* - with Devon Gilfillian
# - with Nikki Lane
You Can Call Me Carl Tracklist:
1) Bottom Of The Bottle
2) Roses
3) She Took Everything
4) Ten Different Reasons
5) Dream Of You
6) Head Hung Low
Photo Credit: Laura E. Partain