Buckcherry's 8th Studio Album 'Warpaint' Available for Pre-Order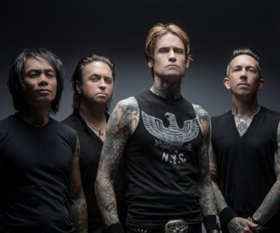 Rock legends Buckcherry have released their newest track, "Bent", off of their highly-anticipated full length album Warpaint outMarch 8, 2019 via RED MUSIC. The single is featured onSpotify's Hard Rock, Rock Hard, Just Rock, This Is Buckcherry, and Loudwire's "Weekly Wire" playlists. Topping it off, "Bent" was added to Amazon Music's "Fresh Rock" and "Brand New Music" playlists.
Warpaint reunites Buckcherry with legendary producer Mike Plotnikoff (Chris Cornell, Nita Strauss & Halestorm), who previously produced the band's platinum certified album15, catapulting the band to superstardom with the top ten hits "Crazy Bitch" and "Sorry".Warpaint is available in both standard jewelcase CD and black vinyl formats. Fans can pre-order a physical copy of Warpaint at CenturyMedia.store. Exclusive Buckcherry merchandise is available when bundled with either the CD or vinyl LP, including a t-shirt, tank-top and pullover hoodie. Shop bundles HERE.
Buckcherry recently announced the first leg of the 2019 Warpaint Tour with special guests Joyous Wolf. Fans can purchase tickets to the tour HERE.
Formed in 1995, Buckcherry is an American rock band from Anaheim, California, who throughout their 20 plus year career earned 2 Grammy nominations, 2 Top 10 Billboard Top 200 Hits, a RIAA Gold certification (
Buckcherry) and RIAA Platinum (
15) certification. Buckcherry have over 220 million US streams to date. They are ready to dominate the rock world once again!
CALIFORNIA TOUR DATES:
Jan 16 - San Juan Capistrano, CA @ The Coach House Concert Hall
Jan 17 - Santa Clarita, CA @ The Canyon
Jan 18 - Agoura Hills, CA @ The Canyon
Jan 19 - Pasadena, CA @ The Rose
EUROPEAN TOUR DATES:
Feb 5 - Manchester, UK @ O2 The Ritz
Feb 6 - Bristol, UK @ O2 Academy
Feb 8 - Kingston Upton Hull, UK @ Asylum
Feb 10 - West Midlands, UK @ West Mid
Feb 12 - Tyne And Wear, UK @ O2 Academy Newcastle
Feb 13 - Glasgow, UK @ Galvanizers
Feb 15 - Nottinghamshire, UK @ Rock City
Feb 16 - Oxfordshire, UK @ O2 Academy Oxford
Feb 17 - Norwich, UK @ The LCR
Feb 19 - Bo, Germany @ Zeche Bochum
Feb 20 - Berlin, Germany @ Markthalle Berlin
Feb 22 - Zurich, Switzerland @ Dynamo
Feb 23 - Ceriva, Italy @ Rock Planet
Feb 24 - Saarbrucken, Germany @ Garage Saarbucken
WARPAINT TOUR DATES:
Mar 6 - Sacramento, CA @ Ace of Spades
Mar 8 - Vancouver BC @ Hard Rock Casino
Mar 10 - Edmonton ALB @ Century Casino
Mar 11 - Calgary ALB @ Palace Theatre
Mar 13 - Winnipeg, MB @ Burton Cummings Theater
Mar 15 - La Crosse, WI @ Brickhouse
Mar 16 - Effingham, IL @ Effingham Performance Center
Mar 17 - Chesterfield, MI @ Diesel
Mar 19 - Grand Rapids, MI @ The Intersection
Mar 20 - Dayton, OH @ Oddbodies
Mar 22 - Palatine, IL @ Dirty Nellies
Mar 23 - Lexington, KY @ Manchester Music Hall
Mar 24 - Pittsburgh, PA @ Jergel's
Mar 26 - Foxboro, MA @ Toby Keith's
Mar 28 - Jim Thorpe, PA @ Penns Peak
Mar 29 - New York, NY@ Irving Plaza
Mar 30 - Hampton Beach, NH @ Wally's
Mar 31 - Poughkeepsie, NY @ The Chance
April 2 - Newport News, VA @ Boathouse
April 4 - Scottsdale, AZ @ Arizona Bike Week - Westworld of Scottsdale
April 7 - Jacksonville, NC @ Tarheel
April 9 - Atlanta, GA @ The Loft
April 11 - Greenville, SC @ Firmament
April 12 - Knoxville, TN @ Cotton Eyed Joe
April 13 - Tampa, FL @ Fergs Live
April 14 - Jacksonville, FL @ Surfer Bar
April 16 - Pensacola. FL @ Vinyl
April 17 - Ft Lauderdale, FL @ Culture Room
April 19 - Memphis, TN @ Graceland Soundstage
April 20 - Houston, TX @ Warehouse Live
April 22 - St. Louis, IL @ Pops
April 23 - Springfield, MO @ The Complex
April 24 - Angola, IN @ The Eclectic Room
April 28 - Colony, TX @ Lava Cantina
April 30 - Colorado Springs, CO @ Studio
May 1 - Denver, CO @ Harry's Hideaway
May 3 - Salt Lake City, UT @ The Royal Bar
May 4 - Las Vegas, NV @ Brooklyn Bowl
May 5 - Montclair, CA @ Canyon Club
Related Articles
View More Music

Stories