Ava Max Takes Control With New Single 'My Way'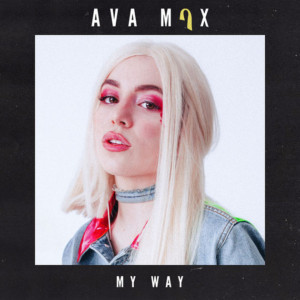 Rising pop songstress Ava Max has unveiled her empowering and feel-good debut single "My Way" (Atlantic Records) - available via all digital music retailers and streaming services HERE.
"I needed a song that was like a pep talk to remind me that I don't have to listen to all these outside voices," says Ava. "I have to be really strong and clear about who I am and what I want. When I need to be reminded of that, this is the song that does it for me so it's important that it's my first single. It's announcing that I'm going to do things my way."
Following her stellar featured performance on LA-based Nü Disco producer Le Youth's summer smash, "Clap Your Hands," "My Way" instantly establishes Ava Max as one of modern pop's most intriguing new singer-songwriters. Working alongside super producer Cirkut (The Weeknd's "Starboy" and Miley Cyrus' "Wrecking Ball"), Ava is taking control of both her sound and story, and fiercely claiming her space as one to watch in 2018.
Last summer, Ava's striking vocal talents were introduced to listeners when Le Youth's "Clap Your Hands" premiered via Billboard. Pop Crush hailed the track as "an infectious, swirling ode to late '70s disco grooves fused with modern pop stylings," noting, "Ava's plush vocals beckon to the dance floor," while Idolator cited Ava as "another fresh face to keep an eye on." The dancefloor ready track was joined by a high fashion-influenced companion visual that premiered via Galore and went on to earn nearly 1.5 million individual views via YouTube. Known for her distinctive, dynamic hairstyle - a.k.a. "The Max Cut" - as much as her remarkable vocal gifts, Max recently proved a fashion sensation with a striking red carpet appearance at the 60th Annual GRAMMY Awards in New York City. Her flower-brocaded Gucci suit and painted white rose in support of the Time's Up movement, earned attention from a number of high profile outlets, including the Los Angeles Times, CBS News, USA Today, Esquire, New York, Popsugar, Jezebel, The Huffington Post, and many more.
Crafting pop anthems with a much-needed dose of fiery female empowerment, Ava Max is a unique new talent, blessed with a seismic voice, an individualistic high fashion mindset, and an undeniable knack for cinematic, theatrical popcraft. The daughter of Albanian immigrants, Max was born in Wisconsin but raised in Virginia where she began blowing away audiences long before even entering high school. Determined from a young age to grace the stage and equipped with a vibrant voice passed down by her opera singer mother, Max honed her skills performing at multiple singing competitions. Inspired by her parents' courageous escape from the political turmoil that plagued their home country; she eventually made the move to Los Angeles to pursue her calling.
Photo Credit: Lauren Dunn