Artist Mereki Releases New Pop EP 'Beach'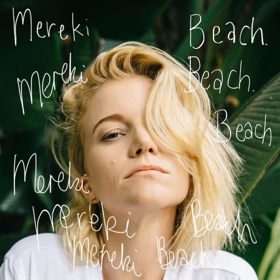 Today, artist Mereki released the upbeat pop EP Beach, which includes the new singles "French Kissing" and "Got It All," along with the fresh track "Friend Again" and the contemplative, yet hopeful tune "It Will."
The new sound takes an upbeat turn from her previous EP Lazy Eye. No longer a self-proclaimed 'sad girl in a bad world,' the new chapter has a tone that is rich and lively, serving up the ideal characteristics of modern pop without the typical bag of tricks that we've come to expect.
Mereki is currently supporting Dhani Harrison and Nikolai Fraiture of The Strokes new project, Summer Moon on the West Coast leg of their tour this month. She's featured on Harrison's new album IN///PARALLEL on the tracks "London Water" and "Poseidon." In addition to her solo work, she has lent her voice to such musical acts as Goldroom and HOLYCHILD, among others.
For more information on Mereki and concert tickets, visit merekimusic.com.
Beach TRACK LISTING
1. French Kissing
2. Got It All
3. Friend Again
4. It Will
TOUR DATES
Nov 19th - Seattle - The Crocodile
Nov 20th - Portland - Doug Fir Lounge
Nov 22nd - San Francisco - The Chapel
Nov 27th - Solana Beach, CA - Belly Up
Nov 28th - Santa Ana, CA - The Observatory
Nov 30th - Los Angeles - The El Rey
CONNECT
Twitter: @Mereki
Facebook: /MerekiMusic
Instagram: @Mereki
ABOUT MEREKI: Australian born, Los Angeles based artist Mereki makes spiritual pop music. The deeply passionate singer and former Goldroom front woman has worked with Grammy-nominated superstar producer Ariel Rechtshaid (HAIM, Vampire Weekend, Madonna, Usher & Major Lazer) and written with the likes of Kylie Minogue, Phantogram, Kitten, A-Trak and Suki Waterhouse, to name a few, as well as being the featured vocalist and co-writer on tracks with Dhani Harrison, Goldroom, Basenji, HOLYCHILD, and more. She also created 'Be Kind' (formally known as 'Mereki's Clubhouse'), a pop up event platform with a focus on kindness and creating spaces to give a voice to up-and-coming female artists. The motto 'Be Kind' is at the backbone of everything Mereki aims to be and be around.