Andrew Combs Releases Cover of The Strokes' REPTILIA From EP 5 COVERS & A SONG out July 27 on New West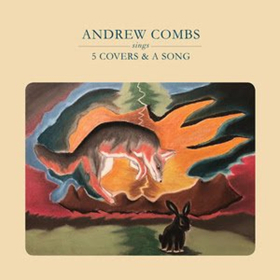 Indie-folk singer/songwriter Andrew Combs is engaging in the highest order of flattery - a collection of cover songs. The acclaimed NASHVILLE singer/songwriter announces his new EP 5 Covers & A Song with his version of The Strokes' "Reptilia." Brooklyn Vegan says, "...he [Combs] uses horns to re-create the main guitar riff, but he keeps the singing more true to the original. It's a cool take on a great song." The EP drops July 27 on New West Records; pre-order the EP here.
Combs kicks off a US tour on release day in his hometown at The Basement. About the tour, Combs notes, "Each show will include one or two "special guests" performing a few covers and originals as well. I'll have the full band in tow, and look forward to playing the songs on the EP, as well as other covers and originals." A full itinerary of dates is below and at www.andrewcombsmusic.com.
On 5 Covers & A Song, Combs showcases songs that have had an impact on him at different points in his life. Songs by The Strokes and Radiohead are a nostalgic look back at teenage self-discovery, while Loudon Wainwright III's "4 x 10" represents a more current perspective, reflecting on his life now as a husband and father.
The idea for the EP evolved as a setting to recognize some of his favorite songwriters. "We all know that Blake Mills is a tremendous guitar player, but it's his knack for songwriting and arranging that keeps me coming back to his records. Lucinda is the queen of songwriting in my book. No one else can portray a picture like her. She's up there with Tom Waits, Townes and Guy Clark when it comes to words. I wanted a love song on the EP - something that came from a feeling of adoration. It's a simple bed of music that her words dance on, but the build of the tune helps portray the yearning for someone. I couldn't be happier with this version. I'd like to think Lucinda would enjoy it as well."
The final track on the album, "Expectations," is the sole original song on the EP. "This is a tune Sarah Siskind and I came up with on a rainy afternoon here in Nashville. We got to talking about relationships. I remember repeating a quote from a friend, saying, "you only get what you expect," meaning that if you have expectations about someone close to you, positive or negative, they most likely will come true in your mind."
The EP follows Combs last release, 2017's celebrated Canyons of My Mind. Combs and the album garnered raves from tastemakers. NPR Music called Combs, "One of Nashville's most poetically gifted young singer-songwriters," while Rolling Stone Country said "Combs is the rare writer who can make the personal seem universal, and break down the broad into pieces small enough to chew."
Andrew Combs on Tour:
6/7: Nashville, TN - Musician's Corner
6/15: Nashville, TN - Bluebird Cafe
6/22: Nashville, TN 3rd & Lindsley
6/29: Athens, GA - Wildwood Revival
7/27: Nashville, TN - The Basement
8/7: Decatur, GA - Eddie's Attic
8/9: Washington, DC - DC9
8/10: Philadelphia, PA - Boot and Saddle
8/11: Brooklyn, NY - Union Pool
8/16: Evanston, IL - Space
8/17: St. Paul, Minnesota - Turf Club
8/22: Seattle, WA - The Sunset Tavern
8/23: Portland, OR - Mississippi Studios
8/25: Los Angeles, CA - Bootleg Theater
Related Articles
View More Music

Stories