BWW Review: STABAT MATER at the NYC White Lights Festival 2017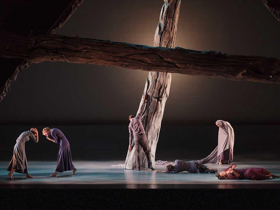 There's nothing quite like a surprise-may I even say a shock. Arriving at the theater to review Jessica Lang's production of Stabat Mater, I felt a pang of uneasiness. Pergolesi's oratorio, an expression of Mary's suffering and love for her crucified son, did not seem a likely choice for a choreographic interpretation. I am not a big fan of setting lamenting choral music to dance, the only exception being Antony Tudor's Dark Elegies, a terse interpretation of Mahler's Kindertotenlieder.
Pergolesi was nearing the end of his own short life (he died at 28) when he composed Stabat Mater in 1736, a commission from the Confraternità dei Cavalieri di San Luigi di Palazzo, which had commissioned another Stabat Mater from Alessandro Scarlatti. I wonder if Pergolesi's opus was his own summation of the grief enveloping him and how he saw his music perpetuating and accentuating all that he saw around him. Was this his greatest legacy? We'll never know.
With this in mind, I approached Jessica Lang's production with trepidation, a lot of it I might add: Was this going to be overbearing, over the top precious, continually weepy or just plain meaningless?
How surprised I was.
To describe Lang's production as superlative is an understatement. While the look of the production is austere--two large wooden beams that continually shift around the stage to represent various angles of a crucifix--the dance is fleet and loving. While there were inherent religious overtones--the shroud, the arms uplifted in prayer--the mood that settled throughout the auditorium was one of tenderness, an acceptance that one's grief is a source of healing, that catharsis yields a new path in life. I don't believe that anyone came away from the production saddened, rather elated that they had been able to witness a choreographer's distinctive vision translated to stage terms.
Lang uses the two singers, soprano Andriana Churchman and countertenor Anthony Roth Costanzo, creatively as part of the dance ensemble. They don't stand still, look at the audience and sing. They have good bodies and can move easily. In this way, they don't become on-lookers. They are joined and welcomed as an integral part of the dance community.
Lang works in a modern dance idiom, yet she has gone further in this development. While not danced on pointe, I can easily see this dance being taken into a ballet repertoire without the slightest loss of impact. In fact, there were times when I wished the women had been on pointe, as the arching line of a woman's foot would have heightened my feelings even more. Lang recently premiered a new work at American Ballet Theatre, so I am curious to see what she will be doing in the future.
The dancers were all outstanding: Patrick Coker, John Harnage, Eva Jacobs, Kana Kimura, Claudia MacPherson, Milan Misko, Thomas Ragland, Rachel Secrest, Jammie Walker. The Orchestra of St. Luke's, under the direction of Speranza Scappucci, played the Pergolesi music beautifully. What else could you expect from St. Luke's?
I look forward to seeing Stabat Mater again in the near future. It is rare when you leave a theater feeling content, alive, even smiling. That's what a night of exhilarating dance can do for you. It's something we need more of.