BWW Review: PARISIAN DREAM Une CRÈME de la FRENCH FANTASY at Assistance League Playhouse
Lola Ohlala has assembled a little gem of a Cabaret Versatile, putting together, for the Hollywood Fringe Festival, a charming, delightful tale, filled with laughter, gorgeous girls, feathers and sparkle galore, and dancing; lots of dancing!
We open on a sparsely decorated apartment, as a forlorn fellow (expertly played by Evan O'Brien) enters, looking a mess, hangs up his coat (where a woman's hand pokes out from the wings portraying a hat rack) says hello to his canary in a cage on stage right, and turns on the lights by clicking on a tabletop version of the Eiffel Tower which lights up with little sparkly lights, pantomiming turning on a television and going to stage left where another woman's hand pokes out from the wings to hand him a bowl of chips.
Then we hear a familiar CNN Announcer from the TV proclaiming Donald Trump as winner of the Presidential Election. He is absolutely horrified by this, grabs a suitcase, packs a very few things, takes the canary out and pantomimes opening the window and releasing the bird, which is actually fake, so that the bird actually just drops to the floor over the lip of the stage; as the music for John Denver's "Leaving, On a Jet Plane " starts to play.
Already we are tongue-in-cheek as the next scene begins with five gorgeous girls in the most magnificent royal blue show-girl attire, ostrich and other feathers strategically placed, as the lead singer, (Lola Ohlala, the creator, director, choreographer, lead performer, costumer and PR person) sings a Josephine Baker song, "Paris Paname," as they perform a very show-girly parade." As they exit, our recently arrived traveler enters, and a few of the showgirls still on stage, thinking he is a tourist who wants his picture taken with them, but he is busy taking in all the sights,
all in pantomime, as they flirt and try to distract him. Next he is left to try catching a cab as one of the showgirls stands next to him with her suitcase, and somehow their suitcases get switched.
Comedy ensues. She begins a silly tap dance, in a a short charleston/fringe dress. She goes down the downstage stairs into the audience, giving the end of her fringe on the dress to a male audience member, and then twirling her way back up the stairs, while her dress begins unraveling as he holds onto it. She's back on stage with just a bra top and panties, exits, comes back to do some time steps, and then grabs her fringe back to exit.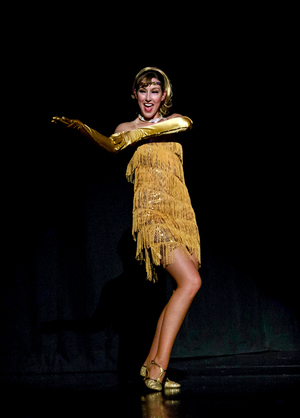 All of the costumes are exquisite; one more fantastic than the next. Our lead dancer and singer (Lola Ohlala) enters next with a stunning, fitted, sequined, very short gown and sings while parisian life goes on behind her ~ one of the girls walks a fake poodle on a skateboard, another attired in a black-and-white striped crop top and jeans with pinwheels attached all over them in colors of the French flag, yet another on a scooter, all very chic, while our traveler tries to mingle in, and ends up with Lola, who brings on a table with a sign "CREPES," and proceeds to, with his bumbling help, cook up some crepes, flipping them in the air, him getting flour everywhere, going again down into the audience for help with the mixing bowl, and at the end, flinging the crepes out into the audience. It is silly and just plain fun.
The entire production is masterfully lit, the two singers have lovely voices and sing flawlessly in French. The songs and music are from such French favorites as Line Renaud, Zizi Jeanmaire, Jacques Offenbach and Maurice Chevalier. Each girl has her own persona, with winks and goofiness abounding, keeping everything light and off-the-cuff.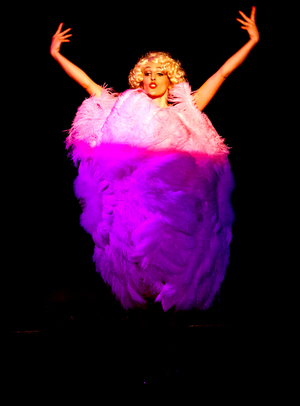 A very humorous number with pink feather fans is next. As a girl performs a burlesque-type "fan number," there is a girl in black tights behind her, not seen otherwise, working the fans. The girl in front is furiously posing and gesturing as they cross back and forth, and each time they cross, another girl behind, with more feathers, is added on. It is adorable to watch and builds until there are pink feathers everywhere, ending with our traveler back in the middle of them, surrounded by feathers and girls.
Our lead singer/dancer is back with a microphone and stand, singing, as our traveler is stepped on, pushed with her high heel and being treated as if they were dancing an apache' together. He takes it all willingly, just glad to be in "Gay Paree"!
All the girls enter once again for a hysterical bit, where they roll out a ticker tape with the words of a crazy song on it our lead is singing about her woes on being in France.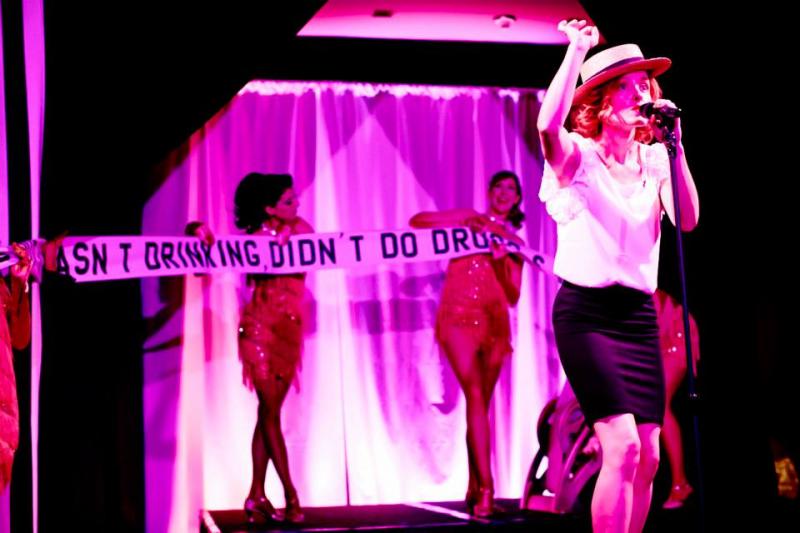 As the ticker tape keeps going, it is handed down into the audience, where it is passed across each row, the song going on and on, tempo increasing, until the back row finally gets the tape, while the girls onstage are getting mixed up in it and giggling and having a ball.
Next is another clever number, at the beach, where the girls are dancing and twirling umbrellas in patterns, with mini dresses that turn into skirts, and begin to go-go-dance and twist to "Surfin' USA." They all turn around, put on pink bathing caps, ditch the skirts, and voila! They are in black-and-white striped bathing suits, doing "the pony" and partying down. They end with a kick line, and "the swim," ponying off stage. Delightful.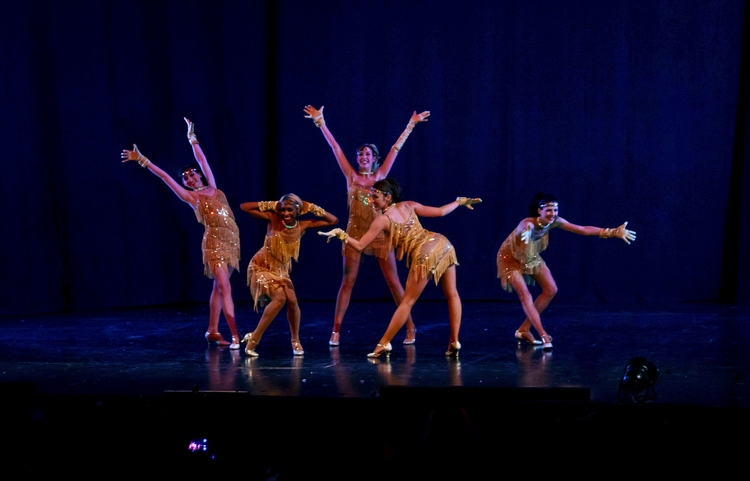 We then hear thunder and rain, as we see a single tall chair sitting there in the dark. Our lead (Lola Ohlala) enters in a sexy tailored outfit, and begins a sultry strip tease, very tastefully done, with some tantalizing legography to a sad ballad, until she is down to her bra top, garter belt and stockings, where she ends the number, with her head down on the back of the chair, then slowly, dejectedly, dragging the chair off with her, in character.
Next all our cast is back, where the girls are teasing, playing with our traveler, one stealing his wallet as they dance provacatively around him. It blends into a scene where he is on the run, evading the police, with red and blue flashing lights, ending up being berated by a female officer in French, which he totally does not understand, and then thrown in "jail," a slide-on set of bars, that end up being elasticized as a torch singer (Sarah Marquelle Kruger) sings "House of the Rising Sun" and moves in and out of the bars, with the most wonderful thigh high red stockings, high heels and black leather jacket on. The rest of the girls re-enter, all in those fabulous red stockings, dancing, kicking, and going out into the audience to flirt with some of the male patrons.
Our traveler escapes jail, and ends up at the train station, quite exhausted, literally a mess, with no suitcase or anything else left, sitting sadly waiting for the next train, where he falls asleep. Entering from either side the two singers sing "Youkali," by Kurt Weill, wearing more French couture, harmonizing, while the words are flashed on the backdrop. It's a beautiful song about the fictional land of desires, as our traveler sleeps.
A girl runs on, (Georgie Leahy) trying to hide from a guy in white undies chasing her, and ends up hiding next to our traveler, upside down with her white laced undies in view, a can-can-skirt over her head. Not being spotted, she begins flirting and giggling, getting him to kiss her, moving closer and closer, as cute as a button.
From there, Can-Can music begins, and all the girls are back, in full can-can garb, whipping up a furious can-can that is peppered with sight gags as they struggle with some of the steps, such as holding one leg up, while hopping and twirling, jump-splits, and cartwheels;, all in fun although you can tell they are all quite adept at it. It's a rousing finale and they are all adorable and thoroughly entertaining.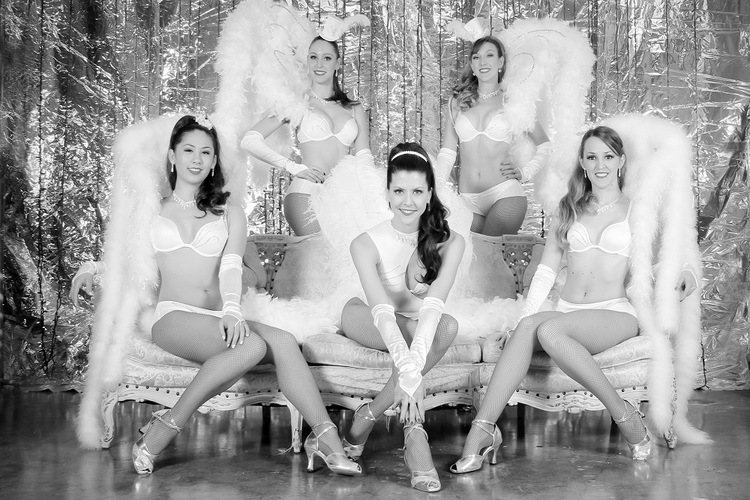 Les girls are: Lola Ohlala, Natalie Davis, Georgie Leahy, Sarah Marquelle Kruger and Julianne Kusmierczyk; multi-talented and with much joie-de-vivre, giving the audience a most joyful and uplifting experience. Oo-la-la!
Cabaret Versatile was created in 2012 and was awarded Best Cabaret & Variety Show when they appeared in the 2012 Hollywood Fringe Festival. They have since travelled the world, performing different versions of their show. They have appeared on "The Late, Late Show with James Corden," Fox 11, at the Riviera 31 Lounge in Beverly Hills, and on TV5 Monde.
Although the Fringe festival is over, the Cabaret Versatile can be hired for private events, for an intimate venue of 25, to a full theatre of 3,000, with different versions of the show to choose from fitted to your needs They can be contacted through their website, under Contacts @: http://cabaretversatile.com/.
Photos: Emmanuelle Choussy, Jeremy Schoen, Bob Delgadillo and Kevin D Campbell.
Related Articles View More Dance

Stories
Valerie-Jean Miller has been a dancer since the age of three, inspired by her father who was a dancer in vaudeville. Dance has always been (read more...)