BWW Review: Celebrating the Revival of DON'T BOTHER ME, I CAN'T COPE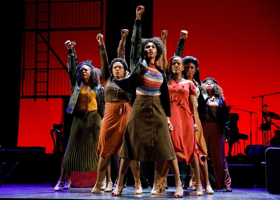 July 25-28, 2018 featured the vibrant and radical revival of Micki Grant and Vinnette Carroll's Don't Bother Me, I Can't Cope at the New York City Center as part of their 2018 Encores! Off Center series. The Grammy Award-winning and Tony-nominated musical is a celebration of African American culture and community that highlighted the issues of race politics in America through a lively mix of song and dance- with a score that features various music genres including jazz, soul, gospel, calypso, and rock. This particular production was directed and choreographed by Tony Award-winning tap dancer Savion Glover with musical arrangements by Annastasia Victory.
Encores! Off Center began in 2013, with the mission of presenting musicals that pushed creative boundaries when they were first produced. How did Don't Bother Me, I Can't Cope do that? Simple, the creative team was led by Micki Grant- an African American actress and writer, and Vinnette Carroll- an African American playwright, with choreography by George Faison- making them the first black women to write and direct a Broadway musical. The show had its first staging at the Ford's Theatre in Washington D.C. in 1971, followed by performances at the Walnut Street Theatres in Philadelphia, PA before the production's New York debut on Broadway on April 19, 1972 with over 1,000 performances. The show took a different format to traditional musicals in that it featured all-singing and all-dancing only. It also brought about heavy topics within the African American community such as tenements, student protests, Black power, ghetto life, slumlords, and feminism.
This production has been rearranged into a condensed one-act show, staying true to addressing a range of Black experiences from its original show with a few modern updates. The program began with the reading of the poem "Universe in Mourning" that was pre-recorded by Ms. Grant herself. Other updates in the lyrics include "Adam gone" having been replaced by "Trayvon gone," and the replacement of "Archie Bunker" with "Roseanne" to show that racism never truly goes away, but rather takes on different masks and forms over time.
The singing throughout the show was absolutely amazing! The voices were so strong and soulful from the opening to the closing note. The dancing was a lot of fun to watch. The first number incorporated modern dance in the essence of Horton technique. It was so emotional and moving- it was as if you could feel the heavy weight of the burdens they were carrying. There were also elements of different dances that are deeply rooted in the African American dance experience from African, hip hop, step, and social dances such as the Charleston and hambone. And of course, it wouldn't be a Savion Glover piece without the appearance of several tap dance numbers- which were fun, full of energy, and incorporated fast footwork, and intricate rhythms.
The stage was simple which put the focus on the performers themselves as opposed to the glitz and glamour of a fancy set. I personally appreciated this simplicity. The songs talked about various issues under the umbrella of race in America and touched on topics such as police brutality, unequal pay, ghetto life, and housing. Although, this was created in mind with issues during the late 60s/early 70s, it broke my heart to see how little has changed in some of these areas. I also enjoyed the insertion of the role church has and still does in the African American community. It serves as a place to fight for power, peace, and a place of refuge from the stresses of life.
Overall, I say a job well done! What a wonderful way to pay homage to such instrumental folks in the Black arts community and the issues that continue to plague African American communities across the country. Thank you to the New York City Center Encores! Off Center Series, for the willingness and boldness to produce such a program!
Photo Credit: Joan Marcus