BWW Review: ABT's DON QUIXOTE, a Tidbit of a Tale That's Chock Full of Festive Dancing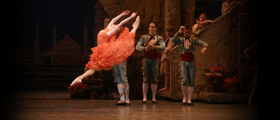 American Ballet Theatre's claim that the ballet Don Quixote is "based on Miguel de Cervantes' sweeping tale of romance and chivalry" is a forgivable exaggeration. Cervantes' lengthy two-part novel does have a mention of the romantic triangle with Quiteria (called Kitri in the ballet), Basilio (the boy-next-door she eventually marries), and Camacho (the bumbling rich man her father wanted her to marry, called Gamache in the ballet). Way back in 1879, iconic choreographer Marius Petipa extracted that tidbit of a tale and used it as the entire storyline for the ballet he choreographed to a somewhat repetitious yet eminently danceable score by Ludwig Minkus. The character roles of the knight-errant himself and his sidekick, Sancho Panza, are peripheral. Don Quixote's horse, Rocinante ("Used to be a Nag" in Spanish), and Sancho Panza's donkey, rucio (not a name but a reference in Spanish to her dappled color) are apparently tethered somewhere far away from the proceedings in the ballet. I've always wished that the animals made at least a brief appearance on stage.
My approach to watching the current ABT version of the work dubbed by ballet lovers as "Don Q" is to look forward to a festive and finely performed frolic for the evening, liberally sprinkled with Spanish-flavored dances such as the seguidilla, rather than focusing on the utter lack of substance. On the evening of June 26th 2018 at the Metropolitan Opera House in NYC's Lincoln Center, that mindset worked perfectly for me. The production, staged by Artistic Director Kevin McKenzie and Principal Ballet Mistress Susan Jones, premiered on June 12th 1995 at the Met and has remained a popular staple in the repertoire ever since. This year, I found the ballet to be a particularly welcome distraction from the tensions that abound in today's world. Comedy, romance, and first-rate dancing proved to be a perfect recipe for respite and relaxation.
The roster of ABT dancers delivered performances that were impressive indeed. Christine Shevchenko as Kitri burst onto the stage in a high-flying grand jete for her first entrance, and she never let her spirited energy or her astonishing command of technique flag for a second. Her partner, James Whiteside in the role of Basilio, was equally superb. Together they dazzled the dancegoers including me, especially during the pas de deux in ACT III -- a gala staple well-known to all balletomanes. Yet the entire cast, right down to the charming children from ABT's Jaqueline Kennedy Onassis (JKO) school, deserved the delighted applause that rewarded their efforts.
Performances of Don Quixote continue through June 30th, followed by a run of Ratmansky's fanciful Whipped Cream through July 7th. Go on over to Lincoln Center and enjoy a balletic antidote or two to real world turmoil and troubles. Click here for tickets https://www.abt.org/
Photo by Rosalie O'Connor
Related Articles View More Dance

Stories