Interview: Vangeline of THE NEW YORK BUTOH INSTITUTE FESTIVAL 2018 at Theater For The New City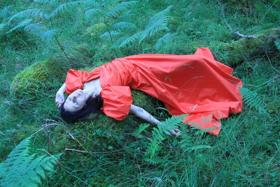 Since 2002, Vangeline Theater and the New York Butoh Institute, founded by French-born teacher, dancer and choreographer Vangeline (singular name, like Madonna), has been devoted to the preservation, education and performance of Butoh and to bringing the art form into the 21st Century by honoring its past, nurturing its present and shaping its future.
But Vangeline's mission is deeply rooted in using Butoh's strange, often dark and twisted expressions to shape a brighter future through her all-female dance company's socially-conscious performances that merge Butoh with activism, explore neuroscience and psychological connections and deal with potent subjects such as feminism, climate change, war and gender perceptions through the poetry of corporeal dramaturgy. Her activism has even brought the troupe into correctional facilities by teaching Butoh to the incarcerated population with "The Dream a Dream Project".
But how did a girl from Burgundy, the wine country of France, get involved so deeply in this esoteric, avant-garde artistic expression that originated in postwar Japan then transform that spark of interest into her life's work and mission? I interviewed Vangeline to investigate.
BWW (Interviewer: Cindy Sibilsky): How did you get interested in Butoh and what is your background and experience with it?
Vangeline: I came across Butoh while working on the production of the Seven Deadly Sins at La MaMa in 1998. Our choreographer/director Ami Goodheart introduced butoh concepts for one of the group pieces (Sloth) and took us to BAM to see the renowned butoh company Sankai Juku.
I have 18 years of experience in the field and been training under the tutelage of Butoh Masters since 2002. I have had two butoh mentors who took me under their wing early on; I was lucky enough to train privately with one Master in Japan. I have been teaching for 16 years and am the Director of the Vangeline Theater and the New York Butoh Institute. I choreograph, teach and curate butoh events and perform internationally. I also have been bringing butoh to the incarcerated population in New York since 2006 (The Dream a Dream Project). I am also currently writing a book about Butoh focusing on the intersection of Butoh and psychomotor research.
BWW: How did this lead you to create the Butoh Festival?
Vangeline: The Vangeline Theater/ NY Butoh Institute has been bringing Butoh Masters to New York since 2004 for workshops and performances. We had a stronger focus on education but, a few years back, I realized that students need to study with Master teachers but also need to see them perform. With the passing of many second-generation Butoh Masters, there is a growing awareness in our field that the landscape is rapidly changing. While I am still interested in developing my own work, I have come to realize that this art form can only grow into the future if we nurture the next generation of butoh dancers. Butoh is such a niche field that sometimes, what ends up happening is that contemporary butoh artists are not challenged to higher standards. Because our teachers and the founders of butoh excelled at such a high level, I feel very strongly that there have to be standards of excellence in our field. A festival not only brings a community together but motivates artists to try their best. Essentially, our company is certainly interested in performance, research and education, but I also feel a sense of responsibility towards the continuation of the art form.
BWW: What are the "hallmarks" that define butoh? What are its signature features, principles, ideology and movements?
Vangeline: It is not possible to answer this question without taking a look at butoh's short 60-year old history. Butoh was born from the Japanese counterculture movement of the 60's and was strongly influenced by the Neo-Dada movement. The first butoh dancers had trained in ballet, gymnastics, Modern dance (Mary Wigman lineage) and French mime (not traditional French mime but Mime Corporel Dramatique or MCD). They were not only influenced by Western dance and movement forms but also by French literature, and surrealist and cubist paintings.
The first thing we could say about butoh is that at its heart it was a quest for redefining what it means to be Japanese; in the process, ironically, butoh dancers turned to Western art and completely broke away from Japanese traditional art forms. The founders of Butoh used surrealist techniques to arrive into movement. Butoh is often called "Surrealism of the Body"; with butoh, dancers learn to tap into their body's unconsciousness and return the material uncovered it to their conscious awareness. Because unconsciousness is highly personal, yet, universal (everyone has an unconscious), butoh is unique to each individual but universal in its appeal. Butoh is not a "traditional" art form but is a contemporary, avant-garde, experimental art form which demands that each practitioner makes Butoh their own.
There are two forms of Butoh: choreographed and improvised (this split occurred in the lineage after 1966). Butoh dancers learn from their teachers but also very early on learn to "make butoh their own". For example, my own teacher announced last year that, after 18 years, I have found my own "Kata" (or form) and no longer need to study. Although I studied with Japanese masters for 18 years, I had to find my own integrity and expression in the work. So, in butoh, we may learn the same techniques, but they will translate differently for each individual, depending on their body, personal history, training, and heritage.
BWW: What are the most common challenges for an international (non-Japanese) Artist learning Butoh and using the art form in performance? (For yourself and observations of others)
Vangeline: Japanese and Non-Japanese face the exact same challenge in the art form: to make butoh their own. Even in Japan, you can observe vast differences between the first, second and third-generation of butoh. The differences are so distinct even between the work Hijikata created in the 1960s, 1970s, and 80s that it is difficult to comprehend. A constant evolution and spirit of redefinition characterize this art form.
It takes decades for a dancer to reach maturity in the work, and because butoh is such a niche field, it can be difficult for dancers to have the patience to develop. Bear in mind that in the West, dancers start training when they are children, but butoh dancers start training as adults- which means that it takes 15 to 20 years for them to mature as an artist.
I think the difference is not so much in terms of Westerners versus Japanese but in terms of generations. Our 4th generation is very far away from the source and, with time, there are more and more differences of interpretation within the field. This can be confusing for Japanese dancers too. For Westerners, the key is to follow the Japanese lineage to find our own expression. In a way, this mirrors what happened at the beginning of butoh: Hijikata and Ohno looked to the West to find out what it meant to be Japanese, and today, Westerners look to Japanese butoh to find out what it means to be a Westerner.
BWW: This year's festival focused on women's voices in Butoh. Why is that so important now?
Vangeline: Like many other forms of dance, butoh has been a male-dominated field. We are also fighting the public's perception: although women in butoh have historically made important contributions in our field, most people associate butoh with bald men painted white. We are bombarded with cliches on the Internet. Women in butoh today still need to fight to be seen, heard and recognized. We are in the middle of a social movement where women are demanding an equal seat at the table. This will not be given freely. As a result, I felt strongly that the Festival should feature the work of women; as a political statement, and also to encourage women to try their best and give them a chance to be recognized for their work, which, in my opinion, is very different from work created by men.
BWW: I noticed a lot of the artists performed with their back to the audience and that "backs" in general played a big role in the moment. Why is that?
Vangeline: The back has historically played an important part in butoh. In 1963, one of the founders of butoh, Tatasumi Hijikata directed a piece called Anma (Masseurs). In this piece, at some point, young male dancers appeared hunched back, with their back to the audience, in a position which implied "shame" or embarrassment -- which was revolutionary at the time.
Tatsumi Hijikata and butoh dancers talked a lot about the back, which represents our past and our blind side (what we try to put behind us, literally).
Of course it is also symbolic; in performances in the West dancers usually face forward, which means that we favor the front of the body, and that western dance looks into the future. Butoh is interested in all that we repress and forget.
Our butoh teachers always remind us to dance for the back of the stage and to not forget what is behind us. Again, symbolically, front and back represent consciousness and unconsciousness.
BWW: I noticed there were either nominal to no props or a lot of props that were messy (the pink goop, the rice/guts, the dirt, the water/liquids). Is that a signature of butoh and if so why? Also was it a choice to typically put the messiest pieces first?
Vangeline: There is also a tradition in butoh to dance with elements such as sand, earth, water, mud, flowers, etc. One way to approach butoh is to view it as an attempt to reconnect with nature and our origins and explore our pre-civilized, socialized bodied -- Nature vs. Culture, a return to the body.
A lot of this type of exploration is provocative and very quickly reaches into the realm of taboos: sexuality, intimacy, violence, shame, or dysfunctional family dynamics. On the other hand, there are other influences at play, such as the influence of Kazuo Ohno. Alana Rosa, from Brazil, who plays with yellow flowers in her piece, like Kazuo Ohno, has an approach to butoh which is more light hearted, playful and theatrical (although deeply rooted in her spiritual and cultural heritage). This is also part of the butoh heritage - Kazuo Ohno often performed with flowers and gave more open-hearted performances. So it is important to remember that there are many forms of butoh expression, in the West, we tend to associate butoh with only one form ("ankoku butoh" or so called dark butoh), because we are less familiar with butoh's rich and diverse history. So I am not so sure that we can talk about a "signature" yet, as butoh is an experimental art form in the making (it has a very short 60 year history), and it also branches off in multiple directions, if you will. One form or expression is not more typical of butoh than the other. However, it is evident that our generation is influenced by the work of our predecessors.
In terms of the show order, I curated the pieces not so much in terms of messiness but considering the larger picture of each evening, trying to make sure that there was contrast between each piece
BWW: Where do you see or hope to see the future of Butoh going?
Vangeline: Butoh is already going in an international direction. I just came back from the Butoh Festival in Chile and am going to the Taiwan Darkness Festival. All around the world, an international butoh web is developing. Artists are connecting with each other and creating new networks to facilitate exchange. This will support the continuation of the art form. We are a mixed, international community now. Where Butoh goes depends on how much care we take today of this thread that was passed to us by Japanese artists. I think Westerners, who face a form of stigma and lack of education about butoh or lack of understanding of the art form, have a lot to prove and need to work very hard to show that international butoh is worthy of critical attention. This is always an exciting situation and hopefully will foster interesting work. I hope that the next generation will continue to take care of this fragile and precious thread; of this embodied knowledge we were given.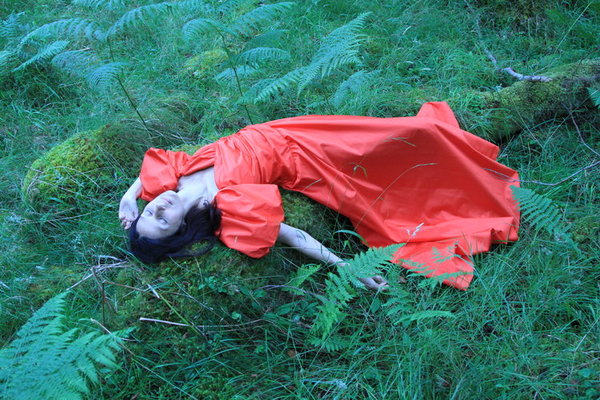 Vangeline. Photo by Geoff Shelton.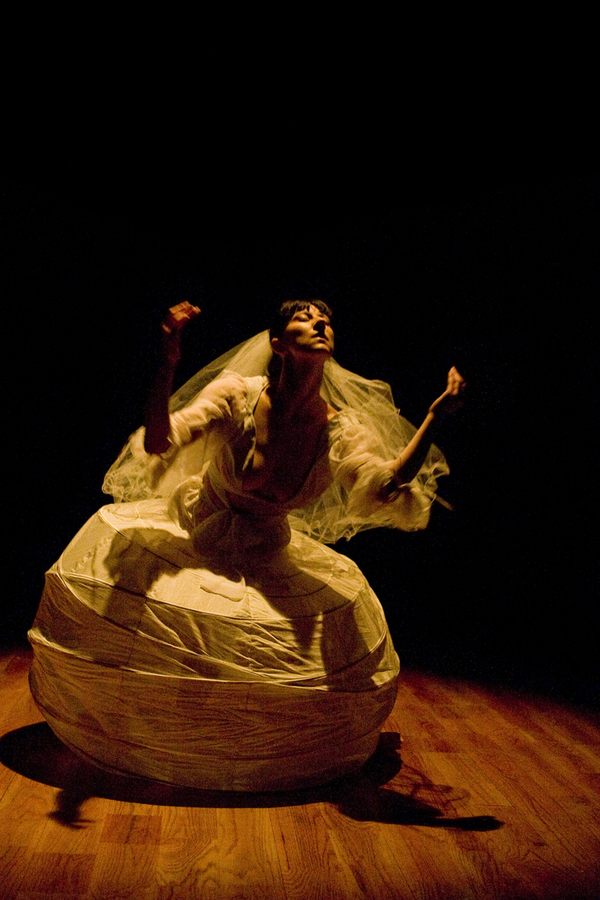 Vangeline. Photo by Yi Chun Wu.

Vangeline performing at the Bowie Ball 2015. Photo my Margo Haropian for the Village Voice.

Vangeline at HERE Arts Center in VROOM. Photo by Ryan Jensen.