Symphony Napa Valley's Beethoven Extravaganza And Repin And The Russian Romantics Comes to Lincoln Theater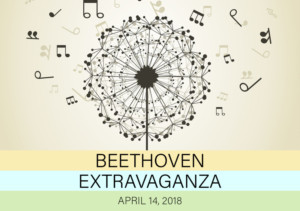 Lincoln Theater is thrilled to present Symphony Napa Valley in two special performances in 2018: Beethoven Extravaganza on April 14th and Repin and the Russian Romantics on June 23rd at Lincoln Theater in Yountville. These concerts offer a compelling blend of beloved favorites and challenging new takes on the classics for the whole family to enjoy.
Beethoven Extravaganza: Saturday, April 14th at 5pm
Over 200 musicians and singers return to the Lincoln Theater stage for a rare performance of Beethoven's two most unusual and innovative works, the famed Triple Concerto and Choral Fantasy. Maestro Michael Guttman and Symphony Napa Valley will be joined by cellist Jing Zhao, pianist Nikolay Khozyainov, and the combined voices of Sing Napa Valley, St. Helena Chamber Singers, and Napa Valley College Chorale under the direction of Ragnar Bohlin. Symphony lovers who attended the Brahms Requiem last season will not want to miss this exciting performance.
Repin and the Russian Romantics: Saturday, June 23rd at 5pm
Originally scheduled for last October, this concert was rescheduled due to the fires. Michael Guttman joins the great Russian violinist Vadim Repin who makes a historic visit to the Napa Valley, performing masterpieces by Tchaikovsky including "Meditation", "Valse-Scherzo" and "Lensky's Aria" with Symphony Napa Valley. Closing the program will be Tchaikovsky's beloved Symphony No. 5.
Among living violinists, Repin stands supreme. More than a tour de force, Repin's playing is a celebration of violin music itself. What makes the Russian stand out is his classical reserve as a player. He has a seraphic purity and strength of sound, which honors the depth of the music he loves, whether it's Brahms, Sibelius or Shostakovich. His technique is wonderfully relaxed and makes everything look easy.
With these performances, Guttman has put forth a striking selection of iconic works that engage the audience in new ways. By bringing together artists of the highest caliber from around the world, including the very best musicians and vocalists from our very own Napa Valley, the symphony is able to embrace timeless classics that have defined the genre and demand the highest level of passion and execution. Both performances are sure to delight audiences of all ages.
Both Beethoven Extravaganza and Repin and the Russian Romantics will take place at 5pm at the Lincoln Theater in Yountville on Saturday, April 14th and June 23rd respectively. Tickets are $49 (Beethoven) and $30, $45, $55 (Repin). Children's tickets are free. To reserve your seats contact the box office at 707-944-9900 or go to www.lincolntheater.org.