Photo Flash: Bernstein's MASS at the Mostly Mozart Festival
BroadwayWorld has a first look at Bernstein's MASS at the Mostly Mozart Festival! Check out the photos below!
Written for the 1971 inauguration of the Kennedy Center, the Bernstein MASS merges traditional liturgical form with contemporary theater, dance, jazz, and popular music, imbuing it with the social and political concerns of Vietnam War-era America.
SF Opera Lab curator Elkhanah Pulitzer makes her New York debut directing this fully staged presentation, starring acclaimed baritone Nmon Ford, who sings the role of the morally conflicted Celebrant. Louis Langrée leads more than 200 performers, including the Mostly Mozart Festival Orchestra, the Concert Chorale of New York, the Young People's Chorus of New York City, a marching band, and dancers in this monumental dramatic work with its eclectic score encompassing gospel, rock, showtunes, marches, and chorales.
With English supertitles. A production of the Los Angeles Philharmonic, Gustavo Dudamel, Music and Artistic Director A pre-performance lecture with scholar Michael Beckerman took place at 6:15 pm on Tuesday, July 17, and a pre-performance discussion with director Elkhanah Pulitzer will be at 6:15 pm on Wednesday, July 18.
Both will be held at the Stanley H. Kaplan Penthouse.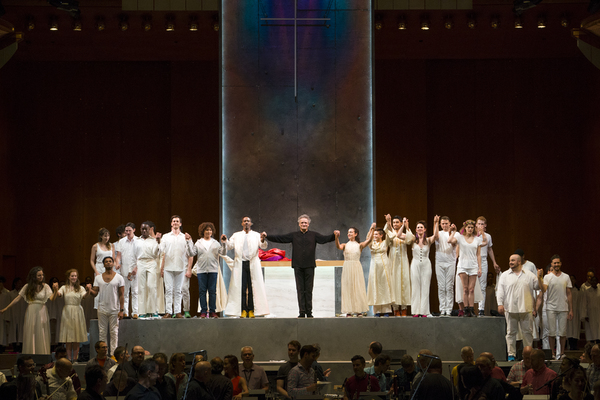 Mostly Mozart Festival Orchestra Music Director Louis Langrée and the orchestra and cast of Lincoln Center's production of Leonard Bernstein's MASS. © Richard Termine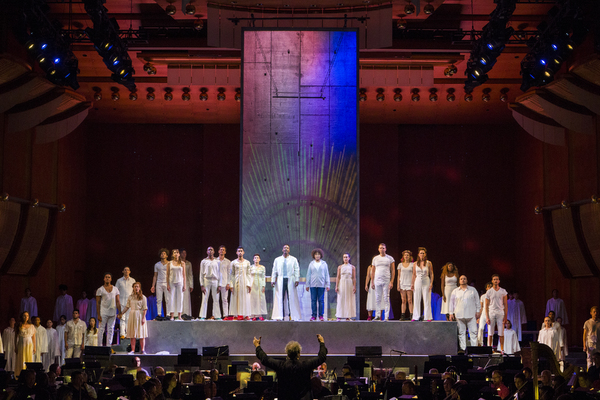 Mostly Mozart Festival Orchestra Music Director Louis Langrée, Nmon Ford, the Celebrant, Tenzin Gund-Morrow, boy soprano, and the cast and orchestra of Lincoln Center's production of Leonard Bernstein's MASS

Nmon Ford, the Celebrant, in Lincoln Center's production of Leonard Bernstein's MASS at the 2018 Mostly Mozart Festival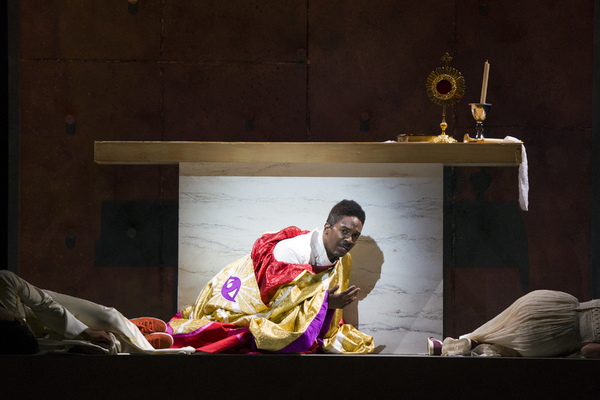 Nmon Ford, the Celebrant, in Lincoln Center's production of Leonard Bernstein's MASS at the 2018 Mostly Mozart Festival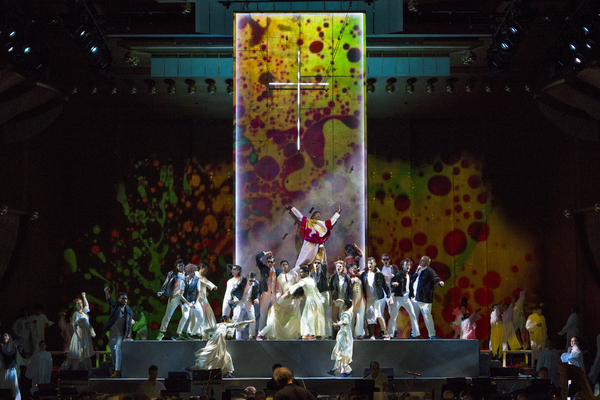 Nmon Ford, the Celebrant, Mostly Mozart Festival Orchestra Music Director Louis Langrée, and the cast and orchestra of Lincoln Center's production of Leonard Bernstein's MASS

Mostly Mozart Festival Orchestra Music Director Louis Langrée and the orchestra and cast of Lincoln Center's production of Leonard Bernstein's MASS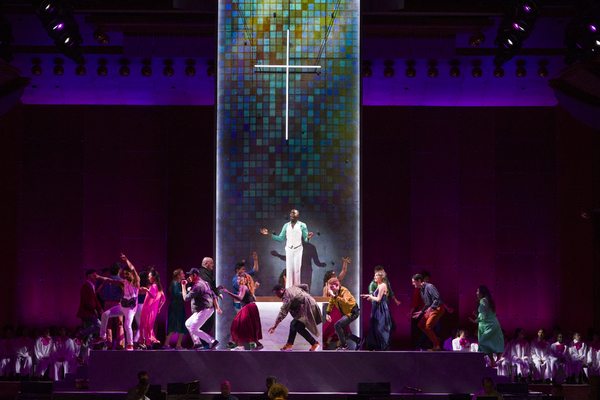 Ronald Peet, a member of the Street Chorus (center) and the cast of Lincoln Center's production of Leonard Bernstein's MASS at the 2018 Mostly Mozart Festival

Nmon Ford, the Celebrant, in Lincoln Center's production of Bernstein MASS at the 2018 Mostly Mozart Festival

Anna Schubert, a member of the Street Chorus, and Nmon Ford, the Celebrant, in Lincoln Center's production of Leonard Bernstein's MASS at the 2018 Mostly Mozart Festival

Nmon Ford, the Celebrant, and the cast and orchestra of Lincoln Center's production of Leonard Bernstein's MASS at the 2018 Mostly Mozart Festival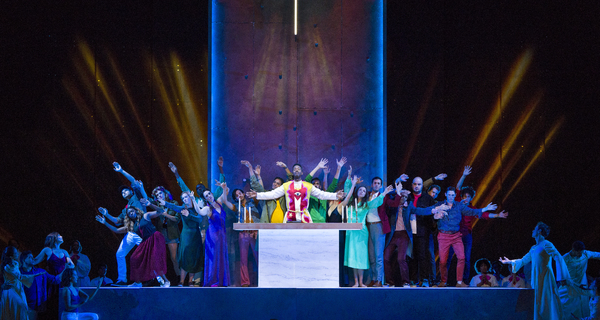 Nmon Ford, the Celebrant, members of the Street Chorus, and dancers in Lincoln Center's production of Leonard Bernstein's MASS at the 2018 Mostly Mozart Festival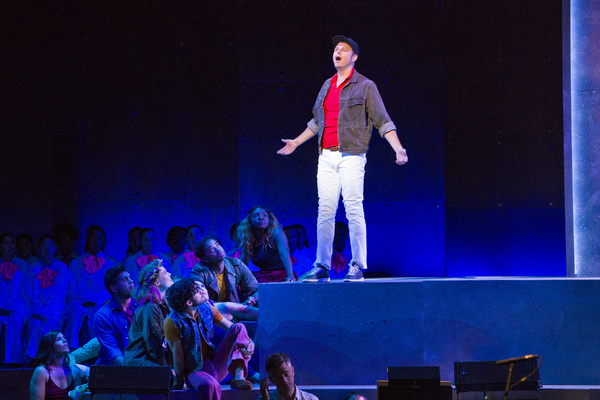 Brad Greer, a member of the Street Chorus, in Lincoln Center's production of Leonard Bernstein's MASS at the 2018 Mostly Mozart Festival

Nmon Ford, the Celebrant, and dancers in Lincoln Center's production of Bernstein MASS at the 2018 Mostly Mozart Festival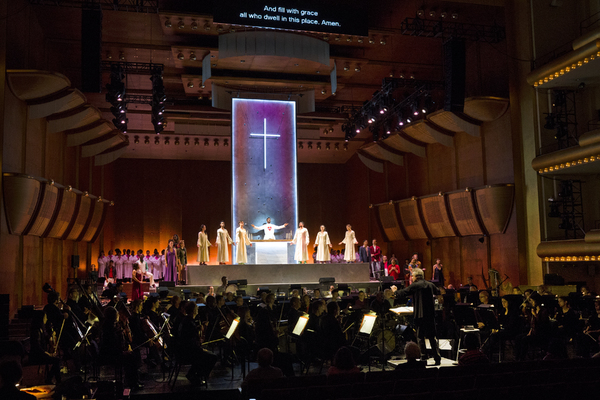 Photo: Leonard Bernstein's MASS A Theater Piece for Singers, Players and Dancers (New York production premiere) Mostly Mozart Festival Orchestra; Louis Langrée, conductor; Nmon Ford, Celebrant (Mostly Mozart Festival debut); Elkhanah Pulitzer, director (New York debut); Concert Chorale of New York; James Bagwell, choral director; Young People's Chorus of New York City Dress Rehearsal Photographed: Tuesday, July 16, 2018 at 10:30 AM at Geffen Hall at Lincoln Center; New York, NY. Photograph: © 2018 Richard Termine PHOTO CREDIT - Richard Termine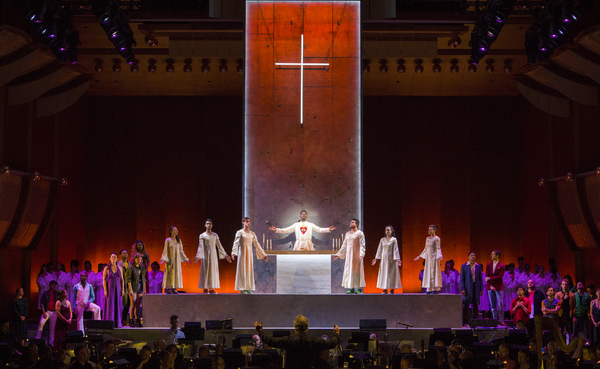 Mostly Mozart Festival Orchestra Music Director Louis Langrée, Nmon Ford, the Celebrant, and the cast and orchestra of Lincoln Center's production of Leonard Bernstein's MASS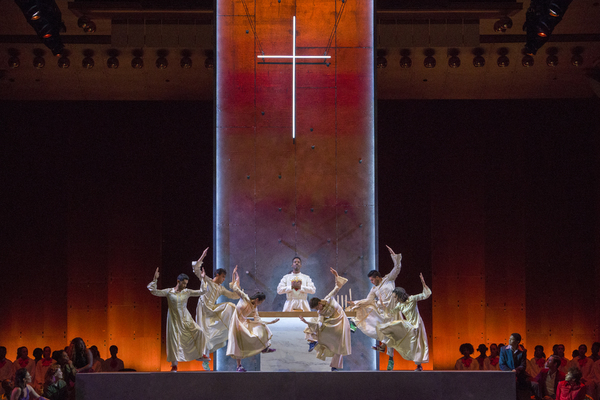 Nmon Ford, the Celebrant, and dancers in Lincoln Center's production of Leonard Bernstein's MASS at the 2018 Mostly Mozart Festival

Nmon Ford, the Celebrant, in Lincoln Center's production of Leonard Bernstein's MASS at the 2018 Mostly Mozart Festival