National Sawdust Celebrates 80th Birthday Of Composer Joan Tower With Special Concert Featuring Women Composers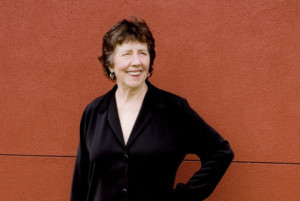 In the tradition of the Philip Glass @80 and John Corigliano @80 concerts, National Sawdust celebrates Grammy Award-winning American composer Joan Tower in honor of her 80th birthday on Sunday, November 11, 2018 at 4:00 pm as Chris Grymes presents Joan Tower and Friends. This special concert - thoughtfully curated by Tower herself - will include compositions by Tower, Jennifer Higdon, Tania León, and Julia Wolfe, each work played by the original ensemble it was commissioned for.
Hailed as "one of the most successful women composers of all time" (The New Yorker), Joan Tower is considered one of the most important American artists alive today. A true doyenne of orchestral writers, Tower's vast and varied body of work ranges from "early serialism to music that is impressionistic, colorful, and direct" (The Washington Post). She is best known for her Fanfares for the Uncommon Woman (1986-93), Sequoia (1981), Grammy Award-winning Made in America (2004), and iconic Silver Ladders (1986), which earned her the distinction of being the first woman to win the prestigious Grawemeyer Award.
Jennifer Higdon, one of America's most frequently performed composers according to The League of American Orchestras, is a Pulitzer Prize and two-time Grammy Award winning composer. Her "traditionally rooted, yet imbued with integrity and freshness" (Times of London) works spans a wide ranges of genres, from orchestral to chamber and to wind ensemble, as well as vocal, choral, and opera. Cuban born composer Tania León is highly regarded as a composer and conductor, and she has been recognized for her accomplishments as an educator and advisor to arts organizations. León was one of the first artists to be featured by Harlem Stage in Aaron Davis Hall's new program, WaterWorks, and she been the subject of profiles on ABC, CBS, CNN, PBS, Univision, Telemundo, and independent films. Julia Wolfe is a Pulitzer Prize winning composer whose "music compels without overstatement" (The LA Times). She is a 2016 MacArthur Fellow and a recipient of the 2015 Herb Alpert Award in Music, in addition to being the co-founder/co-artistic director of New York's legendary music collective Bang on a Can and the Artistic Director of NYU Steinhardt Music Composition.
"Presenting Joan Tower and Friends with National Sawdust is an opportunity that allows me to celebrate the music of a composer whom I deeply admire" says producer Chris Grymes. "The show celebrates the work of four powerful women, whose artistry and friendship is the heart of the concert."
The program for the concert is as follows:
For the most up-to-date event listings and times, please visit NationalSawdust.org/Calendar.
Related Articles
View More Classical Music

Stories
More Hot Stories For You