Jason Tramm And Long Island Concert Orchestra Set To Open The 59th Morgan Park Summer Music Festival July 1st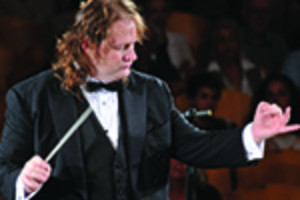 Noted American conductor Jason Tramm and the Long Island Concert Orchestra will launch the 59th Season of the Morgan Park Summer Music Festival on Sunday July 1st in Glen Cove, New York. The concert program entitled Americana will feature a dynamic and dazzling selection of great American music performed by the Long Island Concert Orchestra (LICO). Accompanying the orchestra will be internationally renowned soloists soprano Indira Mahajan and baritone Jorell Williams.
The 2018 Morgan Park Summer Music Festival opens with "Americana" a musical homage to the 350th Anniversary of the founding of Glen Cove and the 100th Anniversary of Glen Cove's incorporation as a city. "Our concert celebrates history, community and the Morgan Park Summer Music Festival's long standing tradition of exceptional entertainment. We're honored to open the 2018 Morgan Park Summer Music Festival and applaud the cultural and civic mission it represents by providing free admission and family friendly programming throughout the summer" said LICO Artistic Director David Winkler.
For five decades the Morgan Park Summer Music Festival has taken place in the magical setting of Morgan Park, nestled by the harbor in the historic city of Glen Cove. Overlooking the beauty of the Long Island Sound, Glen Cove is a city known to cinematic audiences worldwide as the setting of director Billy Wilder's Sabrina. The site of Morgan Park was donated to the city of Glen Cove in 1932 by famed financier and resident, J.P. Morgan in honor of his wife. The Morgan Park Summer Music Festival (MPSF) began in 1959 with one concert and has grown over the decades to offer performances every weekend in July and August. Since its inception, the Morgan Park Summer Music Festival has been governed by an advisory council and executive committee made entirely of volunteers, who independently program and finance the festival. The Morgan Park Summer Music Festival also conducts an annual young artist competition. The Marguerite Suozzi Young Performers Talent Competition is open to young musicians who live or go to school on Nassau County's North Shore. Entrants may be vocalists or instrumentalists between the ages of 10 and 19 who audition before a juried panel of professionals. Awards range from $1,000 to $500 and are conferred in three age divisions, with winners offered an opportunity to perform during the Festival and interact with leading professionals.
Offering a glimpse into Morgan Park Summer Music Festival's opening night concert program, guest conductor Jason Tramm said "Americana will present a musical showcase of great American composers, with a decidedly New York point of view - performed by the talented musicians of the Long Island Concert Orchestra. There will be vocal fireworks too, supplied by LICO's extraordinary guest soloists. The audience will be in for a special treat when baritone Jorell Williams and soprano Indira Mahajan join the orchestra in a suite from the Gershwin's Porgy and Bess - Ms. Mahajan has made Bess a signature role worldwide" said Maestro Tramm.
As guest conductor of Long Island Concert Orchestra for the auspicious launch of the Morgan Park Summer Music Festival's 59th Season, Jason C. Tramm's work in the symphonic, operatic, and choral repertoire has received acclaim nationally and internationally. Tramm conducted the world premiere of the Gershwin's Porgy and Bess in Tirana, Albania at the request of the US Embassy. As Artistic Director for the NJ State Opera Tramm conducted the 75th anniversary production of the Gershwin's Porgy and Bess at Newark Symphony Hall.
Beginning his 12th season as Director of Music, in Residence, of the Ocean Grove Camp Meeting Association in the summer months, Tramm leads the choral, orchestral, and oratorio performances in the historic 6,500-seat Great Auditorium, which include the 64th Annual Ocean Grove Choir Festival. He has appeared on two National Public Radio broadcasts with organ virtuoso Gordon Turk and symphonic orchestra.
Maestro Tramm also serves as Artistic Director and Principal Conductor with the MidAtlantic Opera with whom he made his Carnegie Hall (Stern Auditorium) debut in 2015. The program, entitled "A Prayer for Peace," featured works of Bernstein, Vaughan Williams, and Saygun. The second concert of this critically acclaimed series took place on October 27, 2017 at the New Jersey Performing Arts Center, featuring works of Vasks, Schoenberg and Beethoven's Symphony No. 9 with Metropolitan Opera baritone, Mark Delavan.
As Music Director of Teatro Lirico D'Europa, a touring professional opera company, Tramm's upcoming tour repertoire for the 2018-19 season includes fully staged performances of Puccini's Tosca and Rossini's Barbiere di Siviglia to take place in Florida, New York, Pennsylvania, Boston, Baltimore and South Carolina. Tramm is also the Principal Guest Conductor of both the Palmetto Opera (Columbia, SC) and Opera New Hampshire (Manchester, NH). He served as Artistic Director of the New Jersey State Opera from 2008 to 2012, where he collaborated with some of the finest voices in opera, including Samuel Ramey, Vladimir Galouzine, Angela Brown, Gregg Baker, and Paul Plishka. His 2009 HDTV broadcast with PBS affiliate NJN of "Verdi Requiem: Live from Ocean Grove," garnered an Emmy Award nomination. Tramm serves as Music Director of two excellent community choral societies, the Morris Choral Society (Morristown, NJ), with whom he will begin his third season and the Taghkanic Chorale (Yorktown Heights, NY) where he will begin his first season Fall 2018.
A member of the faculty at Seton Hall University (Assistant Professor and Director of Choral Activities, College of Communication and the Arts) Tramm leads the University Choir, Chamber Choir and Orchestra. A frequent guest conductor, he has led operatic and symphonic performances in Italy, Romania, Albania, and in Hungary, where he recorded an album of rarely heard French operatic arias with the Szeged Symphony. In 2017 he performed with Narnia Festival (Narni, Italy). Guest conducting engagements for the 2018 season include the Adelphi Chamber Orchestra (Oradell, NJ), featuring Beethoven's Symphony No. 7, Brahms Piano Concerto No. 1 in d minor (Drew Peterson, Piano); and Prokofiev's Peter and the Wolf, Bizet's Carmen with the Axelrod Performing Arts Center (Deal, NJ); Mozart's Cosi fan Tutte with the Light Opera of New Jersey (Basking Ridge, NJ); Gounod's Faust with the Vocal Productions NYC (Manhattan), the Long Island Concert Orchestra (Glen Cove, NY), and Mendelssohn's A Midsummer Night's Dream with the Axelrod Ballet Ensemble (Deal NJ).
ABOUT THE LONG ISLAND CONCERT ORCHESTRA (LICO)
Long Island Concert Orchestra (LICO), was established in September of 2016 by David Winkler, Executive Director of Sea Cliff Chamber Players. The orchestra's mission is to meet Long Island's growing need for a fully professional symphony orchestra. LICO fills a cultural vacuum by providing the Long Island community with professional symphony orchestral programs, free parks concerts, in-school Arts-In-Education programs and other vital endeavors. Completing its first full year of programming in May 2018 LICO has articulated its mission throughout Long Island with successful and well attended summer park concerts and impactful educational programs in performances at The Morgan Park Summer Festival, Tilles Center (Music to the "The Godfather", May 19, 2017) Huntington Arts Festival, Heckscher State (Johnny Mathis Holiday Celebration concert of December 9, 2017) and the Patchogue Theatre. Coverage of the Long Island Concert Orchestra (LICO) has been featured in Newsday and Broadway World.
Long Island Concert Orchestra's Principal Guest Conductors, Enrico Fagone and Jason Tramm, are both "rising star" performing artists with vast experience in both standard repertoire as well as popular fare. The orchestra consists of 60 outstanding young professional musicians and soloists. LICO's Board of Directors is composed of 14 civic and business leaders who also serve on the board of LICO's parent organization, the Sea Cliff Chamber Players. Established in 1971 the Sea Cliff Chamber Players is one of the country's first fully professional regional chamber music societies.
Morgan Park Summer Music Festival Opening Night Concert
"Americana" featuring the Long Island Concert Orchestra with featured soloists Indira Mahajan, soprano and Jorell Williams, baritone under the baton of Jason Tramm
7:30 p.m. July 1, 2018
Morgan Park, Glen Cove at Germaine Street between Landing Road and McLoughlin Street
Rain location: St. Patrick's Parish Hall, Pearsall Avenue, Glen Cove. Information 516-671-0017
Admission Free
Related Articles View More Classical Music

Stories
More Hot Stories For You