David Bernard Leads The Massapequa Philharmonic In SUBLIME DRAMA Featuring Cellist Adrian Daurov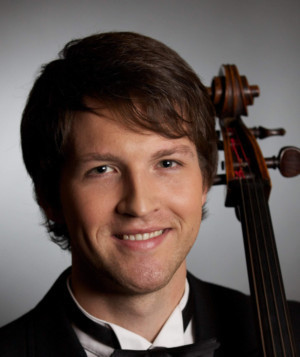 The Massapequa Philharmonic, under the direction of its music director David Bernard, continues its 2018-2019 season with a selection of dramatic works, including Beethoven's Overture to King Stefan, Schumann's Symphony No. 2 and Lalo's Cello Concerto featuring noted cellist Adrian Daurov.
Through the symphony orchestra, classical music has the power to convey narratives of such power, it is undeniably breathtaking, says Maestro David Bernard. Each work on this program from the driving sequences of Beethoven's Overture to King Stefan, through the Spanish-inspired brilliance of Lalo's Cello Concerto, to Schumann's exquisite Second Symphony take us on a fantastic journey from despair through passion and jubilant celebration.
The orchestra features noted cellist Adrian Daurov in his second appearance with Maestro Bernard and the Massapequa Philharmonic. Adrian is a natural musician, says Maestro Bernard. Music flows through him so naturally and his brilliance will be evident to everyone. This is a not to miss concert!
The concert will take place on Sunday Afternoon, March 17th at 3:00PM at Berner Auditorium, 50 Carman Mill Rd, Massapequa.
This concert is free to the public.
For additional information, please visit www.massphil.org
David Bernard has gained recognition for his dramatic and incisive conducting in the United Stated and in over 20 countries on four continents. He serves as Music Director of the Park Avenue Chamber Symphony and the Massapequa Philharmonic, and as conductor of the Eglevsky Ballet's annual performances of Tchaikovsky's The Nutcracker at Long Island's Tilles Center for the Performing Arts. A multiple First Prize winner of the Orchestral Conducting Competition of The American Prize, Bernard was described in the judges' remarks as, a first-rate conductor phenomenal performance masterly in shaping, phrasing, technique and expressivity.
Noted recent performances include a Lincoln Center performance of Stravinsky's The Rite of Spring ( Conducting from memory, David Bernard led a transcendent performance vivid expertly choreographed. , LucidCulture) and a Carnegie Hall performance of Beethoven's Ninth Symphony ( taught and dramatic , superconductor).
Bernard's recordings have received enthusiastic critical praise. His release of Tchaikovsky's Path tique was lauded by Gramophone Magazine as an impressively elegant, thoughtful, well balanced and sophisticated Tchaikovsky Path tique. Of his Beethoven Symphony No. 9 release, The Arts Desk proclaimed Scintillating Beethoven Edge-of-the-seat playing it's a winner: dramatic, witty, eloquent and boasting some startling choral work in the last movement. His complete recorded Beethoven symphony cycle was praised by Fanfare magazine for its intensity, spontaneity, propulsive rhythm, textural clarity, dynamic control, and well-judged phrasing . Of his recent premiere recording of new editions of Stravinsky's The Rite of Spring and The Firebird, The Art Music Lounge proclaimed this is THE preferred recording of The Rite because of its authenticity as well as the almost startling boldness of approach, and The Arts Desk proclaimed The playing is impressive the finer details hit home with pleasing immediacy under David Bernard's baton. This performance is a zinger.
Particularly active throughout the greater New York City area, David Bernard has appeared as a guest conductor with orchestras including the Brooklyn Symphony, the Greater Newburgh Symphony Orchestra, the Island Symphony Orchestra, the Litha Symphony, Manhattan School of Music, the Massapequa Philharmonic, the New York Symphonic Arts Ensemble, the Putnam Symphony and the South Shore Symphony. Devoted to the music of our own time, he has presented world premi res of scores by Bruce Adolphe, Chris Caswell, John Mackey, Ted Rosenthal and Jake Runestad, and distinguished concert collaborators have included Anna Lee, Jeffrey Biegel, Carter Brey, David Chan, Catherine Cho, Adrian Daurov, Pedro D az, Edith Dowd, Stanley Drucker, Bart Feller, Ryu Goto, Whoopi Goldberg, Sirena Huang, Judith Ingolfsson, Yevgeny Kutik, Anna Lee, Jessica Lee, Kristin Lee, Jon Manasse, Anthony McGill, Spencer Myer, Todd Phillips, Kristin Sampson and Cameron Schutza.
Bernard has worked with the Edwin F. Kalmus editorial team, led by Clinton F. Nieweg, retired librarian of the Philadelphia Orchestra, developing new editions of Stravinsky's The Rite of Spring and The Firebird Suite 1919 Version, which has been published in 2016. In addition, he has published his own editions of Mozart's Clarinet Concerto, K. 622, and Schumann's Symphony No. 2, Op. 61.
David Bernard is an acclaimed orchestra builder--under his leadership, both the Park Avenue Chamber Symphony and the Massapequa Philharmonic have thrived with growing audiences, expanded ensembles and increased critical acclaim. Bernard is the developer of the InsideOut concert format, where audiences sit inside the orchestra during concerts. David Bernard's InsideOut concerts with the Park Avenue Chamber Symphony and the Massapequa Philharmonic have been acclaimed by WQXR, Newsday, ClassicalWorld and the Epoch Times, bringing an unsurpassed experience and level of engagement for the audiences of all ages.
ADRIAN DAUROV is a versatile cellist, who performs on world-famous concert stages including Carnegie Hall, Avery Fisher Hall, St. Petersburg Philharmonic, Madison Square Garden, and Boardwalk Arena in Atlantic City, ranging from classical solo recitals to playing shows with the likes of Alicia Keys, Josh Groban, Burt Bacharach, Frank Ocean and The Roots, The Trans-Siberian Orchestra, Sarah Brightman and the Icelandic post-rock band Sigur Ros. Most recently, Adrian has collaborated with the Swedish folk-rock band First Aid Kit, performing at iTunes Live Sessions and also frequently performs with the cello rock band Break of Reality.
Since Adrian's debut as a soloist with The St. Petersburg Symphony Orchestra at age 15, he has nourished his career by receiving the top prizes at prestigious international music competitions in the Netherlands in 2002 and The US in 2006 as well as touring as a soloist with the St. Petersburg Chamber Orchestra in 2004 and being appointed the principal cellist of the Bayreuth Youth Festival Orchestra in Germany. In 2008 Adrian Daurov was featured in a Gala Concert in celebration of Russia's Independence Day at Carnegie Hall's main stage along Russia's opera stars Yelena Obraztsova and Vladimir Galouzine. After studying at the St. Petersburg Conservatory in Russia, Adrian received the Jerome L. Greene Scholarship to study at the Juilliard School with the renowned cello pedagogues Andre Emelianoff and David Soyer (of the Guarneri Quartet) where he completed his Bachelor's and Master's degrees in 2009. In June 2007 Adrian was also appointed the principal cellist of the Chamber Orchestra of New York, and a year later formed his own group - award-winning Voxare Quartet. Adrian's cello playing was heard and broadcast on several radio station and TV channels like WNYC, WQXR and NTV-America and popular American TV shows such as Regis & Kelly Live, Good Morning America, Late Show with David Letterman and Late Night with Jimmy Fallon. Adrian was also featured on a jazz album by New York's rising jazz star Romain Collin and appeared on America's Got Talent show. Adrian made his New York solo debut at Merkin Hall at Lincoln Center and performed as a soloist with the Chamber Orchestra of New York at Carnegie Hall. Mr. Daurov has also collaborated in chamber music programs with pianists Di Wu, Alexander Ghindin, Spencer Myer, Inon Barnatan, violinists Giora Schmidt, Mark Peskanov and flutist Eugenia Zukerman, the St. Petersburg String Quartet and many others. This season will also see Mr Daurov performing solo with the symphony orchestras of Wyoming, Corvallis, Longwood (MA) and St. Petersburg in Russia.
Daurov is a devoted performer of the music of our time. He has collaborated with composers Mohammed Fairouz, Daron Hagen (USA), Christopher Gunning (UK), Daniel Capelletti (Belgium) and Grigory Smirnov (Russia - USA), who have written works for him. Adrian's two debut commercial recordings for Naxos label, to be released in 2015, will feature music by the Pulitzer Prize-winning composer David Del Tredici and the rising-star composer from New York City, Mohammed Fairouz.

Related Articles View More Classical Music

Stories
More Hot Stories For You