Review: ROCKTOPIA - A CLASSICAL REVOLUTION at The Broadway Theater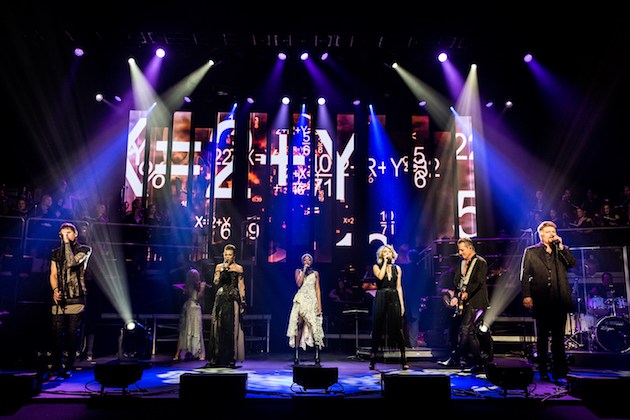 ROCKTOPIA: A CLASSICAL REVOLUTION, the hit PBS special de jour officially opened to a packed Broadway Theater on Tuesday night. The show is billed as an "explosive musical concert event that fuses the most iconic 20th-century rock with world-renowned classical masterpieces, features the works of musical innovators across centuries-including Journey, Mozart, Queen, Beethoven, Aerosmith, Handel, Led Zeppelin, Tchaikovsky, U2, Heart, Puccini, The Who and more-performed by an elite lineup of vocalists, a five-piece rock band, a thirty-person choir, and a twenty-piece orchestra." Wow! That's a mouthful!
The New York Theater critics have had a field day this week taking shots at the show's lack of sophistication, direction, dramatic narrative, yada, yada, yada. While on balance, most of those statements are more or less accurate, they do seem to fundamentally miss something critical about the show: IT'S NOT A BROADWAY MUSICAL. It never claimed to be. It's billing says very plainly that it is a concert, in fact there was a much ballyhooed labor dispute over it only last week, so one would think they probably should have adjusted their expectations in that direction. A critic claiming "there's not even a director listed in the program" really didn't get the memo (or the point).
That said, "Rocktopia" isn't quite the "classical revolution" that it claims to be either. There are few (if any) really revolutionary aspects of the show. The concept of the classical music/classic rock has been around for a long time, but rarely on such a grand scale. And at its core, that's what Rocktopia is: a big, loud, in-your-face, knock-down-drag-out evening of very well-known classical melodies, very-well known classic rock tunes, all delivered in unsubtle, stadium-rock style. While that may not be the cup of tea of a lot of theater critics, they were probably never the intended audience anyway. Still, the majority of the paying audience on opening night went wild over and over all evening. To review it, since it is a concert, I'll focus primarily on the performances and readers may judge accordingly.
Train lead singer Pat Monahan, made his Broadway debut as a guest vocalist on Tuesday night. He started out tentatively, delivering an unconvincing version of "Stairway to Heaven," but he really gained steam as the evening went on. The new arrangement of Led Zeppelin's "Kashmir" was transcendent and Monahan found his footing in it, really diving deep into the middle eastern flavor of the arrangement. His take on Aerosmith's "Dream On" was another highlight as he displayed a range that this critic never suspected he was capable of -- hitting Steven Tyler's stratospheric high notes with gusto. The first encore of Train's mega hit "Drops of Jupiter" preceded by Holst's "Jupiter" was one of the more successful mash-ups of the evening and brought the audience to its feet in a singalong.
More often than not, the evening's classical selections were simply introductions - only a few of the selections were true mash-ups (frankly, the classical selections faired a bit better as intros).
The one straight up classical singer in the show, opera singer Alyson Cambridge deftly handled (pun intended) Handel's chestnut "Lascia Ch'io Pianga" from "Rinaldo," (which the English Chamber Orchestra did at Carnegie earlier this week) oddly mashed up with Elton John's "Don't Let the Sun Go Down On Me." She also delivered a sultry "Musetta's Waltz" from "La Boheme," (much more successfully mashed with the Beatles' "Something," with Rob Evan handling the George Harrison part.)
The concert sound was rock solid (and rock concert loud) and the musicians were uniformly first-class. The 20 musicians of The New York Contemporary Symphony Orchestra; and the 30-member chorus of the New York Contemporary Choir supported a firey rock band, featuring guitar virtuoso and musical director Tony Bruno, drummer Alex Alexander; bassist Mat Fieldes; and long-time Broadway veteran pianist Henry Aronson. Conductor Randall Craig Fleischer did a fine job of marshalling the combined forces of this mammoth team.
Máiréad Nesbitt, Celtic Woman's nymph-like violinist added some nice textural flourishes throughout the show (although the violin solo from "Schindler's List" felt strangely out of place given the images the piece invokes.)
The soloists represented a hyper-broad range of musical styles and each was given several spotlight numbers to showcase their particular gifts. Tony Vincent (Jesus Christ Superstar, American Idiot) had the most diverse collection of solo numbers, including several Queen songs - not surprisingly as he was the lead in the West End's Queen jukebox hit "We Will Rock You." He also did a tenacious rendition of Muse's "Uprising," (another off beat selection as it was not paired with a classical piece and the song is not a really classic rock hit, it was a decidedly more minor indie hit.)
American Idol favorite Kimberly Nicole added yet another flavor to the evening's vocal spectrum. Her dark, smokey, growl (called to mind Shirley Bassey) brought a sexy immediacy to Patti Smith's "Because the Night." She also joined Evan in a duet of Lucio Dalla's popular Italian song and classical crossover staple "Caruso" (made uber-famous around the world by Luciano Pavarotti - and covered by virtually every classical crossover artist)
Evan, the show's co-creator and long-time Broadway veteran, was all smiles all evening, looking like a proud papa birthing his brain-child. He delivered powerful versions of the Who's "Baba O'Riley" and U2's "Where the Streets Have No Names." For some odd reason, a number of critics mis-labelled Evan a baritone in their reviews - he is not. He is very much a tenor (in fact he has a show entitled "The Rock Tenor" that he has performed around the country for some time now). It does, however, speak unfavorably to the knowledge and credibility of some of the reviewers.
ATTENTION ALL BROADWAY COMPOSERS! ATTENTION ALL BROADWAY COMPOSERS! Somebody NEEDS to write a musical to showcase the extraordinary talents of Cloe Lowery, immediately! Let me put it more plainly: CLOE LOWERY IS A STAR. Every time she took the stage, she blew the roof off the theater. Taking on a treacherous song like Heart's "Alone" is pure folly, suicide for most singers, destined to pale by comparison to the original. But Ms. Lowery totally eviscerated it. It was impossible to be in the building and not have your jaw hang open in total amazement of her power, passion and heart-wrenching honesty. She was worth the price of admission.
This sort of brings us back to our original point. Yes, a lot of the mash ups were less than graceful. Yes, the setlist was all arena rock anthems. Yes it caters to baby-boomer nostalgia. Yes, some of the projections were just silly. It's clear Rocktopia ain't Rogers and Hammerstein, Sondheim or Lloyd Webber (or Hamilton if that's your flavor). It is, however, a hell of a lot of fun! What it may lack in sophistication, it makes up for in pure exuberance. It is two plus hours of loud, ruckus, joyful noise. And the amount of talent on the stage is simply staggering. If you are looking for a night of Isben, O'Neil or Chekhov, don't go see Rocktopia. If you are looking for a night of memorable tunes sung by amazing voices, you won't be disappointed.
Cast: Alyson Cambridge, Rob Evan, Chloe Lowery, Pat Monahan, Kimberly Nichole, Tony Vincent, Alex Alexander, Henry Aronson, Tony Bruno, Mat Fields, Máiréad Nesbitt, New York Contemporary Choir, The New York Contemporary Symphony Orchestra.
ROCKTOPIA: A CLASSICAL REVOLUTION
The Broadway Theater. Featuring special guest stars Pat Monahan of Train through April 8, Dee Snider of Twisted Sister April 9-15 and Robin Zander of Cheap Trick April 23-29.
Peter Danish
Classical Editor