BWW Review: ORPHEUS CHAMBER ORCHESTRA WITH NOBU TSUJII at Carnegie Hall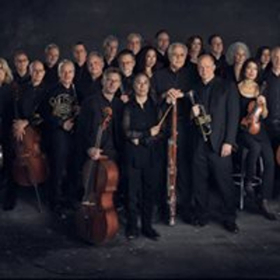 Orpheus Chamber Orchestra with Nobuyuki Tsujii
Anyone who has ever taken piano lessons, whether as a child or as an adult, will vouch for the fact that it is not an easy instrument to learn. Reading music simultaneously on two separate lines, instantly coordinating what the eye sees with what the hands play can take years to perfect. Now, imagine what this experience must be like for a person who has been blind since birth, for him or her to sit down at the piano, and play a concerto by Chopin. Nobuyuki Tsujii (or Nobu, as he prefers to be known), is that person. His performance with the Orpheus Chamber Orchestra on September 20, 2018 at Carnegie Hall was nothing short of extraordinary.
Sitting close to the keyboard, Nobu delivered a precise, exciting, and nuanced performance of Frédéric Chopin's (1810-1849) Piano Concerto No.2 in F minor, op.21, composed around 1830. As rearranged for a small orchestra by Shuying Li, the streamlined ensemble became more of an equal partner than simply an accompanist. The arrangement fit neatly into the Orpheus ethos, which eschews a conductor. The orchestra is completely collaborative, with leaders who change with the composition and players who listen and watch each other with the greatest of concentration.
Nobu's listening skills are of the highest order. He not only learns his music by intent listening, he also must concentrate on the ensemble with whom he performs. Nobu's playing seemed so effortless and at times, as in the second movement, ethereally weightless, that his blindness was all but forgotten. There are instances in this music in which the pianist must play as many as twenty notes on one beat. Nobu never missed a note nor did he "smudge" any with too much pedal. There are sighted players who cannot play as cleanly or with so much artistry. In his own sound world, Nobu became one with the music.
In their season opener, Orpheus also presented a brief piece by Estonian composer Arvo Pärt (b.1935). Fratres, composed in 1976, created a mysterious atmosphere. The composition is a theme with variations, with a constant drone from the bass and the lower strings. Pärt's chant-like melodic theme wove in and out of the instrumental parts, evocative of misty mornings and inner contemplation. Orpheus' velvety playing drew the listener into what could almost be a meditative state. It was a bit of a shock when it ended after only ten minutes and brought the audience back into the real world.
Pyotr Ilyich Tchaikovsky's (1840-1893) first string quartet, written in 1871 when he was a young professor in Moscow, has been arranged as Chamber Symphony No.1 in D major, op.11b by Christopher Theofanidis. Theofanidis took the relatively simple string quartet and turned it into a much more interesting piece. The "Andante Cantabile" second movement has been transcribed for solo instruments with piano accompaniment as well as for piano solo, but this in this incarnation it has attained its full impact. As a chamber (or small orchestra) symphony the work becomes rich and full without leaning so much on the occasionally schmaltzy side of Tchaikovsky's musical personality. Orpheus served up a performance played with exquisite timing and elegantly restrained emotional expression.
Related Articles View More Classical Music

Stories